I grew up a log loader operator's daughter. He grew up a builder's son.
I grew up reading Mike Mulligan and His Steam Shovel at my grandma's. He grew up reading The Little House: Her Story every time he visited his next-door neighbors.
When we were book shopping as newlyweds, he spotted The Little House. A book about a little house on a hill in the country—just like mine. A book about a little house that was pink—just like mine!
I liked The Little House before I'd seen anything more than the front cover. It wasn't until later I realized it was written and illustrated by Virginia Lee Burton, the same as my beloved Mike Mulligan.
It's a sad story, really. Of progress, of change, of a little house that got displaced. It's a story that was even more sad when it happened in real life to another little pink house.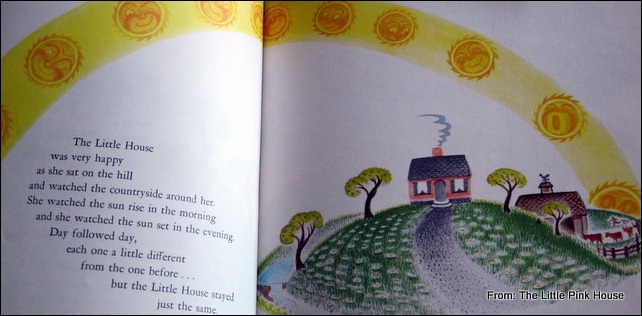 But in the story book, Virginia Lee Burton gives us a happy ending: The Little House gets a new home. It lives happily amidst daisy fields once again, rescued by the little girl who remembers playing in it when she was little.
Our little girls, born and bred in our own little pink house, must have a natural affinity to stories of pink houses. For quite some time, "The House Book" was Ruth's one and only request for bedtime stories. Her daddy read it over, and over, and over again.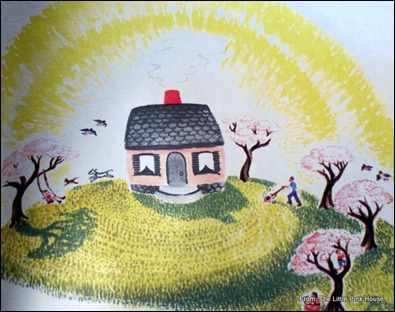 And I'm sure, when our girls are old enough to understand that the framed photo on the wall of a pink house is our house as it was when Daddy and Mommy got married, The Little House will be a favorite for more than just the delightful illustrations (ever changing, yet ever the same, always centered around the little house). For now, the girls cherish it for the story; I cherish it for the memories of Mike Mulligan and the man who built me our little pink house.
P.S. I just discovered that the story of The Little House was made into an animated short by Walt Disney back in 1952. It's a little different from the book itself—most notably in the fact that the house is only pink momentarily (twice). But you'll have to see what I mean by watching it for yourself on YouTube!
---
written for the YLCF March of Books