WordSnacks: a review of the new devotional by Natasha Metzler
(This post contains affiliate links. Read my full disclosure.)
Natasha Metzler's new book WordSnacks is filled with devotionals that are quick and easy to read, and like a good snack, are chock full of good protein, essential vitamins and minerals for the soul.
In WordSnacks, Natasha brings biblical truths to life. She distills difficult Old Testament passages into words that are as simple as they are encouraging. She applies familiar verses to fearful situations, "rightly dividing the Word of truth." She's not afraid to talk about sin and pain, but she's quick to point out that:
The Lord takes bitterness and makes it sweet.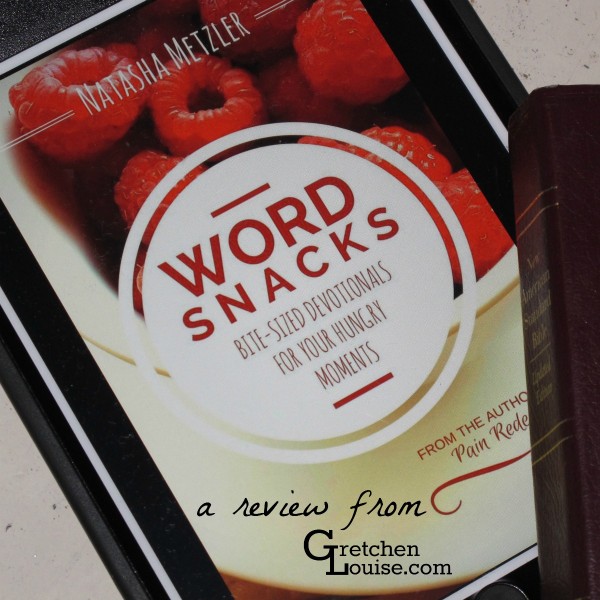 I had the privilege of previewing WordSnacks. But sometimes I forgot that I was supposed to be making edits, my tears evidence of how caught up I was in the lessons Natasha was sharing. Her story of infertility in Pain Redeemed has long been a beautiful testimony to me. But I'm so thankful to get to listen in as God continues to teach her lessons about Himself.
I can have a hundred altars in my past and not truly know God in the present, if I am not surrendering to Him today.
With biblical truths woven throughout real life stories, Natasha has brought us a devotional that will be as comforting as it is refreshing. No matter the time of day you turn to its pages, it will be like a glass of cool, clear water for your soul.
Black Friday Specials:
The PDF is just $2.99 — November 28 only!
Or get the paperback from CreateSpace for only $6.99 + S&H.
Disclosure: I got to read this book for free when I edited it. But I'm buying about a dozen copies as Christmas gifts, so I can assure you, the opinions expressed in this review are my own.