When our third little one had tummy issues and I had to go off dairy, people started recommending probiotics.  But I didn't know where to start.  So I didn't.
Until a friend asked if I was interested in some water kefir grains.
I'd only ever heard of milk kefir—and sour milk didn't sound appetizing to me, let alone anyone in my family.  (I mean, despite my friend's easy-peasy sounding recipe for homemade yogurt, I haven't tried that yet, either.  Did I mention we're yogurt snobs around here?  Let me know if you find a homemade yogurt recipe that is anywhere equal to our favorite brands, Brown Cow and Zoi Greek!)
But water kefir?  The recipes I found online actually sounded like it could be good!  And just a glance at the purported health benefits convinced me it was worth a try.  I wouldn't even be wasting expensive milk!
After just a few weeks of drinking kefir, I decided to try introducing a bit of milk and cheese back into my diet.  And so far, it has yet to result in any spitting up from my son!  Maybe he's just outgrowing his dairy intolerance.  But I'm guessing all those good probiotics coming through mommy's milk have at least something to do with it.  And considering how the kefir seems to be aiding my digestion as well, I think I'll just keep right on drinking these incredibly frugal probiotics!
My favorite easy flavoring is a slice of lemon.  But the best kefir soda I've had so far was when I mixed it with leftover mashed, frozen strawberries.
I'm not a natural foods blogger, but I wanted to compile my favorite links and resources here for all the people I'm sharing my water kefir grains with.  Hope it's helpful!  (If you don't have a kefir-growing friend nearby, you can order grains from Cultures of Health.)
Have you tried kefir?  I'd love to hear your kefir experiences and favorite links in the comments!
How to Make Water Kefir (or Kefir Soda)
Main Components
1/3 cup kefir grains
1 quart lukewarm or cold water
1/3 cup sugar (I prefer the flavor of brown sugar) or Sucanat
Optional Flavorings
lemon slice
orange zest
cranberries
raisins
strawberries
mangos
figs or prunes
blueberry-pomegranate juice
raspberry juice
grape juice
2-3 tsp. vanilla extract per quart
a tablespoon of whole caraway, anise, or fennel seed
fresh mint leaves
Comment with your favorite kefir flavorings?
Step 1: First Brew
Using a large bowl or jar that's easy to pour from, stir sugar into water until dissolved.  Add kefir grains.

Cover lightly with a cheesecloth and string, paper towel and rubber band, or plastic wrap.  Set in a warm place to brew, for 24-48 hours, until bubbly and fizzy.
Step 2: Strain
Using a plastic strainer, pour kefir water into a pitcher, reserving the grains.
Step 3: Flavor
Add desired fruit to the kefir water: a slice of lemon (my favorite!) or other fruit (fresh or dried!) for flavoring.
Step 4: Second Brew
Continue to brew for up to 7 days until desired fizziness.  (Change out fresh fruit every 24 hours—dried fruit can be kept in the brew for up to a week.)
Step 5: Chill
Discard fruit.  If using a lemon slice for flavor, squeeze the lemon juice into the kefir water.  Chill if desired.  Enjoy!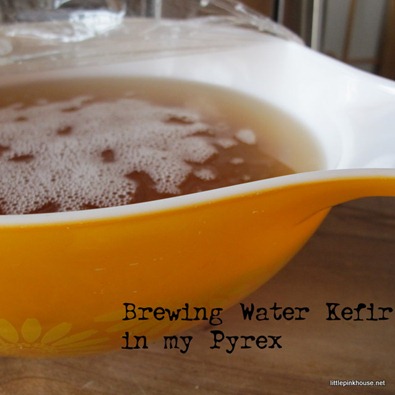 Step 6: Rinse & Repeat
Rinse kefir grains and repeat process.

Storing Extra Grains
Kefir grains naturally reproduce, leaving you lots of grains to share with friends!  Store extra grains in the refrigerator in a loosely-covered jar, with 1/4 cup sugar to 1 quart water.  Rinse and feed every few weeks.
Water Kefir Notes/Tips
Use filtered well water (no chlorine!).
Do not use hot water (it could kill the kefir!).
Do not use metal spoon/strainer/bowl (metal reacts with the kefir).
Store in glass or food-grade plastic.
Brew away from direct light.
"Feed" with a dollop of black strap molasses once in a while, for more minerals/flavor.
Other Uses for Kefir (it's more than just a beverage!)
in smoothies
replace buttermilk or vinegar
soaking grains
Comment with your favorite kefir uses?
Water Kefir Tutorials/Recipes:
Dairy Kefir Tutorials/Recipes:
Other Kefir Tutorials/Recipes/Tips: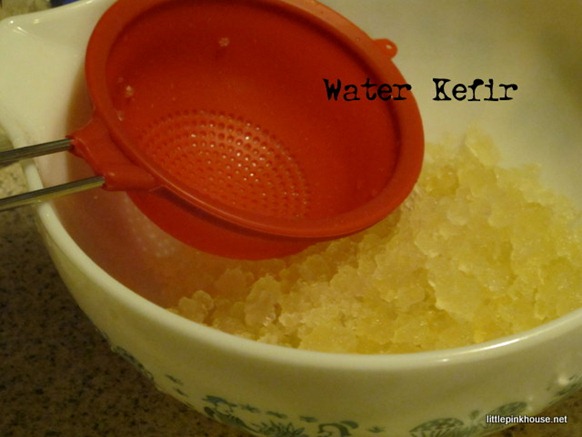 Linking up with…
(Recipe edited November 2012 to show the correct time for adding flavorings – after you've taken out the grains.  I was killing my grains with the citrus!)