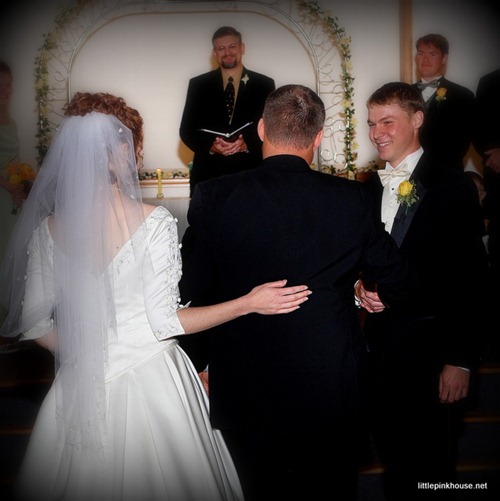 Dear Daddy,
I never thought I'd marry a man like my daddy. We were too much alike, you and me. Clashing more often because of our similarities than because of anything other than just me being an emotional teenage girl.
But every year that passes, I see more and more resemblance between you and the boy you once told to stay away until you ran out of shotgun shells.
You're both generous and self-sacrificing. You're both so patient with the women you love.
You've picked each other's brain about projects so very often that you know the other will take your side in any discussion about how to do things.
And after fifteen years, you've picked up each other's phrases so much that it's frequent these days to hear my husband sounding just like my dad.
You're both opinionated but easy-going, you like chocolate and my cooking. And you both adore the little ones who look so much like their daddy and so much like you.
You call my farmer to check on his hay, he calls you to see if you can find a better weather forecast than he can. It makes me smile to hear the two of you—always brief, but always kidding each other.
You are men of integrity and men of character. So different, yet so alike. You balance each other out and spur each other on.
You always make it a point to serve your wives by making Sunday morning breakfast. You show your families your love by your hard work and self sacrifice.
You were a whole lot more like my dream man than I ever realized. And we'd be so proud and thankful if our son would grow up to be like the grandpa he looks just like.
I'm so thankful I married a man like my daddy. (And I'm so glad you told him "yes.")
Happy Father's Day, Daddy. I love you.
Love,
Gretchen