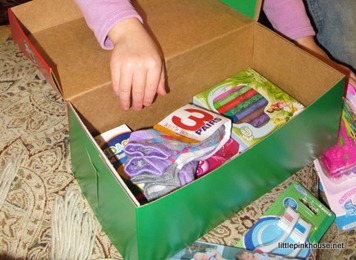 We know Christmas is on the way when Lorrie starts reading the stories each Sunday. Each week, she has another story of a little shoe box and the life it touched in a big way. Each week, we realize that the simple things we take for granted could mean the world to a child around the world.
Our girls were old enough to understand and get excited about packing the shoe boxes this year. Except, they were "shoe lace boxes", according to Ru. Ever since reading the tale of the little boy who learned to tie his shoes on a practice shoe box with laces, we haven't been able to convince Ruth of the difference between the words "shoe box" and "shoelace box."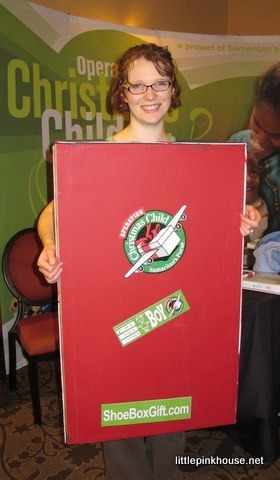 So when I got a chance to pose in a shoe box at The Relevant Conference, I knew my girls would have fun seeing the pictures—especially since they were planning to do their shopping while I was gone.
The packing itself was an opportunity to learn some sacrifice, as the toys and toothbrushes were so bright and pretty. But I was proud of my girls, watching how they put each item in the box for some other little girl, who didn't have nice toys already.
Then, a few Sundays ago, we all brought our boxes to church. Pastor changed his opening illustration, seeing those red and green boxes piled there in front. He informed us that we weren't done yet. Yes, we'd gotten the shopping done. Yes, we'd brought the boxes complete with the "boy" or "girl" sticker on the front.
But the real work was just beginning: we needed to be praying for these boxes, praying for the children who would receive them. That, he said, is where the power of a simple shoe box gift lies: the prayer and love behind it.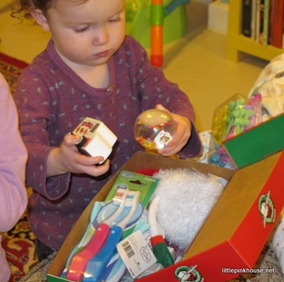 And so we pray for the two little girls who will be getting two little shoe boxes. We tell Daniel that next year, he can pack a box for a little boy, too. (And we assure Ruth that, yes, we'll find another "shoe lace box" and teach her how to tie her shoes…)
Do you fill a box for Samaritan's Purse each year? Have you ever heard back from one of the children who received your box?