(This post contains affiliate links. Read my full disclosure.)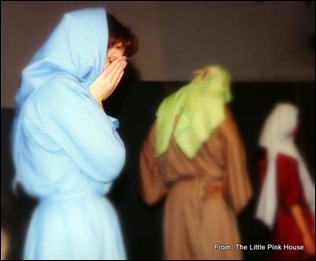 "Be not afraid."
It wasn't the first time I'd played Mary and heard those words from the lips of the angel with a baptismal robe and cardboard wings. (One time, I'd even played the angel.)
But it was the first time I'd acted the part since joining the drama troupe, since learning there was more to being a character on stage than just saying lines. I knew I had to get "into character", to literally feel as if I were Mary—not on that stage, but in that garden 2,000 years ago. The Mary who was truly afraid, truly in need of the angel's words: "Be not afraid."
In my quest to get into character, I turned to Marjorie Holmes' book Two from Galilee. Through its pages, I lived the love story of Mary and Joseph. I understood as never before the conflicting fears that might have been in Mary's heart. Would the man she loved still want her? Would he even believe her?
As a girl in love myself, I could grasp the fear and anguish Mary would feel about telling Joseph. As a single teen committed to purity, I contemplated the unbearable shame and bitterness of an unwed pregnancy.
And that year, I played Mary as never before. That year, I acted, I believed, the part. As much as a girl could who had never cherished a child in her womb.
Then came the second autumn of marriage to the man I loved. My swollen belly attested to the fact that I was due with a December baby. As I made a few meager attempts to decorate, I ate Christmas cookies like they were going out of style. And my thoughts were on the passages we were reading from Luke: Elizabeth's praises, Mary's song.
The joy mixed with fear, the jubilation mixed with hesitation—the emotions of an expectant mother. Yet for the most part, I was all smiles, all praises, as we approached the Advent season looking for the arrival of our first child.
"Be not afraid." The words of the angel spoke straight to my heart, more with each subsequent pregnancy.
When a woman finds out she has a precious little one growing inside of her, the fierce love she feels for her child is instantaneous. But that doesn't mean it's not coupled with overwhelming fear.
I can only begin to imagine Mary's thrill to know she was carrying the Savior, the Messiah, for Whom she had looked her whole short life. And yet, the fear of how she, a single girl, who was betrothed to a righteous man, could care for this child—possibly even alone, if Joseph abandoned her. The knowledge that she would be ridiculed by those who knew and loved her—or perhaps, even worse: stoned to death for the crime of adultery.
Fear takes on a whole new meaning when you see it mirrored in the eyes of the man you love. Mary's fear was not only for herself, but for Joseph, her betrothed—knowing he would face shame, the burden of caring for the child, the responsibility of protecting not just his bride but her child.

"Be not afraid." So many fears have gripped my mother-heart this time around. My friends have lost babies—why should I expect to keep the ones I've been given? Sometimes I don't even have patience for two—how can I raise another? Diapers and car seats and cars and clothes all cost money—how will we afford to care for another child?
"Be not afraid." And other passages echo it. "My God shall supply all your needs according to His riches in glory in Christ Jesus." "'Do not worry then, saying, "What will we eat?" or "What will we drink?" or "What will we wear for clothing?" …your heavenly Father knows that you need all these things. But seek first His kingdom and His righteousness, and all these things will be added to you.'"
"Be not afraid." This little one, too, was knit together by an Awesome Creator Who does all things well. "Be not afraid." Whatever this new little blessing brings with it, He has promised that His grace, His power is perfect in my weakness.
"Be not afraid." As I approach another Christmas season with a swollen belly, though my eyes are tired and too-often fearful, there's also an expectant twinkle in them. In the midst of the laundry and the dishes and the child training, I'm singing with Mary—songs of praises to my King. I'm living and breathing the part of that young mother 2,000 years ago as never before. Because "Be not afraid," has never been so dear a promise.
The angel said to her, "Do not be afraid, Mary; for you have found favor with God. "And behold, you will conceive in your womb and bear a son, and you shall name Him Jesus. He will be great and will be called the Son of the Most High; and the Lord God will give Him the throne of His father David; and He will reign over the house of Jacob forever, and His kingdom will have no end."
–Luke 1:30-33