They think I'm beautiful in my pink plaid pajama pants. The same ones I bought at Old Navy at least six years ago, and obviously haven't worn in a while, due to the exclamations from my daughters over them this morning.
My husband thinks I'm beautiful in the bigger-than-I've-ever-bought-before American Eagle jeans and a tank top that's really maternity (but don't tell anyone—they're just longer and less skinny fitting that way!).
The littlest member of our family thinks I'm beautiful because I smell like sour milk and spit up and food.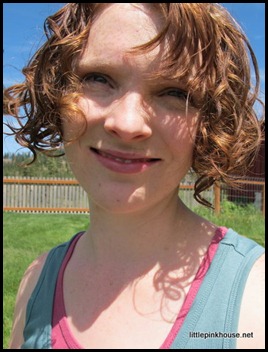 But when do I think I'm beautiful?
When the wind blows my hair around my face.
When the sun shines on my shoulders showcasing my freckles and my hair that's red as shiny copper in the sunlight.
When I'm carrying a little one, in my arms or in my womb.
When I'm standing in front of the stove cooking.
When I'm hanging out laundry on my clothesline.
When I'm in his arms.
When I'm already smiling and catch a glimpse of myself in the mirror—happy.
No, I know they don't love me because I'm beautiful—I'm beautiful because they love me.
So I keep looking into the mirrors of their eyes, trying to reflect the beauty they see in me.
---
Lisa-Jo has been talking about beauty this week over at her blog, The Gypsy Mama. I finally put into words yesterday a post that's been brewing for more than a month of Sundays. And today's Five-Minute Friday topic, of course, is beauty. Join us in sharing the ways you are learning to see beauty in yourself?