A glance through my Goodreads profile reminds me of the sheer volume of written words I've consumed this year. Fiction, non-fiction, paperback, hardback, ebooks, Kindle, and audiobooks–oh the many formats in which we can read stories and truths in this day and age! But not every book is one that stays on my shelf. Some I forget as quickly as I read, others I almost wish I could.
Yet when I look back on the year, a few titles stand out. The best of the best, that I loan out and give as gifts. The favorites, that come up again and again in dinner conversations with friends.
So here, in Twitterature style, you'll find my top titles of 2014. I'd love it if you'd comment and tell me your favorite reads of the year!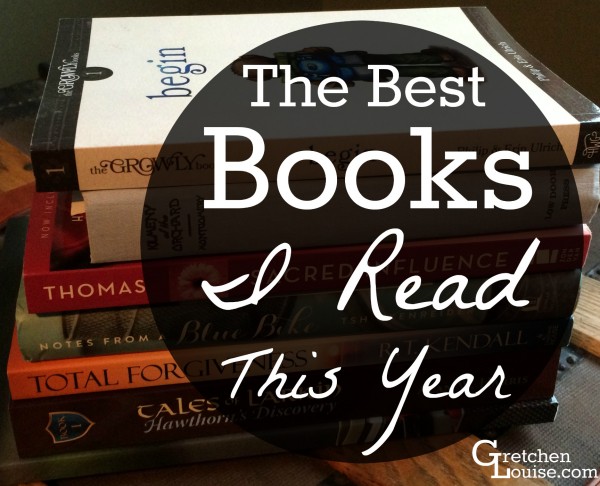 Top 2014 Twitterature
Twitterature (noun): Twitter-length literature reviews
I didn't expect to be tempted to read ahead of my children in this read-aloud! It was easy for them to convince me to read "just one chapter more, Mommy" with the Growly series. Bravery, loyalty, and sacrifice are recurring themes in these heartwarming tales of a bear named Growly. A creative story line with loveable characters and delightful illustrations, Growly is sure to become as much a family favorite as Corduroy.
This wasn't my first time through the Tales of Larkin series, but I've enjoyed it anew this time through the eyes of my children. With characters reminiscent of Hobbits, and exploits to rival those of the Narnians, this series combines adventure and faith in a way that delights all ages.
An old classic became incredibly dear again as I revisited it as an audiobook with my daughters. What good reminders for mothers and daughters alike of how much our situation and our personality can be influenced by our attitude–and yet all told in such a sweet, simple story without moralizing.
A truly delicious book, Lizzy & Jane is the tale of two sisters. They couldn't be more different, yet their shared tragedies of the past bring them together again to find friendship and healing. It's a tear-jerking tale of food and forgiveness. Not to be missed. Especially for fans of Sandra Byrd's French Twist series or Shauna Niequist's Bread and Wine. (Read my review.)
I actually avoided this book for awhile, assuming it was some Austen spin-off. Little did I know the delightful collection of letters awaiting me in its pages! The one-sided correspondence is a re-telling of the original Daddy-Long-Legs. I read it once and I read it again. Definitely a classic to keep and enjoy alongside the original version.
I don't know how I waited until I was entering my fourth decade of life to read these marvelous pieces of literature. It took reading a modern day (but equally exquisite) retelling for me to search out the original. And I was not disappointed. The insight into the life of a child raised in an orphanage, and then the reform of an orphanage, is a story that will not leave you unchanged.
This book has become my guide on my slow journey towards more healthful approach to eating. Trina serves up heaping servings of knowledge with a generous seasoning of encouragement, and over it all is spread grace. Grace for the journey, encouragement along the way, and the knowledge for why you might want to choose this step of the journey. (Read my review.)
These devotionals are quick and easy to read, and like a good snack, are chock full of good protein, essential vitamins and minerals for the soul. I'll be returning to the truth-filled parables and wise explanations of Scripture again and again.
Sometimes I think that social media brings out the worst in us. But this book is a fresh breath of air for anyone who uses the internet. From showing you the power of social media for the gospel (as does the book Reach) to giving you principles with which to guide your social media use, this is a must-read for every Christian who uses the internet.
I didn't want to read this book. But I needed to read this book. It is not an easy read: the words of truth are as a scalpel to heart, mind, and relationships. I'll never look at the story of Joseph in the same way again.
I'm slowly going through this book, absorbing the marital and relational wisdom of this well-respected author. Meanwhile, my husband and I are enjoying the audiobook of Sacred Marriage.
You can't read this book and feel sorry for yourself. Ian and Larissa Murphy's romance was interrupted by a car accident and a coma. But love didn't give up, and Larissa married Ian when he couldn't even walk down the aisle. Their story, along with that of Joni and Ken, are going to go on my shelf for those days when I want to complain about my marriage or my situation. Because they are real life couples who are honest about their struggles but let Christ's love shine through them.
The Vow by Kim Carpenter
Another story about a car accident and God's amazing grace. Kim and Krickett Carpenter were newlyweds when a Thanksgiving road trip had a much different ending than they were planning. And when Krickett woke from her coma, she did not remember that she was married. Kim is honest and humble as he shares their story of being faithful to the vow they'd taken.
This was one of the first books I read this year, and it gave just the perspective of simplicity and focus necessary to start the new year off right. Definitely one I'll be perusing again. (Read my review.)
It took Katherine Reay's references to Anne Elliot for me to finally delve into this Austen classic, only to discover it contained my favorite Austen quote ever: "All the privilege I claim for my own sex, is that of loving longest, when existence or when hope is gone!" The rich verbiage takes careful reading, but you won't be disappointed in this tale of love's constancy.
I was too much of an Anne of Green Gables purist in my youth: I missed out on all the other delightful characters L.M. Montgomery created! Blue Castle had me laughing with its apt descriptions of humanity, and delightful (though slightly predictable) story.
Another obscure L.M. Montgomery classic not to be missed. A sweet tale of true love in spite of all odds, told in the innocent and beautiful style of its author.
As many times as I've read the classic Sherlock tales, I'm still on the edge of my seat with anticipation each successive read. My husband and I listened to the audiobook this year and reveled in the classic literary tones and the inimitable characters.
As many times as we've read the tales of Jeeves and Wooster, my husband and I return again and again to this classic British humor. Wodehouse wields his pen in such an artful fashion, you're not always aware of the humor until it is upon you. If you're looking for an introduction to Wodehouse, you couldn't pick a better book.
British humor meets farming in this hilarious tale. Not the typical Wodehouse fare, it will delight those who love Betty MacDonald's The Egg and I, Natasha Metzler's The Thing About Dairy Farmers, or indeed, anyone who has ever tried to farm.
I've read many fictional retellings of biblical stories, but none have been crafted so beautifully as this story of Ruth. Giving a very different perspective than the one I always assumed while reading the biblical account, I found this book thought-provoking as well as thoroughly enjoyable.
Tessa Afshar just might be one of my new favorite authors. This set of two books follows the beautiful love story of a Jewish scribe and a Persian warrior during the biblical time period of Nehemiah. With a story line full of royal intrigue and personal drama, I was brought to tears and kept on the edge of my seat.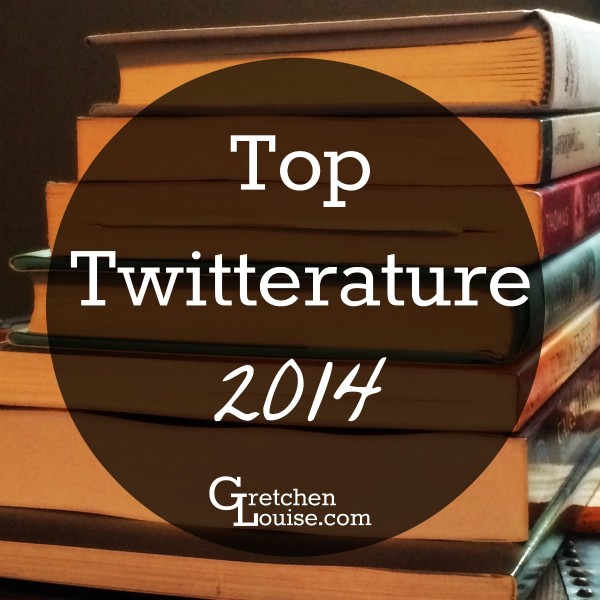 Now it's your turn! What was one of the best books you read this year? What's on your Christmas wish list for next year's reading pleasure?
For more of my favorite titles, check out my Book Lover's Gift Guide.
Linking up with Modern Mrs. Darcy