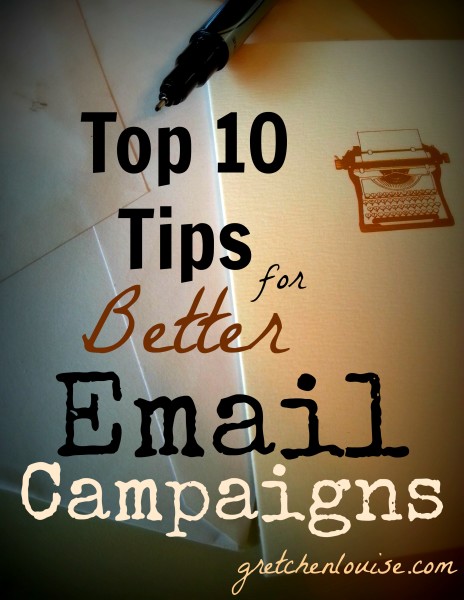 Now that you've done the hard work of creating an email list and giving your subscribers all sorts of options, it's time to focus on the emails themselves. Make sure your promotions are as creative and as catchy as can be so that people will be compelled to keep reading and sharing your great content! Here are my top ten tips for better email campaigns. (Click to Tweet and share!)
1. Start with the right template.
If you're creating an RSS-Driven Campaign in MailChimp, make sure you start by selecting RSS-Driven Campaign, and then choose one of the RSS template options. No matter what code you insert into a non-RSS template, MailChimp won't be able to find your blog posts when your campaign sends. And even if you do choose an RSS template, it won't display your blog posts if you haven't chosen the right kind of campaign to begin with.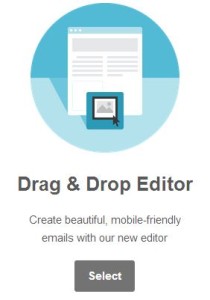 Hint: If it doesn't ask for your RSS feed address on the first step, you haven't chosen the RSS-Driven Campaign–go back to go.
If you're creating a newsletter, choose MailChimp's Drag & Drop Editor before you ever get to your template selection. Drag and drop gives you so many more options for content blocks and layout!
Mad Mimi Tip: Using Mad Mimi? No worries. There aren't template options to choose from there — it's all drag and drop! (Click here for more on Mad Mimi vs. MailChimp.)
2. Use columns carefully.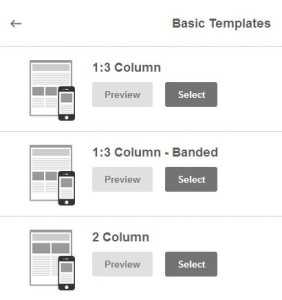 MailChimp still gives you the option to use 2, 3, and even 4 column templates. But I've started moving to the 1 column style because email programs and screen sizes vary so much! This isn't a PDF newsletter that needs to fit on an 8 1/2 x 11 sheet of paper when it is printed out. What you're creating is a fluid, re-sizable email that will be viewed in all kinds of browsers, email clients, and apps. If you go too wild with the columns, the email may appear imbalanced and off-center depending on where it's viewed.
Mad Mimi Tip: In Mad Mimi, your header image may appear off-center if the images in your blog posts are too wide. You can choose to "Automatically format RSS feed for clean display" but that only shows an excerpt of your post (an option I use for the weekly digest) rather than the full text (which I prefer for daily posts via email).
3. Customize your subject.
Your subject is what determines whether your readers open the email or not. Make it good and catchy (but not spammy!).
If you're sending out your posts via RSS to email, the blog post title should be the subject line of your emails. (Click to Tweet this tip.) They can already see who the email is from–no need to repeat that. And if they already caught up on their feed reader for the day or saw your post on Twitter, showing them the post title in the subject tells them whether they've read it or not. If you want to distinguish your posts via email from your newsletters, follow the post title with a parenthetical note of something like "New Blog Post".
Tip: In MailChimp, use *|RSSITEM:TITLE|* for your subject line. In Mad Mimi, use (post_title) for your subject line. (And if you're still using FeedBurner, you can customize your subject line, too.) Be sure to test your campaigns to make sure you have the right field in the right spot so you don't end up sending out an email with a broken piece of code in the subject line.
4. Pay close attention to the first text your readers see.
Many email programs (including Gmail) often display the first few words of an email before you even open it (check out email previews from all sorts of different email programs here). Hopefully the subject has already hooked them, but if not, this is your last chance to reel them in.
Whatever you put as the first few lines of text, make sure you don't leave MailChimp's sample text: "Use this area to offer a short teaser of your email's content." That is unprofessional! (Click to Tweet this Top Ten Tip.)
Examples from Emily Freeman's Newsletter & Blog Posts:
"This is that newsletter you signed up for. It comes once a month for subscribers only and is different from a blog post. You won't find this content anywhere else."
"Take a minute to let your soul breathe – here's a post from emily at Chatting at the Sky."
5. Create custom header graphics.
If you really want to give your emails some pizzazz, create custom header graphics for each newsletter campaign. One for your newsletter, one for your daily posts via email, and perhaps even another for your weekly digest. (Don't forget a header for your signup forms, too–employ consistent branding everywhere!) They're easy to put together in PicMonkey using your blog's header or button–or talk to your designer about creating some for you when you get your blog redesigned. Graphics make an email really pop!
Examples
Kayse Pratt's Newsletter Header:

Kindred Grace's weekly blog digest header:

6. Link to your social media profiles.
If people are opening and reading your emails, they are likely to want to engage with you via social media as well. Make sure they don't have to search for you on Facebook once they finish reading your newsletter: they may get distracted and never get there. Include your social media buttons somewhere in every email. Mad Mimi does this automatically if you've filled out the Social Links in the Social tab. If you choose MailChimp's Drag and Drop Editor, you can drag a Social Follow block into your email campaign. For an even more custom look, add a text block and insert the code for the social media buttons you use on your site. Be sure to link each image to the right social media platform!
Example
I use my site's social media icons in my email campaigns rather than the generic ones from MailChimp:

7. Include a subscribe link for forwarded copies.
Nothing's worse than having a friend forward you an email newsletter that you really love and not being able to figure out how to subscribe to it. Unless someone uses the "forward to a friend" feature to share your email with their friends (and if we're honest, none of us have ever used that feature–we just hit our email program's forward button), there's no subscribe option in the email unless you put it there. Add a P.S. or a catchy button that links to your subscription page (you do have a page on your site with your signup form and details about your list options, right?).
Examples
You never know where you'll find the notice from Amy Lynn Andrews–she often changes it up so it catches the attention of regular subscribers:
"Like this useletter? Why not forward it to a friend or subscribe (if you're the friend)?"
"(Did someone share this with you? If so, consider subscribing here so you don't miss any future fun.)"
"Did someone forward this to you and you want to get on the list? You can do so here."
Christian Mommy Blogger has a catchy graphic included in their weekly post digest: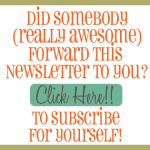 8. Make the fine print fun.
Most of us skip right over fine print unless it's actually creative. But especially if you have multiple list options, you don't want your readers to miss the opportunity to update their subscription preferences–make the fine print fun to read and click on! You can't change the footer in the free version of Mad Mimi, but in MailChimp you can have some real fun with the footer. Make sure to leave all the field codes in there so the right items get displayed for legal purposes. But change up the text that's displayed there. Make it look different than all the other MailChimp generated emails they're getting. Be sure to highlight the "Update Subscription Preferences" option if you have more than one group or subscription option.
Examples
In the footer of my personal blog post email campaigns, I let people know they can switch to a weekly digest:

Inland NW Christian Writers began a blog, and wanted to make sure all their newsletter recipients know they have the option to get the blog posts now, too:

9. Don't neglect the plain-text version.

The majority of your readers may have a smart phone, but not all of them do. And some of them–like me–still get our emails on on a "feature" phone which has only the most basic email program. Don't neglect that final step of editing the plain-text in MailChimp. Not only is the plain-text version what people with older phones or computer software will see, but the preview that Gmail and other email programs offer is also pulling from the plain-text rather than the HTML version as well.
It's easy enough to just click "Copy Text From HTML Email" in MailChimp. But don't stop there–go through line by line and make sure nothing gets left out because images are missing, or that the social media links don't get duplicated. Maybe not every link needs to be in the plain-text version–your header might link to your site in the HTML version, but in the plain-text version it just looks like a random link to your site. Or maybe the content just needs rearranged–if you put your social media links at the beginning of your campaign in the HTML version, move them to the end for the plain-text version. No one wants to scroll through lines of links and code to get to the meat of the email. Keep the plain-text plain and simple–just make sure it's there. (Click to Tweet that.)
Otherwise? This is what your readers will see in their plain-text programs and previews: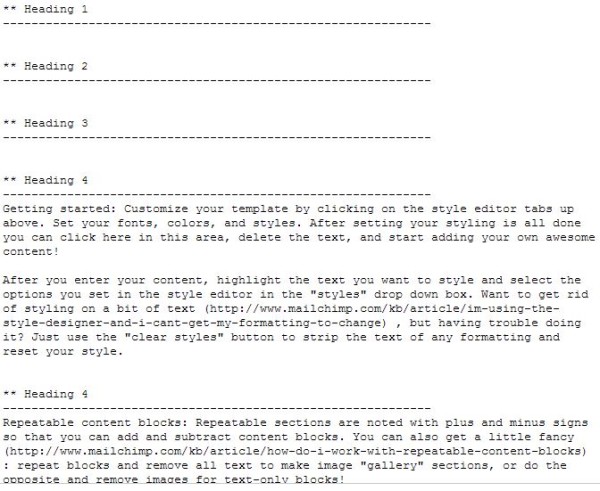 Mad Mimi Tip: Mad Mimi doesn't let you edit the plain-text version of your promotions. But it will look just like it does as you're editing your email, complete with Mad Mimi's formatting marks, minus the graphics. (But if your graphics were linked to something, the link will still show. So consider your linked graphics carefully in light of the plain-text version.)
10. Preview your campaigns and send test emails.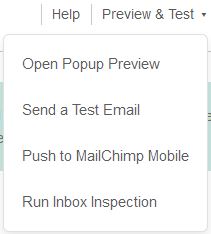 Preview your email campaigns in both HTML and plain-text. (The plain-text preview option is not available in Mad Mimi.) It just takes the click of a button and a few moments of your time to check your email for errors before it goes out. In MailChimp, click the "Header Info" button in HTML preview, or check "Show header stuff" in plain-text, to see what the subject line will actually be.
And then, send yourself a test email. Just so you make sure you dotted all your i's and crossed all your t's. Especially before starting an RSS to email campaign. (And that "friend on Facebook" link MailChimp likes to add? It links to your personal account unless you edit the link and change the text to "like my Facebook page"!)

Tip: Your RSS-Driven Campaign won't start until you create a new post. So if you wrote a post on Monday, and then created and scheduled your campaign on Tuesday, it won't send out Wednesday with Monday's post. If you write a new post on Wednesday or on Thursday, then it will send out at the scheduled time with the new post. (RSS to email campaigns don't go out the instant the post is published–you schedule a set time for it to send out any new posts each day. If you write two posts one day, it will send them both out in the next email. Experiment with the scheduled time to see when your readers are more apt to open and click your emails. Just don't experiment when you have a post waiting to go out, or it won't go out at all and you'll have to copy it into a regular campaign and send it to your blog group!)
Do you use any of these techniques in your email campaigns? What is your top tip for better emails? Tell us in the comments!
Forward me your creative campaigns at gretchen at gretchenlouise.com — I'd love to see what you're doing!
I've used MailChimp campaigns and Mad Mimi promotions as examples in this post because both services are free to get started with. For more details, visit my post "How to Create & Build an Email List." If you haven't yet chosen a service, I'd love it if you'd sign up using one of my affiliate links: MailChimp or Mad Mimi. And if you're looking for creative signup form ideas, check out the examples in "How & Why to Simplify Your Email Lists."
(Photo Credit: Trina Holden)