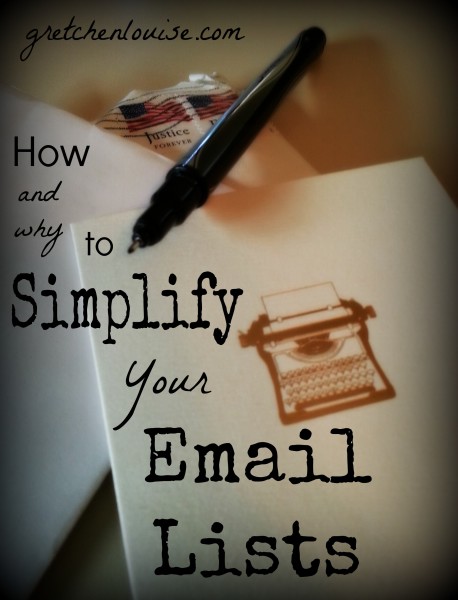 You finally did it. You created an email list. You even sent out your first email newsletter to your brand new subscribers.
But now you have two different subscribe widgets on your site. And when you ask a reader if they're subscribed to your newsletter, they think they are, but they're not sure—they've been getting your posts via email for a year now.
And judging by the way subscriptions are going, you're pretty sure that half your visitors are subscribing to your newsletter, while the other half are already subscribed to your posts by email and assume there's nothing else for them to subscribe to. Your subscriptions are effectively split down the middle and you feel like you're losing ground rather than gaining it with this newsletter thing.
Friend, it's time to simplify your email lists.
(Disclosure: this post includes affiliate links.)
Why should I simplify my email list?
A. Merge multiple calls to action into one clear call to action: subscribe.
Rather than having multiple subscribe boxes and buttons throughout your site, consolidating your email lists means you can have one subscribe box with one subscribe button. No more splitting your subscriptions and overlapping your numbers: consolidating your email list gives you an accurate count of how many email subscribers you have.
B. Providing a clear explanation of the different options available within one subscription makes it easy for your subscribers to know what they are subscribed to.
With multiple groups in one list your subscribers will be able to update their subscription options quickly and easily. They won't be aggravated when they change their email list on one of your lists but it doesn't carry over to the other. They won't mark you as spam when they unsubscribe from one of your lists only to receive an email from another of your lists the next day. With a consolidated email list, it's one click to see what they're subscribed to and when they'll receive it.
C. RSS to email services like MailChimp and Mad Mimi give you endless customization and branding options for sending your blog posts via email.
Jetpack will throw in your avatar if you're lucky, but it sends out the email the instant you hit post—so much for fixing that typo you noticed the moment the post went live. FeedBurner lets you add your own logo, change the colors, even customize your subject and when the email goes out, but that's where the options end—no links to your social media services, or custom text just for your email subscribers. (And of course, with the demise of Google Reader, many are afraid that FeedBurner is next.)
But with MailChimp or Mad Mimi, you can add your social media buttons to the bottom of each email, put in a special note or coupon code just for your email subscribers, schedule the exact days and time of delivery, not to mention add your own custom banners, color themes, and subject lines. Want to give your subscribers the option for daily delivery or weekly digest? No problem. You can do it all and more with the free services MailChimp and Mad Mimi provide.
FAQ
Won't it cost a lot if I start sending all my blog posts through a service like MailChimp or Mad Mimi?
That's what I thought, too, until I started doing the math. With MailChimp (my service of choice), I could send anywhere from 6 emails per month to 2,000 subscribers, to 15 emails per month to 800 contacts, to 31 emails per month to 387 subscribers. I don't write 31 posts per month. And I don't have 2,000 subscribers. I fall enough in between those numbers that I'm not worried about having to fork out money for my subscription service anytime soon. And when I do hit 2,000 subscribers, I hope I'm making enough from my blog that I can afford the $30 per month for unlimited emails to 2,500 subscribers through MailChimp (or I could switch to Mad Mimi where it would be $16 per month for unlimited emails to 2,500 subscribers).
I don't have 2,000 subscribers, but I'm close enough that I'll have to pay if I send out an email for every post–what do you suggest?
If you don't want to pay for unlimited emails, the simplest option is just to offer a weekly digest. Increase your social media shares of your posts on the day you post them, educate your readers about RSS feed readers like Feedly and Bloglovin', and just send them an email with the highlights from your blog once a week. You'll even have an extra email or two per month left to send out a newsletter.
I'm moving from WordPress.com to WordPress.org—would this help me keep my Jetpack subscribers?
Yes, importing your WordPress.com email subscribers into an RSS to email group in MailChimp or Mad Mimi is the best way to keep from losing your subscribers, since Jetpack doesn't give you any import options (unless you pay for their guided transfer service).
Can I still have that checkbox at the bottom of the comment form giving commenters the option to click to subscribe like with Jetpack?
Yes! There are multiple plugins that provide this option. My favorites are MailChimp for WP and Mad Mimi for WordPress.
Wait—is FeedBurner really going to disappear?
Google has been eliminating a lot of related services lately, but that doesn't mean FeedBurner itself is disappearing right this very minute. If you hadn't noticed, many of the people most adamantly telling you to move your feeds out of FeedBurner are the same people selling another feed solution. The reality is that you'll probably need to move your email subscriptions away from FeedBurner eventually. Will it be okay if you stick with FeedBurner for awhile longer? Probably. There are plenty of big blogs who are still using it for their email delivery, not to mention their feeds. Hopefully if Google does eliminate FeedBurner services it will give us ample warning like it did with Reader. Regardless, it's still a good idea to export a backup copy of your email list from time to time. (You should do this no matter what service you use—especially if it's free!)
Do I still need to write a separate newsletter even if my blog posts are going out via email?
Yes, a newsletter is still one of the best ways to connect more personally with your readers! If in doubt, check out Trina Holden's post over at the Allume blog: Why Every Blogger Needs an Email Newsletter.
Why have other bloggers simplified their email lists?
"I switched to MailChimp because I needed a reliable service – my own subscription to my own email feed through FeedBurner randomly stopped one day and who knows if I was the only one!"
–Tiffany from Don't Waste the Crumbs

"For me, switching to MailChimp was about convenience. I haven't been with them for long, but I've been impressed with them so far."
–Vicki Lucas

"I will be switching to MailChimp this month because I wanted the option to make my newsletters more personal than just the daily feed."
-Kelly from Practical Savings

"I didn't actually switch: I started out with MailChimp and it works like a charm!"
–Debi Stangeland

"I switched from FeedBurner to FeedBlitz. It's a paid service, but I wanted more control over what I was sending and how it looked. I've been very happy with it so far."
-Kalyn from Creative Savings

"I switched to MailChimp because the price seemed right for the features offered, and because the bigger bloggers I follow are using it with confidence and spoke highly of it."
–Kris Camealy
What kind of options can I give my subscribers?
Sometimes, the ability to choose what fits your subscriber the best will make the difference in them clicking that subscribe button. Offer flexible group options (they're called lists in Mad Mimi) when they subscribe so they can choose what they want to receive and when they want to receive it.
Dr. Alan Harris uses MailChimp's dropdown option that defaults to a subscription that includes both his blog posts and his newsletter: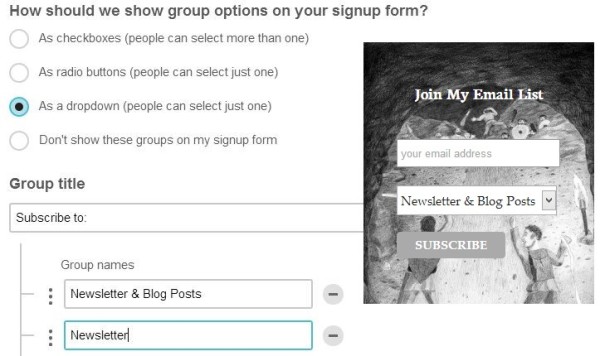 Jan Cline uses MailChimp's radio buttons so you can choose between just the newsletter or both her newsletter and blog posts (but not the blog posts alone):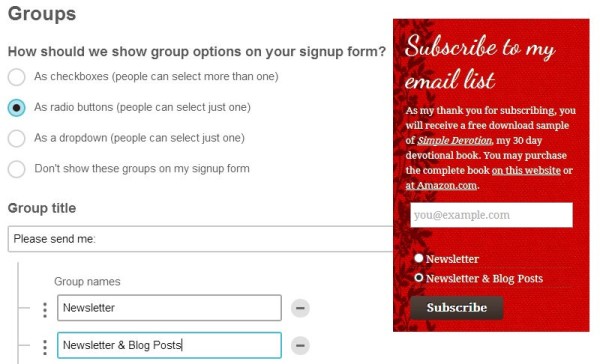 Trina Holden gives you checkboxes for Newsletter, Blog Posts, or Weekly Blog Digest: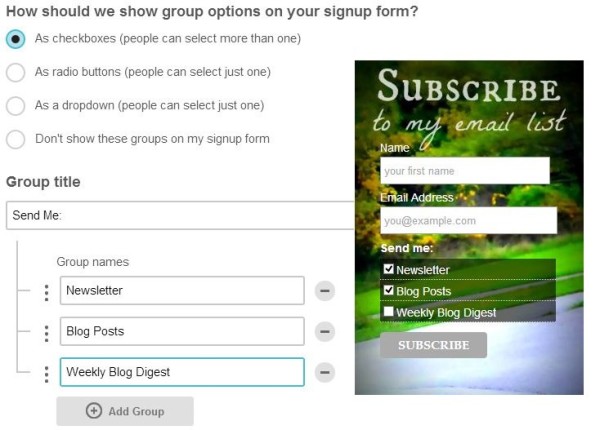 Vicki Lucas uses checkboxes to give an option for the "Fiction on Fire" Newsletter sent out by she and a fellow author, or blog posts by each of them (you'll notice that on their own blogs, only the subscription option for their own blog posts is visible thanks to edits in the embedded code, but it's all the same list in MailChimp):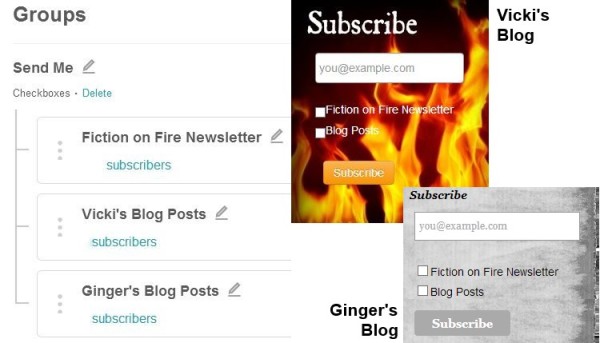 Kindred Grace uses Mad Mimi. While the sidebar subscription box doesn't display the options, subscribers are automatically added to both the Blog Posts and Monthly Newsletter list (using hidden fields). If they click to view additional options, subscribers can choose from Blog Posts, Monthly Newsletter, or Weekly Digest: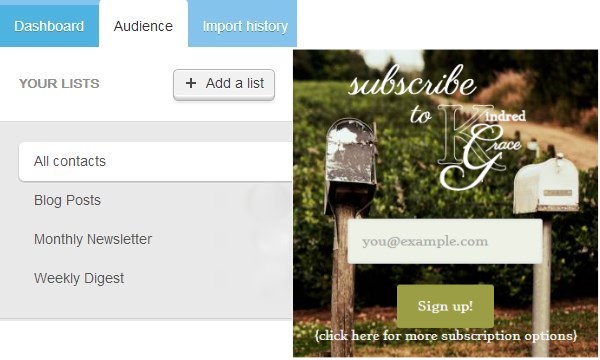 Tweetables:
Six simple steps to consolidate your email lists. (Click to Tweet)
Want to switch from FeedBurner or Jetpack to MailChimp or Mad Mimi? Click here for a simple tutorial. (Click to Tweet)
Do you have too many subscribe buttons competing for the call to action on your blog? (Click to Tweet)
How do I simplify my email lists?
It's pretty easy! Just follow these six steps to simplify your email lists.
1. Create a new group for your blog post recipients.
In MailChimp, choose your List, click the "Manage Subscribers" drop-down, and choose "Groups". There you'll have the option to click a "Create Groups" button.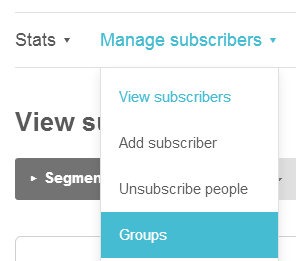 In Mad Mimi, choose the "Audience" tab and click "Add a list." MadMimi doesn't use groups, so you'll be creating a whole new list—but don't worry, you can display it on the same subscribe form as your newsletter list:

Add yourself to your new groups or lists, but don't import anyone else yet!
Tip: If you want to give your subscribers multiple options as illustrated above (weekly digest, etc.), this is the time to add those groups as well. Mad Mimi does not allow multiple RSS to email campaigns for the same feed, so if you want both daily and weekly blog post options with Mad Mimi, you'll need to trick it with a secondary feed address like FeedBurner or FeedBlitz to create more than one RSS to email campaign from the same site.
2. Set up your RSS to Email Campaign.
In MailChimp, choose Campaigns, then choose RSS-Driven Campaign from the Create Campaign drop-down: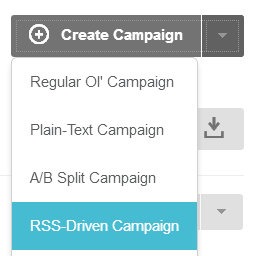 You'll want to choose your specific option segment here: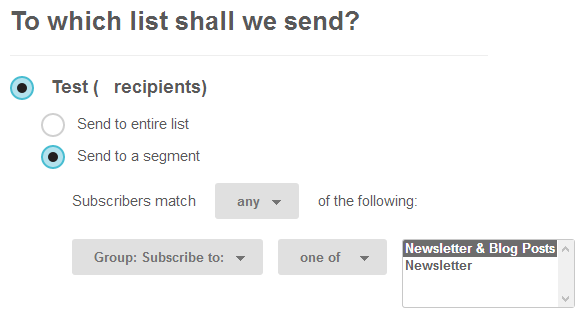 In Mad Mimi, choose "RSS" and click the "Add a Feed" button: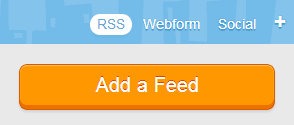 When editing the schedule and details, you'll want to choose your specific list option: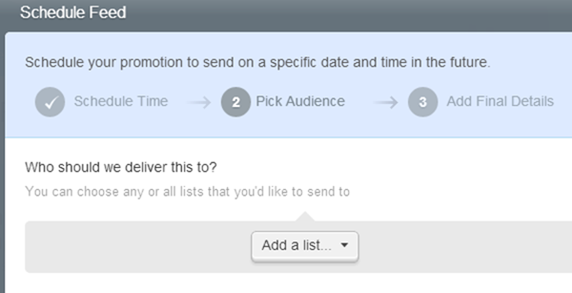 Follow the steps for setting up and designing your campaign:
Test your campaigns thoroughly while you're still the only recipient!
Tip: You'll need to create a separate campaign for each frequency option you created a group for above. Like FeedBurner, MailChimp and Mad Mimi will send out your posts at a specific time each day or week, if and when there are new posts. If you'd like an email sent out as soon as you post (like Jetpack), try MailChimp's AutoChimp plugin.
3. Download your email list from FeedBurner or Jetpack.
In FeedBurner, choose the Publicize Tab, then Email Subscriptions: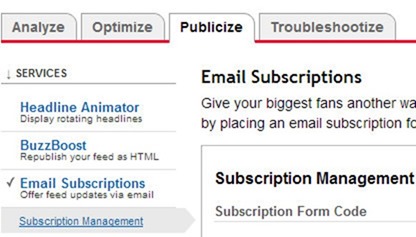 Scroll down to find the Subscriber Management section and click "CSV" by the export option: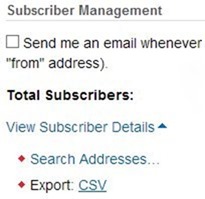 Check your FeedBurner export list in a program like Excel. If the status is "Pending Verification", they did not actually confirm their subscription to your email list. Delete those addresses from the CSV file before you import it!  (On each list I've moved away from FeedBurner, roughly a third of the subscribers were never confirmed.)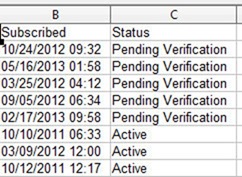 In Jetpack, go straight to yoursite.com/wp-admin/admin.php?page=stats&blog_subscribers or choose "Site Stats" from the Jetpack menu in your WordPress dashboard: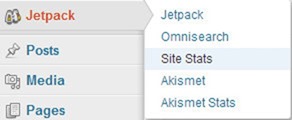 Scroll all the way down to Subscriptions and click on "Blog" next to the number of email followers:

Scroll to the bottom of the list of email addresses, and choose "Download all as CSV":

4. Import your email list:
In MailChimp, choose your list, then click the Import option and select the group you are importing into (if you already have contacts on your list, be sure to choose the auto-update existing list option):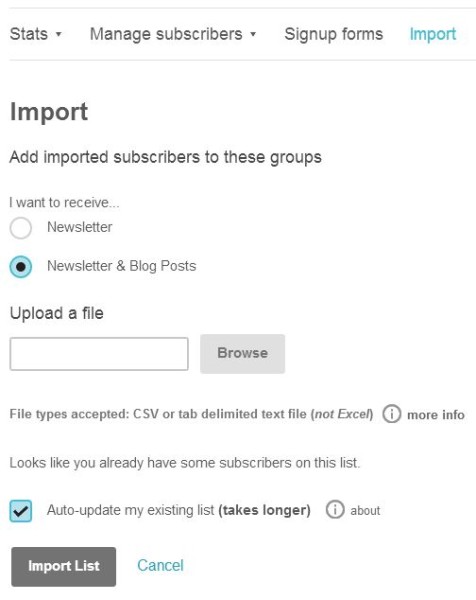 In Mad Mimi, choose the Add Contacts button in the "Audience" tab:

Select your list before you upload: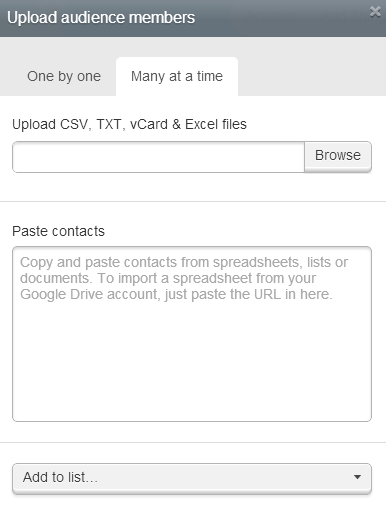 5. Deactivate email service with FeedBurner or Jetpack.
FeedBurner Deactive Button:

Jetpack Deactivate Button:
(doesn't show up until you click "Learn More" under "Subscriptions")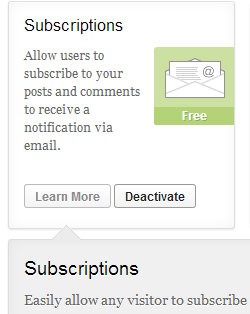 Tip: Deactivating Jetpack subscriptions also deactivates any comment subscriptions. Try Comment Reply Notification or Subscribe to Comments Reloaded to replace this function with even more features.
6. Schedule RSS to Email Campaign.
You're all set! Double check all the settings in your campaign(s) and, if you haven't already scheduled them, press the appropriate button to start sending out your blog posts via email.
MailChimp: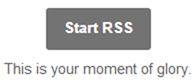 Mad Mimi:

Congratulations! You did it: you simplified your email lists. Comment and let me know how it goes! Or if you've already consolidated your lists, I'd love to hear how it's working for you.
More Resources: