5+ Ways to Send Your Blog Posts Via Email
Your tech-savvy blog readers can subscribe to your blog using an RSS feed reader like Feedly or Bloglovin', but the rest of them might not even know what that little RSS symbol stands for, let alone how to use it. (Don't miss the 5 Minute Guide to RSS Feeds in WordPress.)
The key to getting your readers to return to your blog is to get permission to send your blog posts straight to their inbox. Here are the advantages and disadvantages of 5+ popular ways to send your blog posts via email.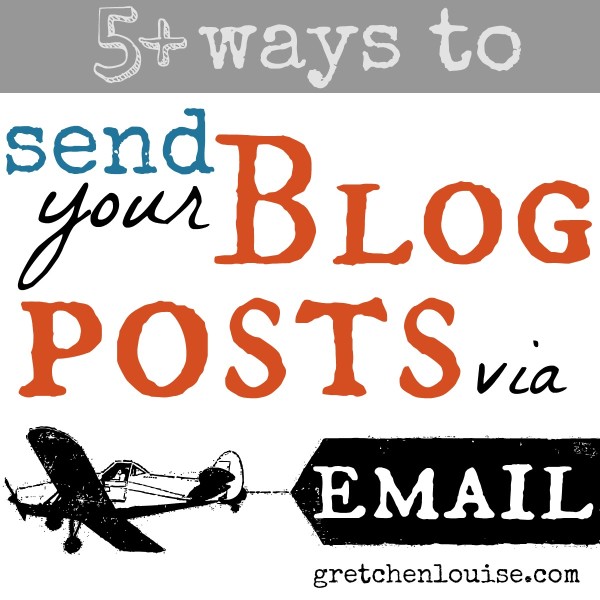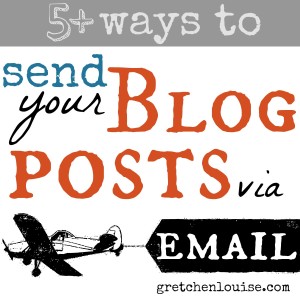 (This page contains affiliate links. Read my full disclosure.)
1. Jetpack
If you're a WordPress.com user, Jetpack is the default subscription option. It's also available to WordPress.org users through the Jetpack plugin.
The advantage of Jetpack is that it's free and built right in to WordPress.com or to .org with the plugin. A subscription checkbox is even automatically integrated into the comment section.
The disadvantages of Jetpack are many (in addition to questions about the Jetpack plugin itself). The emails go out immediately when the post is published, leaving you no chance to edit that typo before every single one of your email subscribers see it. You can't edit the appearance of the emails at all. Nor can you manually add or remove subscribers from Jetpack.
Jetpack subscriptions do not transfer from WordPress.com to WordPress.org (unless you contact WordPress.com for assistance). And if you're using Jetpack subscriptions on WordPress.com, there is no way to deactivate Jetpack if you want to switch to another service.
Price: Free
2. FeedBurner
If you're a Blogger user, FeedBurner is likely the method you use. And for many years, it was the preferred method of sending out posts via email, just as FeedBurner was the feed "burner" of choice (burning a feed means making it humanly readable rather than appearing as a bunch of code).
The advantage of FeedBurner is that it is free and unlimited.
The disadvantages of FeedBurner are becoming more and more. The stories of the people who never got your posts by email. The limited customization options. The fact that Google has phased out Google Reader and dropped support for FeedBurner development. (If you're using FeedBurner, export a backup copy of your email list frequently.)
Price: Free
3. FeedBlitz
The popularity of FeedBlitz rose quickly with the bad press surrounding FeedBurner. Like FeedBurner, FeedBlitz has an RSS to email service in addition to burning feeds.
The advantage of FeedBlitz is that it is an all-in-one service. Your email subscriptions are sent out by the same service that burns your feed.
I've not used FeedBlitz, but disadvantages I've heard or seen include: a tough learning curve, a multiple step signup process (two clicks plus a confirmation email to sign up), and the occasional appearance of CAPTCHA on the signup forms. Blog posts are sent out within a three hour window rather than at a specific time.
Price: FeedBlitz is $1.49 per month for feed burning only, with the price increasing quickly based on the number of email subscriptions. Unlimited autoresponders are included with the base price.
4. MailChimp
You may have used MailChimp before for a newsletter, but it's not just for newsletters. You can send out your blog posts via email automatically using RSS to email campaigns.
The advantages of MailChimp are that the editor works much like WordPress or Microsoft Word. You have unlimited RSS to email options per RSS feed. You can upload a file directly to MailChimp if you're providing a freebie to your subscribers.
The disadvantage of MailChimp is that it can be confusing to set up RSS to email campaigns because of all the options (but check out my Top Ten Tips for help).
Price: MailChimp is free for 12,000 emails per month sent to up to 2,000 subscribers. Autoresponders are only available to paid users.
5. Mad Mimi
Mad Mimi is a more casual approach to email, but it creates a beautiful newsletter or post by email with super simple steps.
The advantages of Mad Mimi are an easy to use interface and great tech support. Few options equal little opportunity for confusion. It's easy to sign up and set up your campaigns. An interesting Mad Mimi feature is that you can choose single opt in rather than double opt in (no click on a confirmation email required), but this may give you a lot of spam subscriptions.
The disadvantages of Mad Mimi are that with the free version you're limited to a total of 25 image uploads, weird plain text editing, and you have no ability to customize your email templates. You also can't send out more than one version of a single feed (i.e. daily and weekly) and there's no file upload option if you want to provide a freebie to subscribers.
Price: Mad Mimi is free for 12,500 emails per month sent to up to 2,500 contacts. Drip campaigns are only available to paid users.
6. Aweber, Constant Contact, or other paid service.
I've heard great things about Aweber as well as other email services like Constant Contact. But so far, the completely free startup of Mad Mimi and MailChimp wins every time.
Check out my post How to Create & Build An Email List for a more in depth review of Mad Mimi and MailChimp, as well as details on other popular services. For all my email list tips, visit The Ultimate Guide to Newsletters & Email Lists for Authors & Bloggers.
Got more than 5 minutes?
Choose a service that allows you to offer your subscribers options. Let them choose from your newsletter, your blog posts on the day you publish them, or a weekly digest of your latest blog posts. Give them a checkbox for each or provide a drop-down option that includes your newsletter along with each post frequency. Click here for more ideas on simplifying your email lists while providing options to your subscribers.
Curious about the affiliate links rumors? Check out my friend Dawn's break down of the most popular email services and their policy regarding the use of affiliate links: Top 4 Mailing Services and Your Affiliate Links.
Speaking of affiliate links, if you're signing up for a new service, I'd be honored if you used one of my affiliate links: MailChimp, Mad Mimi, or FeedBlitz.
What service do you use to send your blog posts out via email?