How to Create & Build an Email List
"I have never yet met a blogger who didn't want more traffic. Writers write to be read! If that's true for you, then you need to stop focusing on growing your traffic. Instead, you need to concentrate on growing your subscriber list. Why? Because this list represents your hard-core followers—the ones who are more likely to recruit other readers. This means you don't have to do it on your own. It is the difference between addition and multiplication."
-Michael Hyatt in "How to Get a Ton of New Subscribers to Your Blog"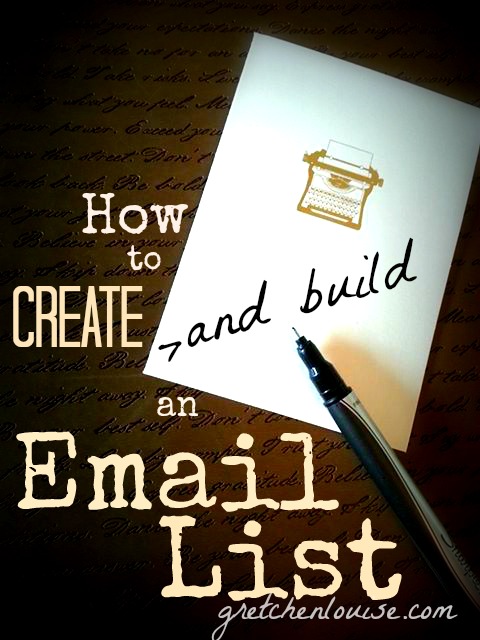 Everywhere authors and bloggers turn, they are being consistently advised to do one thing: create and build an email list. Looking for more personal connection with your blog followers? Create an email newsletter. Want to write a book? Build an email list.
That's because, despite all the new social media platforms, one thing hasn't changed: the permission to get into people's inboxes is still one of the most powerful tools you can wield when it comes to marketing and communication." (Click here to read The How & Why of Author Email Lists.)
"Email is still the most powerful way to communicate online," says Jeff Goins in "Start Building Your Email List Now". There are no Facebook algorithms to trick, sponsored Tweets to beat, or Pinterest-worthy graphics to create. You don't have to rely on your reader's ability to figure out something as technical as an RSS feed reader. Email is personal and direct:
"When you offer your readers the chance to connect with you via a newsletter, they're asking you right into their private inbox where it's much quieter… Instead of fighting for attention on a busy street, you've been invited to the kitchen table to share your heart over a cup of coffee."
-Trina Holden in "Why Every Blogger Needs an Email Newsletter" at Allume
So, you're convinced—you need an email list. But how in the world do you go about creating an email list, let alone building your subscriber count?
Here are five simple steps to create and build an email list.
1. Choose an Email Service
I recommend starting out with MailChimp or MadMimi, because there's no cost for you to start out building an email list, and minimal cost when your list gets bigger. (I'm an affiliate for both services, so the links in this post will include affiliate links.)
Free Services
MailChimp is free for 12,000 emails per month sent to up to 2,000 subscribers (that's anywhere from 6 emails per month sent to 2,000 subscribers each, to 15 emails per month sent to 800 contacts, to 31 emails per month sent to 387 subscribers).
Mad Mimi is free for 12,500 emails per month sent to up to 2,500 contacts (that's 5 emails per month sent to 2,500 contacts, 15 emails per month sent to 833 contacts, or 31 emails per month sent to 403 contacts)
Unlimited Services
If you're looking for a paid option with unlimited emails per month, there are many. Here is a run-down of the current prices for unlimited emails per month at the 1,000 and 5,000 subscriber levels:
Who wins? Between MailChimp and Mad Mimi, MailChimp wins in features, Mad Mimi wins in price. Analytics junkies will appreciate the way MailChimp's stats are front and center, but from there they require a lot of clicks, whereas Mad Mimi's stats, though more hidden, are easy to see and understand at a glance once you get to them. Mad Mimi provides less options overall, making it simple and easy for beginners; MailChimp provides endless customization, along with better options for giving a free download exclusively to your subscribers. MailChimp allows for multiple RSS to email campaigns per feed URL, but Mad Mimi requires a work-around (add ?1 to the end of your feed URL to use it again). Mad Mimi's site has a casual, friendly feel, while MailChimp gives an impression of professionalism (despite the chimp). Everyone talks about Mad Mimi's great customer service, and every word you hear is true; yet I've never even had occasion to contact MailChimp's customer service because everything is well organized and their knowledge base is so complete. Ultimately, I chose MailChimp for my personal use (you can't beat the control and flexibility), and Mad Mimi for ministry use (the price is right when you are dealing with large lists).
Note for Affiliates: If you use affiliate links, you'll want to pay close attention to MailChimp's affiliate policy, though you're probably okay unless you're advertising get rich quick schemes. Mad Mimi, on the other hand, has no policy regarding use of other affiliate links, but bans use of Mad Mimi affiliate program links within Mad Mimi email campaigns! (MailChimp affiliate links are included in the footer of every MailChimp email.)
Tip: Want to know what service other bloggers chose?
Their names are linked if they have reviewed the email newsletter service they use:
MailChimp Users: WPBeginner, Author Media, Design By Insight, Jeff Goins, Michael Hyatt, Emily Freeman, Rachelle Gardner, Sarah Mae, Allume
Mad Mimi Users: Amy Lynn Andrews, Life Your Way, Bundle of the Week, Kindred Grace, The Exodus Road, Mama Natural, and The Influence Network
FeedBlitz Users: Money Saving Mom, eReaderGirl
Constant Contact User: Tricia Goyer
Aweber Users: ProBlogger, How They Blog, Inspired to Action, Story Cartel, Christian Mommy Blogger
2. Set Up & Import Your Lists/Groups
Now it's time to think through the options you want to give your subscribers. Sometimes, the ability to choose what fits your subscriber the best will make the difference in them clicking that subscribe button. You can offer them options such as:
a monthly newsletter
blog posts as you publish them
a weekly digest of your blog posts
a specific category of your blog
Lists vs. Groups: In Mad Mimi, you'll be creating multiple lists—one for each option—whereas in MailChimp you'll only need one list because each list can have multiple "groups", and you can choose to send emails to different groups or segments. (As mentioned above, you'll find you need to trick Mad Mimi with a secondary feed address like FeedBurner or FeedBlitz to create more than one RSS to email campaign from the same site.)
Import
You may feel like you're just getting started, but you already have subscribers! That group you have in your Outlook Address Book that you treat as your "update list"? The list of email addresses from your last book signing? The people who have said, "Please let me know when you write a new blog post!"? They are the ones you want to add to your email list. But here's the catch—you can't just add them to your email list, you have to have their permission to do so. You can do this a couple ways:
If you already have an email list in your address book that you use frequently, you can send out an email saying, "I'm making the move to a newsletter service. If you want to keep getting my updates, you don't need to do anything. But if you'd rather not remain on my email list, please reply to let me know."
If you'd rather not assume anything, send an email to the addresses you have, telling them about your newsletter list, what you'll be writing about in your newsletter, and the perks for subscribing. Be sure to include the link to the signup form and tell them you'll be glad to add their address—all they have to do is reply and give you permission.
Import the addresses you have passive or active permission to add, then remove that list from your address book and promise yourself never to spam your personal address book again. Make sure the first newsletter after you've imported people to your list or changed your groups around includes the "update subscription preferences" link front and center!
Tip: Legal
Legally, you have to use an actual physical mailing address in the footer of your emails. Go in with your Mastermind Group friends to get a Post Office Box (or forwarding service) if you don't want your home address on there (and you probably don't—see Christie's "Blogger Beware" post on Allume).
Tweetables:
So, you're convinced—you need an email list. But how in the world do you go about creating and building it? (Click to Tweet)
Ever wondered how to offer an exclusive download to your email subscribers? (Click to Tweet)
Email newsletters made simple: 5 simple steps to create and build an email list. (Click to Tweet)
3. Grow Your List
The key to getting subscribers is making your signup form easy to find and attractive to fill out. Of course, make sure you ask for all the information you want to on your signup form—including asking them to choose from groups or lists if necessary.
Make it Easy
Put that signup form everywhere:
Make It Attractive
Mention your email list in blog posts and social media statuses:
"Don't forget, you can sign up for my email list for a free download about this…"
"My newsletter subscribers got a sneak peek at this."
"I'm just about to send out my monthly email newsletter—are you signed up?"
Create a freebie for subscribers: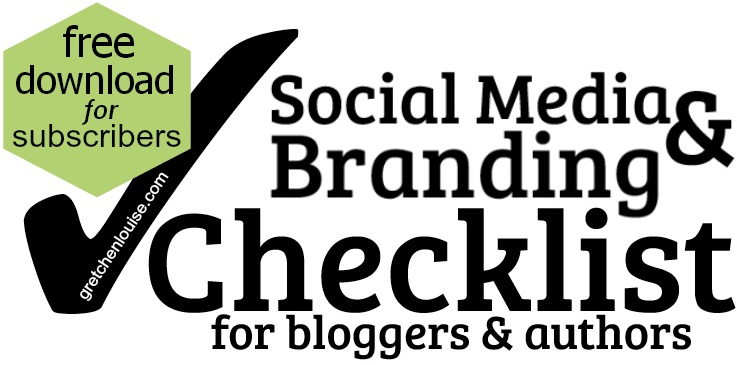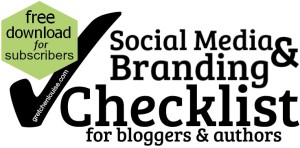 Create a free PDF for your subscribers to download. Make sure you have your website and contact information within the PDF, and specify that it is a free download for your email subscribers only, not to be shared with anyone else—but that they can send their friends to your site for their own copy.
If you want to keep your free download truly exclusive to subscribers, don't even link it in your email campaigns themselves — those are often forwarded or shared. The best method is to place the download link in the final confirmation page or email message; don't give away the download unless they've activated their subscription! Most importantly, you want to make sure that the free download link is not something that can be found by searching Google or your website. Here's how to make your free download available to new subscribers automatically:
MailChimp: Go to Lists, Signup Forms, General forms, and choose "Confirmation thank you page" and/or "Final welcome email" (as long as your list default settings specify to send a final welcome email). Hover over the confirmation text and click "Edit", type something like "Click here to download your freebie", highlight the text, choose the "Link" button, then choose "File" in the drop-down options. Upload and select your PDF, then insert the link.
MadMimi: Go to Webform, Advanced, then "Edit activation message" and include the PDF download link in the custom activation message. Or, include an "Activation Landing Page" link to a page on your website that includes the link to the free download (make sure it is hidden from search engines and your site's own search feature, and doesn't have social share buttons on it).
Tip: Subscriber Freebies
Check out these posts on the Allume blog for more thoughts on giving freebies to your newsletter subscribers:
4. Don't Spam (or look like spam)
Nobody likes spam—the kind that comes in the can or the kind that lands in your email inbox. Don't spam your subscribers—be up front about how often you normally send out newsletters and what they can expect to find in them.
Make your newsletter more like a personal note, less like a sales pitch. Keep it long enough to be worth sending out but short enough to be easily read. Include exclusive content that can't be found anywhere else, especially on your blog.
Be sure to send out emails that people will want to receive. Because for every person who hits the spam button when you've sent one too many sales pitches to their inbox, that's a lot more people whose inbox will never see your newsletter—one person's spam button helps set the rules for everyone else's.
Don't use exclamation marks or spammy words in your subject lines: that's a sure way to miss the inboxes and go straight to the spam folder. (How do I know? My own newsletter landed in my very own spam folder when I used the word "free" in the subject.) Use the Mail Tester and Email Subject Line Tester to double check your own subject lines and content before you hit send.
Tip: Plain Text Formatting
More and more emails are being opened on mobile devices, many of which don't show fancy formatting, colors, or graphics. That doesn't mean you can ignore the HTML version of your newsletter: always choose the Drag and Drop Editor in MailChimp so you can develop your own look into a unique template you can use over and over. Keep it clean, simple, and easy to read (remember, columns and colors show up differently on every screen!).
But pay very close attention to the plain text version of your email—that's what many of your readers will see. Use the previews to see if your email still flows without the images, and make sure it doesn't duplicate all the image links.
More Resources:
5. Be Consistent and Creative
If you put "Email Newsletter" on each month's to do list, it's a lot more likely to get done. And you'll use it for more than just advertising whatever sale you're currently an affiliate for. Author Emily Freeman made a commitment to send out a newsletter once a week for a month, just to get in the habit. If you're just getting started, make a commitment as to when you'll send out your newsletter and ask for accountability from your readers.
Consistency breeds creativity. There's nothing worse than a boring email newsletter (see CopyBlogger's "5 Reasons Why No One Is Reading Your Email Newsletter"). Jot down ideas for upcoming email newsletters just like you would for blog posts or book chapters. Rework an old post into new content. Highlight some of your favorite posts from your blog—and why you liked writing them. Your email newsletter doesn't have to be completely exclusive content, but it shouldn't be verbatim of that blog post you wrote last week.
The best way to get ideas for your own email newsletter is to see what other people do. Here are some of my favorite email newsletters (I'd love it if you'd comment with your favorites—and tell me what it is you like about them!):
And so now it's time. Make that commitment.
Create that campaign (the fancy term for each email) today!
Photo & Graphic Credit: Trina Holden