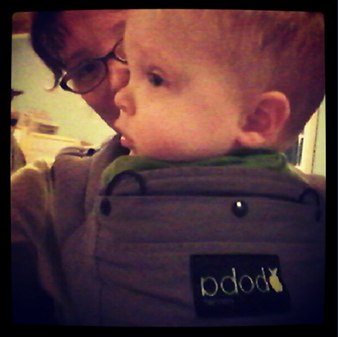 Christmas was the first trip we've taken with him that we didn't pack the Boba or the Ergo or the wrap—or all three. And I only wished we had it once.
He's twenty months and getting oh so very man-like.
Think ahead to a time when your little boy's a man
And you'd give anything just to hold him again.
But tonight while I was making pizza he stood on my toes and hugged my legs until I picked him up. I knew I'd never get pizza made while jugging him, so I asked, "Do you want to be in the carrier?"
An emphatic nod was my reply.
So I buckled him in the Boba and we made pizza together until Daddy got home.
Soon comes the day when you'll have no child to hold,
So cherish, cherish the moment.
Tomorrow his daddy and I will go to a funeral together. For a man we knew and respected and didn't expect not to be here this spring to plant our tomato and pepper plants.
We know we'll see him again in Heaven. But our tears will be for his wife who's missing him oh-so-much here on earth.
Cherish the moment; soon you'll be apart.
Cling to the memory, clasp it to your heart.
And once again, I'm reminded to cherish those little ones who grow big so fast. And I'm holding my husband's hand a little tighter, taking a bit more care to cherish the man who has cherished me for so many years.
Think ahead to a time, When your little ones are grown;
Hold them tight, don't lose sight of the blessings you have known.


(lyrics from "Cherish the Moment" by Ron Hamilton)