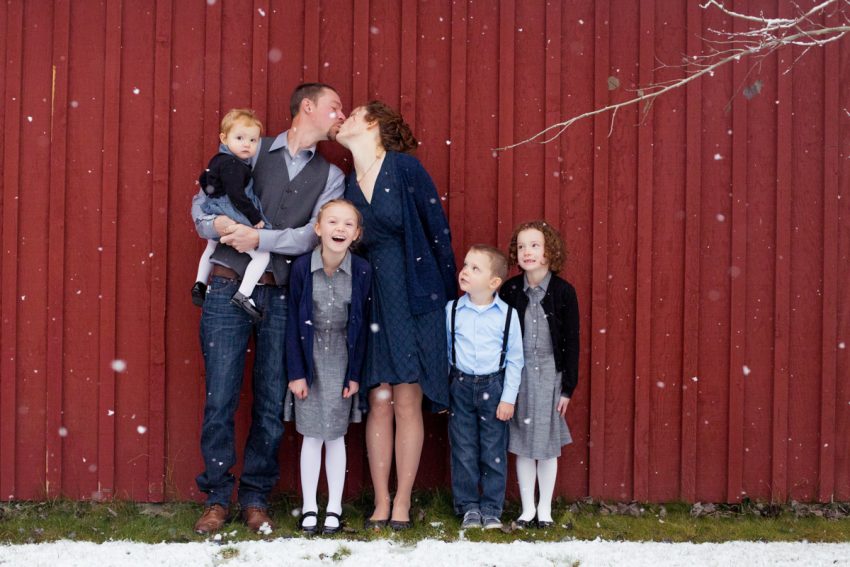 Dear Everyone,
My name is Sara Elizabeth but my family calls me Sara Bear or just Bear. Since my mommy is really busy, I am writing our Christmas letter this year.
There's this pretty white stuff coming down from the sky outside and it's really, really cold. But my family says it doesn't look much like Christmas inside (I don't remember a lot about last Christmas, so I'm not real sure, honestly). We have boxes everywhere (I'm good at packing but even better at unpacking). There are pipes sticking out of walls (they make great hat racks, I must say). And we have big bunches of electrical wire protruding from the walls and ceiling (we pretend they are wreaths).
I'm still confused as to why I, the tiniest member of the family, am the cause of all this. But Daddy says that I take up so much room that we had to make our house bigger. And he means a lot bigger! We're getting a whole new kitchen and living room and office—and a bedroom that Mommy and Daddy think is just for them (they have this silly idea that when they move into their new bedroom I'll move in with my sisters).
Regardless, we started breaking ground in March. Daddy and Grandpa and Papa did all the big heavy work but Mommy and I helped when we could. (She's pretty good at helping pour concrete with a sleeping baby on her back. But then, she can do a lot of things better with my help!) We got all the first story walls up by the middle of July. Then we hired a man called a contractor for six weeks so that he could help us get the new addition closed in before the fall weather came. It rained really hard one day in August and our kitchen got flooded and Mommy said that's why we hired a contractor, so that wouldn't happen over and over again. We were very glad when the roof was on and we were all protected from the weather! Now we have windows and doors and plumbing and electrical and insulation. The sheetrock upstairs is done. And by the time you're reading this, who knows how much more my daddy will have gotten accomplished. He's pretty amazing like that, you know.
My daddy works harder than anyone I know. He farms several hundred acres full time. He drives tractors all hours of the night and day. He goes to farmers market with Papa each week May through October. Not to mention helping in the great big farm garden a whole lot. And somehow, he still finds time to work on our house and help Mommy with dishes and read books to me. He is my hero. I shriek with joy every time I think I hear him getting home. My very favorite place to be is snuggled up between my daddy and my mommy.
My mommy is a busy lady, too. She helps people with their websites and their book projects. And she feeds us and teaches us and does our laundry and our dishes. And she takes care of me. I'd like to be her full-time job. But instead, I just hang out on her back or in a sling so I can be as close to her as possible while she works. I love my mommy.
Ruth Ann is really big and grown up. She turned nine last month. Any time I go looking for her, she usually has her nose in a book. (Her favorite series right now is Little House on the Prairie.) I can't wait until I can read like she can! She loves poetry and historical facts and studying birds. I love to help her recite poetry during our schooltime each morning. I make really loud sounds that go along with the poems and she thinks it's cute. Her favorite poem is "Thanksgiving Magic".
Mary Kate makes me laugh. She turned seven this summer. Mary is always telling jokes to people. That's really fun for me because I think she's hilarious and so I always laugh along with everyone else. Whenever I need someone to sing and dance with me, I find Mary. She's always ready for a party. But she helps me take care of my baby doll, too. She also does really well in math. And she knows all the poems Ruth and I learn, even if she doesn't always recite them with us. Her favorite poem is "The Swing" by Robert Louis Stevenson. She loved listening to Daddy read Little Britches aloud this year.
Daniel is my beloved big brother. He and I share a birthday month. He turned 5 eleven days after I turned 1. I get along with him really well except when he annoys me. (Mommy says brothers are just like that sometimes and that I should love him anyway and he can become my best friend.) I like to play cars and tractors and Legos with him. He has fun toys. He and I like to help Daddy build, too. (They get scared when I pick up a hammer, though!) Daniel is very smart. He knows all sorts of math problems that are just so far beyond me. But I listen in when he does his math so I can grow up to be smart like him. Daniel's favorite poem is "The Vulture" by Hilarie Belloc and he likes it when Daddy reads King Arthur and His Knights of the Round Table aloud.
And that brings us to me. I'm 20 months old now. I do big girl things like use the potty chair. I don't like baby things like taking naps—unless I can take them while snuggled up in someone's arms. I really like being around people (Mommy says this is because I'm the baby of the family). I also like to tell my big siblings what to do. I don't actually talk yet but I get my point across just fine with lots of jabbering and pointing and pushing people around—oh and a bit of sign language. Mommy says I am her best helper because I listen carefully to what she says she is going to do and then I go get started, whether it's sorting laundry or setting the table for dinner. (I do try to be one step ahead of her! It makes it easier that I climb really well. That means I can get up on Mom's bed or up on the kitchen counter in no time flat.) I like to eat whatever Daddy is eating—especially if it's chocolate. And I've finally decided that I like reading books—particularly If You Give a Mouse a Cookie (over and over and over again).
My Daddy and Mommy celebrated ten years of marriage together in May. I let them go out to eat all by themselves (even though this was a huge sacrifice on my part). This summer Uncle Mason married Aunt Hannah which was nice because I got to see lots of my family when they came to the wedding. It was a pretty wedding even though it rained all day right up until the ceremony! Mommy says sorrow and joy often come mixed together (this makes sense because she seems to cry when she's happy). But soon after celebrating Uncle Mason's wedding we were really sad when my great grandma Mary Elizabeth Mann died. I'd never met her but she sounded like a very special lady. Not only do I have her middle name as my middle name, but I have a sweater that she knit me, too.
I think that about sums up our family. Oh, wait. I should have mentioned the cat. We have a cat named Midnight. I don't like her. I growl whenever I see her. My family says this is appropriate since I am Sara Bear. I don't think it has anything to do with being a bear; I simply do not think cats are necessary.
Then there are the chickens. I can't forget the chickens. I like to feed them grass. But I have to be careful to keep my fingers out of their pen!
Now, I had better go check on what my siblings are up to. I hope you all have a really nice Christmas—with lots of snow, but not too cold.
God bless us, every one!
Love,
Sara Bear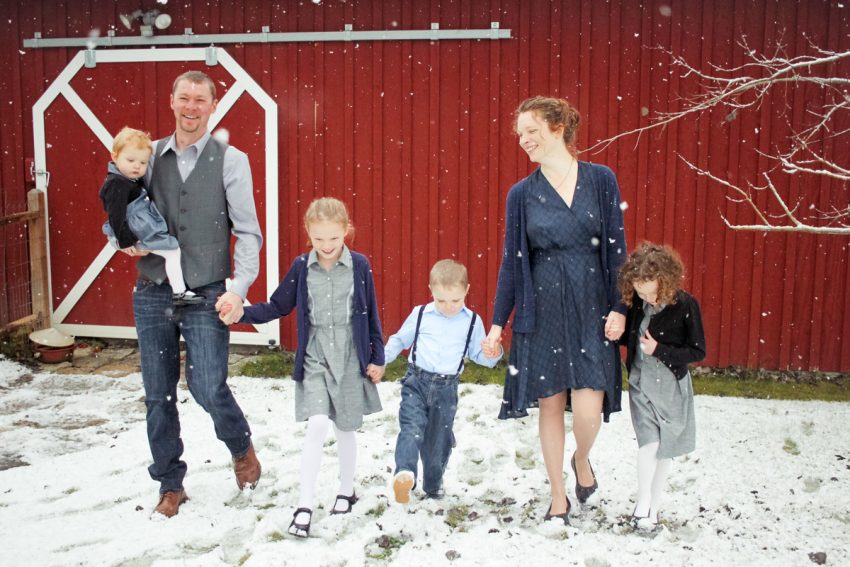 P.S. My aunt Hannah took our pictures. She's pretty talented. Even if we do have a penchant for scheduling our family photoshoots when it's bitter cold outside.