Top 10 Places On Your Blog to Convert Visitors to Subscribers
(This post contains affiliate links. Read my full disclosure.)
Converting readers to subscribers isn't always easy. If content is king, then having a fabulous freebie to offer your email subscribers is surely the queen. But what you really need is a court jester or two dancing around on your blog, inviting your visitors to subscribe. Preferably, you'd name them Jester A and Jester B and do some A/B split testing to see which subscription form converts more readily!
There are a lot of options when it comes to when, where, and how to add a form inviting readers to opt in and become active subscribers. Here are the top ten locations to put an opt in form, and the most popular plugins and formatting options to use in each spot.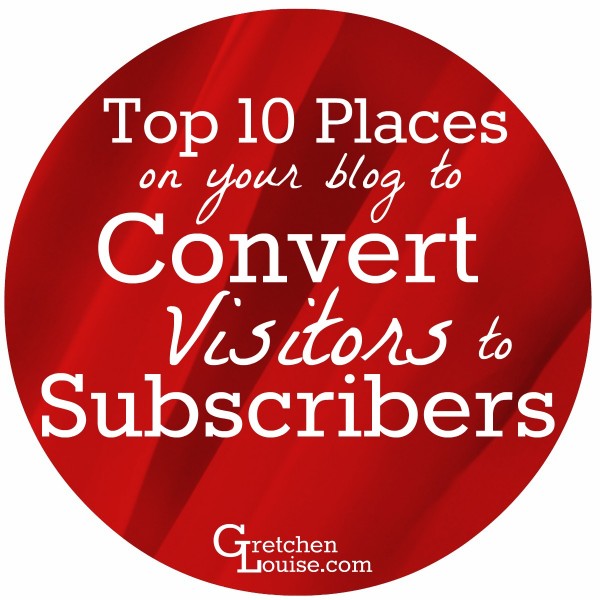 1. Header Bar
One popular way to catch the eye of your visitors is to place a brightly-colored bar across the very top of your site, offering the latest announcements, specials, and, of course, a subscription form. These header bars display right in the uppermost spot of every page on your site (where you see the WordPress Admin Bar when you're logged in to your dashboard).
Header bars are usually easy to minimize or ignore once you've subscribed, but once in awhile they can nearly obscure the page on mobile view. They also don't play well with a theme that has a "sticky" navigation menu that remains visible at the top of your site as you scroll. If you use a header bar, be sure to test your site thoroughly on several devices to make sure it's user-friendly.

2. Header Widget Area
Many themes have a widget area built into the header, and some even display a sign-up form there in theme demos. Many StudioPress Themes have special CSS features applied to the Genesis eNews Extended widget when it's in the header area, creating a unique and attractive subscription box.
The beauty of a header area subscription form is that you can make it eye-catching and enticing. It's the first thing your visitors see. And they'll want to click. The problem is that it can distract from your site's logo, not to mention make header layout difficult, especially on mobile. But that doesn't mean it can't be done well.

3. Sidebar
Sidebar space is precious. But it's a prime spot for a subscription box. You're not cramped by the size restrictions of the header, so you have plenty of room to feature an image of that freebie they'll get just for subscribing. Whether it's a simple box asking for their email address, or a full-color graphic with a call to action to get a free download, sidebar subscription forms work–and they rarely annoy people like popups do.
<form style="padding:25px;text-align:center;min-height:255px;max-height:255px;background:url(https://gretchenlouise.com/mailbox.jpg)no-repeat center;"</form>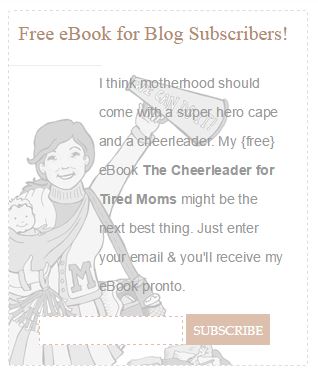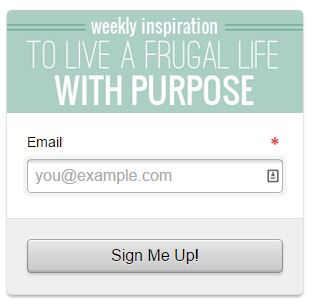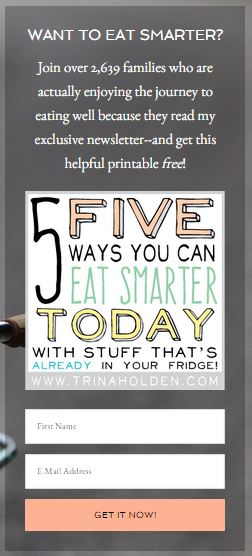 4. Popup or Slide-Out Subscription Box
Love them or hate them, popups they have great optin rates. The key with a popup box is to make sure you can control its appearance–and non-appearance–based on clicks, scrolling, and cookies.
Scroll-triggered boxes appear when a site visitor has scrolled past a specific area on your site. It might be percentage of page height, or after a certain layout element has been passed (i.e. post or comments). Popups can appear after a certain number of seconds, when a user has scrolled past a certain point, or when the plugin determines that the user is intending to exit your page. And, ideally, your subscription box won't keep popping up every time someone visits your site: if someone closes the box or subscribes, don't let it reappear for 90 days or until cookies are cleared.
5. In Page Subscription Form
Right within the page is one of my favorite places to put a custom subscription form. Naturally, your home page will feature a subscription form. But your "About" and "Start Here" pages are also perfect places to highlight your popular posts and invite new readers to subscribe for more. Custom landing pages for products or your most popular topics are another natural spot to mention that you write often on the topic and ask them to subscribe.
And of course, I think every site should have an actual "Subscribe" page. Don't make readers leave your site to find a subscription form: create a custom page on your own site that describes your subscription options and includes an embedded subscription form. This page (or a custom page featuring the freebie) should also feature a pinnable of your freebie, if you have one! Because when it gets pinned, it will bring people right back to the page where they can subscribe for their own free download.
For in page subscription forms, I prefer to embed my own customized forms with hidden fields and specific CSS. But for ease, try one of these plugins that offers shortcodes to easily embed your subscription form wherever you'd like:

6. After Post Subscribe Widget
When someone has just finished reading a stellar post, it's a prime time to ask them to subscribe to your blog. However, it's also adding one more clickable option between the end of the post and the comment box. If comments are important on your blog, your comment box–rather than a subscription box–should be the first call to action after your post. But if your primary goal is to make sure readers are subscribed, then consider adding your subscription form to an after entry widget area.



7. Comment Checkbox
Commenters are already providing you with their email address when they are leaving a comment: why not allow them to check a box and subscribe to your email list, too? There are several plugins that make it easy. Just be careful not to get too many checkboxes in the comment section, especially if you're already using Subscribe to Comments Reloaded (my favorite comment reply subscription plugin).

8. Comment Thank You Page
If you use a plugin to thank your first-time commenters, that thank you page is a great place to invite them to subscribe and stay in touch!
9. Footer Widget or Bar
If a reader has scrolled all the way down to your site's footer, they're committed. It's a great time to give them one last opportunity to subscribe. If you're using footer widgets, consider featuring your top or related posts in another footer widget, so they're more likely to stay on your site despite coming to the end of that page.
10. Contact Form
When someone is taking the time to contact you, they probably want to hear back from you in the future. Add a checkbox to your contact form to allow them to easily subscribe when they write you a message.
And that's just the beginning of the ways and means of converting readers to subscribers. There are dozens more opt in plugins available for WordPress users–literally a court full of royal officials, ready to be at your service, if only you will pay their price. But if you do decide to hire ten or more court jesters for your blog, please don't have them all dancing on the same page at the same time. There's a fine line between a polite, subtle invitation to subscribe and an annoying, noisy recurring message.
Whatever methods you choose for displaying subscription forms on your site, be sure to test them regularly with extra email addresses. There's nothing worse than discovering your prime spot featured a broken subscription form!
And to protect the reputation of yourself and your list, be sure to always use double opt in for your email lists (that means people get an email with a confirmation link that they have to click–they can't be automatically added to your list without manually confirming their subscription). Also, note that Canadian Anti-Spam Legislation prohibits the use of pre-checked checkboxes for list subscriptions.
Extra Tips
How to Grab Your Form Embed Code
If you're using a plugin to embed your subscription forms, you may only need your email service API and other details. However, even some of the plugins will need you to copy and paste the embed code in order to grab the proper configuration. Here's how to grab your embed codes. (Note that you'll always paste your embed code into the "Text" tab rather than the "Visual" tab in WordPress.)
How to Pre-Check/Pre-Fill Subscription Options/Fields
Want to pre-select which options you'd like subscribers to choose? Add checked="checked" to your checkbox code:
<input type="checkbox" checked="checked" id="mce-group[953]-953-0" name="group[953][2]" value="2" />
Save space in your subscription forms by removing the labels and instead pre-filling the fields with a "placeholder" explaining what you want them to fill out. For example:
<input placeholder="enter your email address" id="mce-EMAIL" class="required email" name="EMAIL" type="email" value="" />
How to Use Hidden Form Fields
Sometimes, I want to hide a pre-checked field so that someone is automatically subscribed to a list group. In that case, I'll simply change the field type from above to "hidden":
<input type="hidden" checked="checked" id="mce-group[953]-953-0" name="group[953][2]" value="2" />
How to Track Email Conversions
Pat Flynn has provided an easy tutorial on how to track email conversions in Google Analytics simply by setting up a "thank you" page on your own site that readers see immediately after entering their email address.
In addition, to track the performance of specific embedded MailChimp forms, you can create a hidden field in MailChimp, Signup Forms, General Forms, and then change the value of the hidden field per form:
<input name="SIGNUPSOURCE" id="SIGNUPSOURCE" type="hidden" value="page-about">
Check out more details on creating and tracking the signup source by visiting these tutorials:
What is the most natural method you've found for converting visitors to subscribers?
P.S. If plugins and embedded code just aren't your thing, and all of this about hidden fields sounds a little complicated, I'm glad to help.