Cozy Christmas Fiction to Enjoy on Quiet Winter Evenings
(This post contains affiliate links. Read my full disclosure.)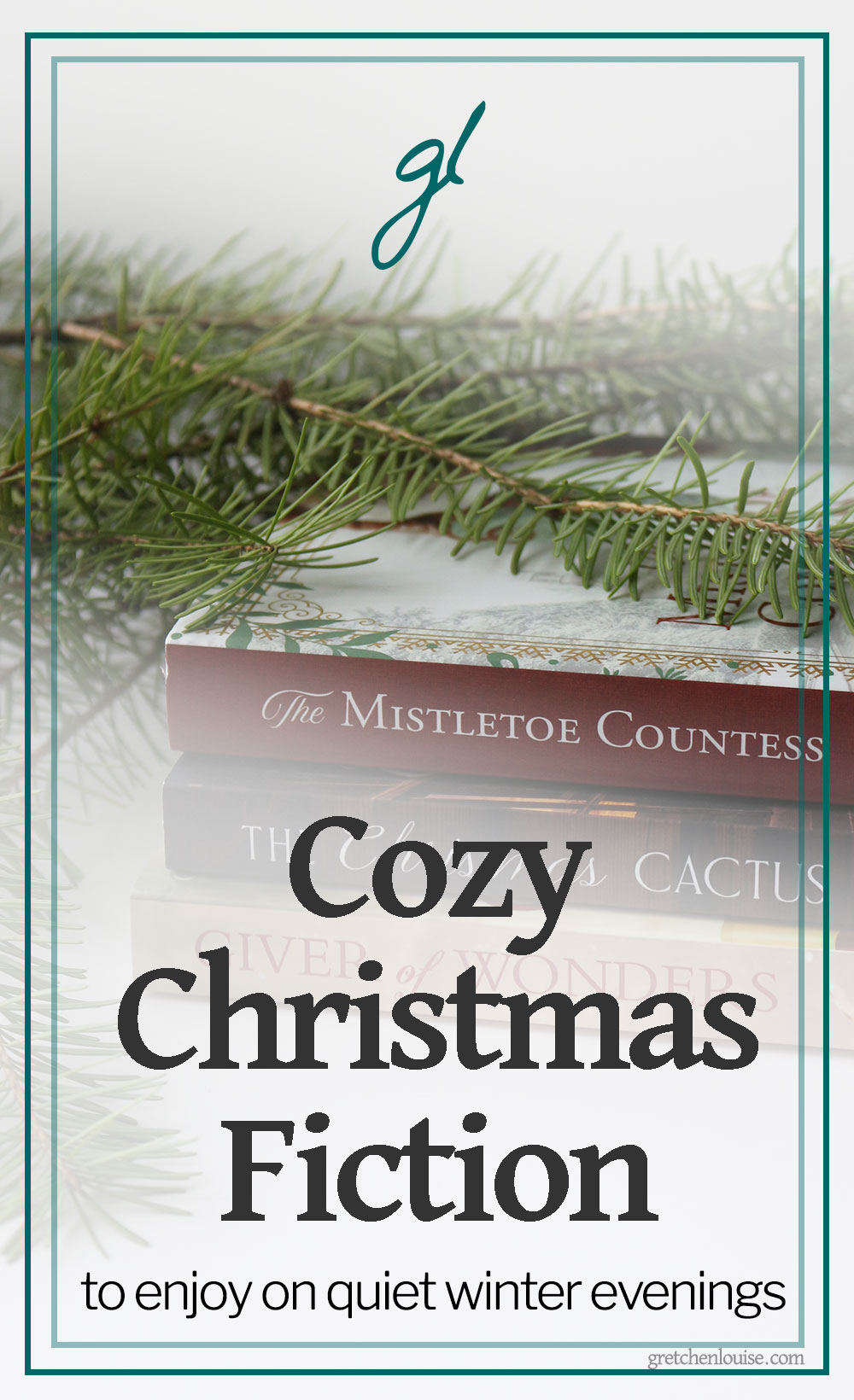 Snow is drifting down outside. A warm fire is burning in our woodstove. Christmas music is streaming through our speakers. It's the time of year when I want to spend all my time curled up under a fuzzy blanket, with a mug of hot tea in one hand and a Christmas book in the other.
As much as we enjoy the classic holiday tales and the timeless Christmas picture books, at the end of the day (not to mention the year!) I'm usually ready for some easy, cozy reads. And while I adore watching Shop Around the Corner, It's a Wonderful Life, and White Christmas, more often than not I prefer the quiet of a good book on a winter evening.
Here are some of my favorite Christmas fiction tales—novellas and full-length novels—which I love to read and reread each year.
Many of these Christmas titles are on Kindle Unlimited and Scribd. It's the perfect time to grab a free 60-day trial to Kindle Unlimited or a 60-day trial to Scribd. Be sure to check out the current Kindle Unlimited holiday deals, as well! (I've seen 3 months for 99 cents, and 4 months for $4.99, and 6 months for $30.)
Historical Christian Christmas Fiction
These tales of Christmases past have become delightful favorites that can be enjoyed any time of year, but especially at Christmas.
A gentle love story, The Christmas Cactus depicts entertaining real-life family scenes and the hard work of farm life in Washington Territory. While it can be read any time of year, the novel ends at Christmastime, with all the mouth-watering baking and careful preparation of handmade presents that entails. And of course, there's Granny MacDougal's Christmas cactus that hasn't bloomed since Katie Jo's mama died… A wholesome love story, perfect for all ages—from fans of Little House in the Big Woods to Janette Oke. (If you fall in love with Christy's historical fiction and homey Christmas scenes, don't miss the Christmastime wedding and Norwegian Christmas cookies featured in the middle chapters of Halstad House, nor the much-anticipated Christmas program and epic sledding adventures in the epistolary Love, Mary Elisabeth!)
This Cinderella-themed Christmas novella set near the Biltmore estate in the shadow of the Blue Ridge Mountains is a charming Christmas read. An illustrator and a gardener with a shared love for books and fairytales make this a not-to-be-missed Christmas masquerade.
The Mistletoe Countess is sweet, suspenseful, a tad bit spicy, and downright hilarious. A red-headed and very innocent heroine, a dashing hero with a past, and a whole library full of books. You'll want to read this full-length novel again even when Christmas is past. Due to the newlywed "spice," I'd recommend this book to married or mature readers only. (The Mistletoe Countess reminds me a bit of The Princess by Lori Wick, and is sure to become another classic in Christian fiction.) If you're gifting The Mistletoe Countess to a married fiction lover, it would pair perfectly with the new non-fiction book from Lisa Jacobson and Phylicia Masonheimer: The Flirtation Experiment: Putting Magic, Mystery, and Spark Into Your Everyday Marriage.
Anyone who has walked through the wardrobe with Lucy into the land that is "always winter and never Christmas" will love this glimpse into true stories from the early years of C.S. Lewis' life. In a unique split-time fact-and-fiction approach from the author of Becoming Mrs. Lewis, we're introduced to the fictional Megs Devonshire and her little brother George, who wants nothing more than to find out the story behind Narnia and his beloved Aslan. When Megs interviews Lewis at The Kilns, we're swept in and out of tales from Lewis' own life. Heartbreaking and beautiful, I wanted every line of Once Upon a Wardrobe to be true. (The audiobook is also exquisite!)
On my TBR list:
Christmas at Whitefriars by Elizabeth Camden (1912)
Giver of Wonders by Roseanna M. White (4th Century A.D.)
Contemporary Christmas Fiction
My favorite contemporary Christmas novels are part Hallmark Christmas movie, part Christian romance, with a dash of humor and a heaping serving of character development. Here are Christmasy single titles, trilogies, and mysteries that I've enjoyed.
Stand-Alone Contemporary Christmas Romance
One Royal Christmas is set in a tiny town in Vermont where media is banned and celebrities and royals can vacation in privacy. An adorable novella, complete with a librarian heroine and a royal hero.
Chautona Havig's love for Christmas is evident in her prolific publication of Christmas fiction. The Matchmakers of Holly Circle was my introduction to Chautona's books. Tarnished Silver is not an easy read, but it's a good one. 31 Kisses and 12 Dates of Christmas are cozy and cute. But Sand & Mistletoe is one of my favorites because of how it reflects real family life, but is just enough different from your own to make you laugh (and maybe even be convicting). If you fall in love with Chautona's signature style, you'll not only want to read every Christmas tale she's ever written, but every book she's set in the fictional town of Rockland, as well.
A single dad, a bookstore owner, and a blizzard… This second-chance Christian romance has all the coziness of a Hallmark Christmas movie. (Visit my bookshop book list for more Christmas fiction set in a bookshop!)
On my TBR list:
A Cross-Country Christmas by Courtney Walsh
All is Calm, All is Bright by Colleen Coble
Season of Change by Cathe Swanson
Contemporary Christmas Trilogies
These tales of the three Renwycke siblings will make you want to visit the cozy farmhouse in Maple Valley, Iowa. (This series can be read on its own, but you'll definitely want to take another trip to Maple Valley after this introduction!)
Nothing's more delightful than a little village in England at Christmastime. A companion trilogy to The Secrets of Paper and Ink, these romantic Christmas novellas can be read even if you haven't read Lindsay's bookstore book yet.
Two families with a passion for all things Christmas and the baumfarm (tree farm) that brought them together. Split-time works beautifully for these books, telling sweet (and often tear-jerking!) coming of age tales that turn to second-chance romance. Will be especially enjoyed by fans of Pudge and Prejudice or The Penderwicks.
Now and Forever Christmas (read the Kindle version in The Christmas Lights Collection: Home for Christmas)
Not Another Christmas (coming in 2022)
I wasn't sure how I'd like a series about a beauty pageant. But Valerie Comer brings biblical truths into these refreshing Christmas tales of romance and redemption.
Not your typical Christmas fiction, this series will not leave you the same. The books remind me a bit of the classic In His Steps by Charles Sheldon. The stories are completely separate and can be read independently of each other. My favorite is Once Upon a Christmas.
Contemporary Christmasy Mysteries
What better time for a mystery than Christmas, with snow to cover the tracks and a few of Dickens' ghosts about?!
The first in The CafFUNated Mysteries. If you like over-the-top crazy cozy mysteries with a side of caffeine, you'll like this wintry tale full of slips on the ice.
Seven cats, seven Christmas trees, and a stalker? A fun and surprising Christmas mystery.
This murder mystery novella (Chautona calls them "noellas") is a great way to meet the charming Alexa Hartfield. (While it's set in sequence after The Hartfield Mysteries, you can easily read Silenced Knight on its own.)
Christmasy Introductions to Series
Seasonal fiction can be a great way to discover new authors. These Christmas titles each begin a series which just might become a new favorite!
The first in the six-book Saddle Springs Romance series. Meet the Montana cowboys who are far from perfect but make heartwarming heroes all the same. Valerie weaves biblical truths through intriguing tales dealing with difficult situations.
The first in the four-novella Operation Romance series. A heroine who hates Christmas, and a hero with an epic Christmas lights display and a passion for bringing holiday hope and cheer to soldiers overseas. A story of redemption.
The first in the six-book Hope Ranch series. You'll fall in love with the Hewitt family and want to visit Rancho de Esperanza.
On my TBR list:
12 Days of Snowmen by Sarah Monzon
Christmas Fiction Set Within Series
As a sequential reader, it's frustrating to grab a Christmasy title on sale on Kindle and get almost finished before I realize that it fits halfway through a series—or worse yet, it was the "afterward" novella that wrapped up an entire series with a nice little bow. The titles below are all part of a series—some can be read alone, others are best appreciated in order.
I loved so many things about Christmas in Three Quarter Time and its characters. The vivid descriptions of the Vienna setting may tempt even the most determined homebody to travel! While Christmas in Three Quarter TIme can be read by itself, you may want to read the books in order to appreciate how the stories overlap. Once you've read Rose in Three Quarter Time, you'll also want to read these accompanying Christmas novellas:
Cadence of Cranberries can be read as a stand-alone, but once you spend Thanksgiving and Christmas with Winnie and family, you'll discover you want to start at the beginning of the Urban Farm Fresh Romance Series!
The final in a hilarious series of mysteries featuring Rachel Cooper, a redhead with curls that have their own personality. Unseasonable is told from the perspective of the heroine's sister, but will be best enjoyed after reading the rest of the series.
A sweet Christmas novella that fits into Becky Wade's swoony Misty River Romance series, you could read You and Me on its own–but there will be a few small spoilers. Regardless, you'll immediately want to immediately revisit the town of Misty River to hear more about the "Miracle 5"!
Fans of Fixer-Upper and This Old House will enjoy this series of romances centered around an old home in the Shenandoah mountains. You'll want to binge-read the rest of the series before you enjoy the finale, A Heart Reconsidered.
Elizabeth doesn't shy away from tough topics in her books, and this series is no exception, with its thought-provoking content and well-developed characters. Pathway to Peace revisits characters from earlier in the series but can be read alone, as well.
This lovely epistolary short story is for fans who have read the Steadfast Love series. Magried's letters to Anna will leave you anxious to read Follow the Dawn.
This charming novella will best be enjoyed after reading The Dress Shop on King Street (the first in the Heirloom Secrets series).
If you loved Karen Barnett's Vintage National Parks series as much as I did, you'll want to read this Christmas tale that follows The Road to Paradise.
On my TBR list:
Christmas at the Circus by Joanne Bischof (companion to The Lady and the Lionheart)
Christmas Wishes in Wild Harbor (book 3 in Wild Harbor Beach series)
The Wish Book Christmas by Lynn Austin (book 2 in the If I Were You series)
Christmas Novella Collections
I tend to buy novella collections to read a specific title or two (after all, I want to count each title separately towards my Goodreads goals!). But collections can be a great way to discover new authors—especially at Christmastime.
---
More Christmas Fiction You'll Love
---
Thanks to NetGalley for the original digital review copies of Once Upon a Wardrobe and The Mistletoe Countess. Thanks to Christy Martenson for the joy of helping with the publication of The Christmas Cactus. And many thanks to my mother, Sara, for her proofreading and editorial comments on this post—not to mention teaching me to read so I could grow up and fill up her "TBR" list with my constant recommendations!