Vintage & Contemporary Bookshop Books So Charming You'll Want to Visit!
(This post contains affiliate links. Read my full disclosure.)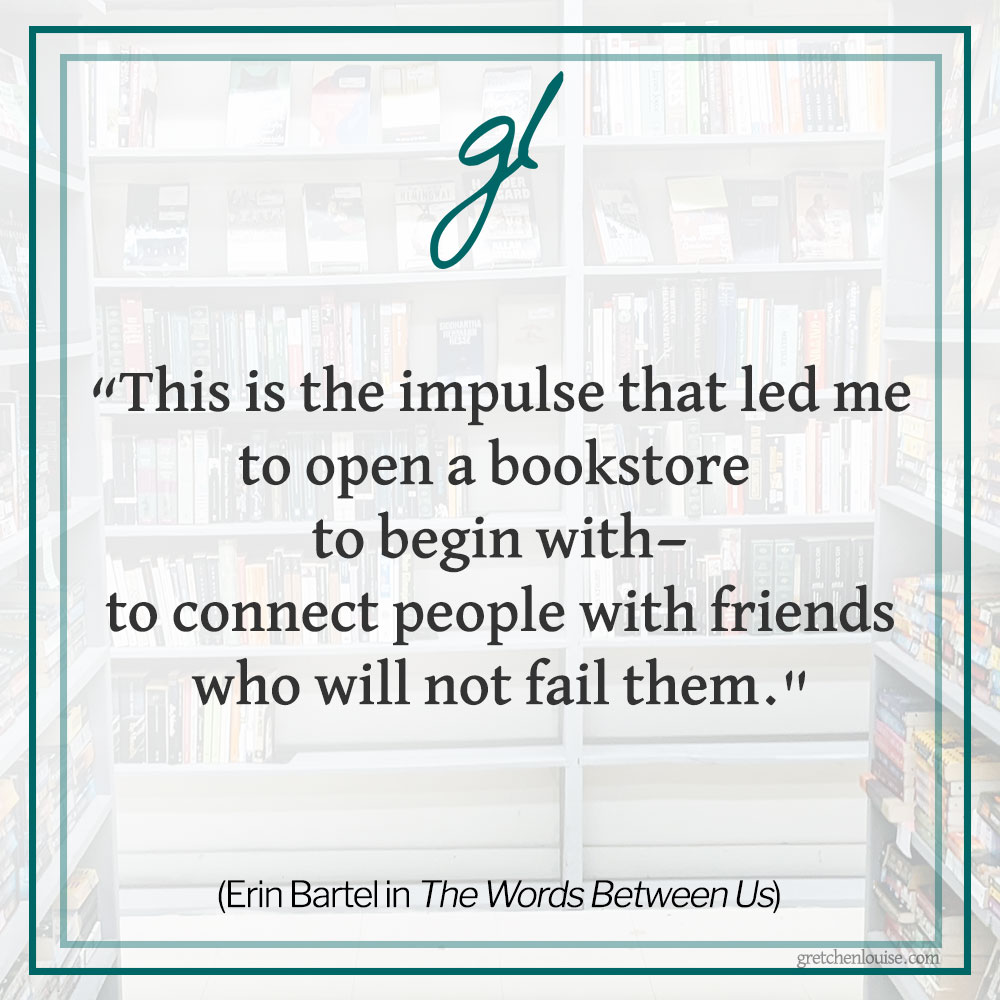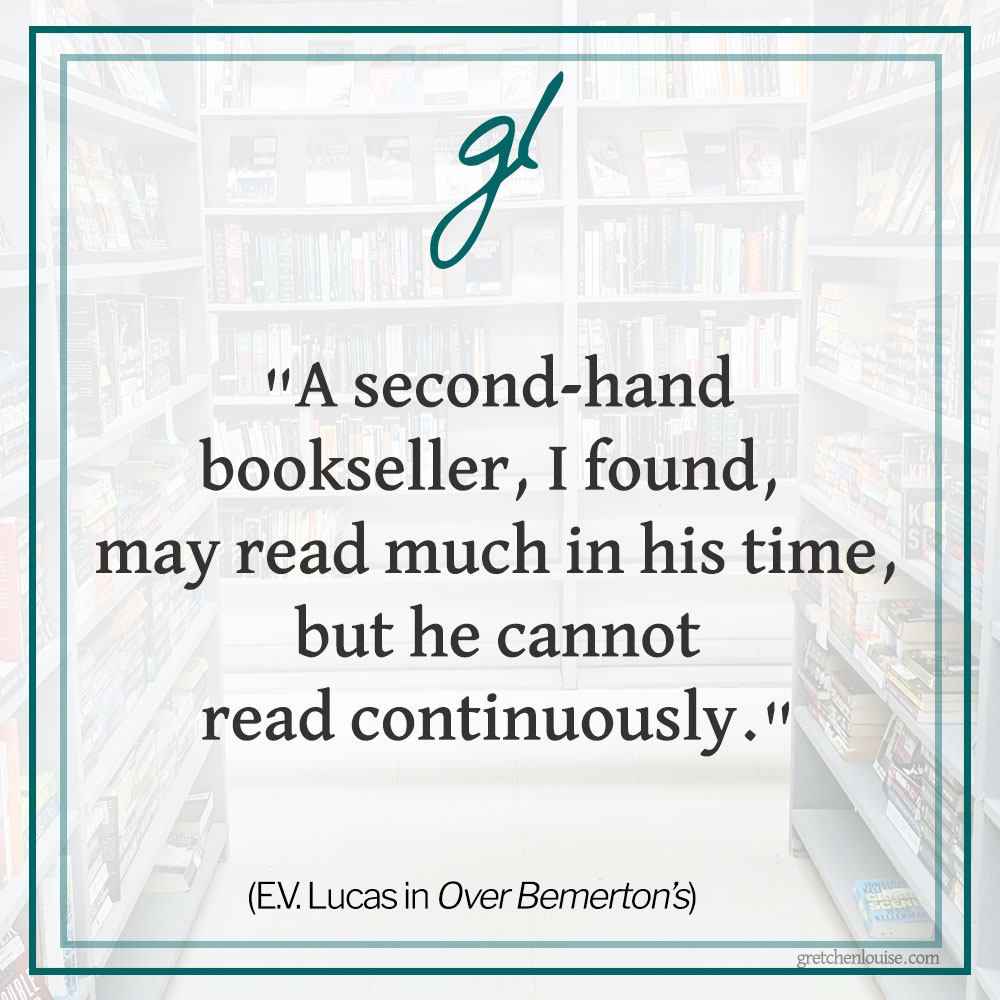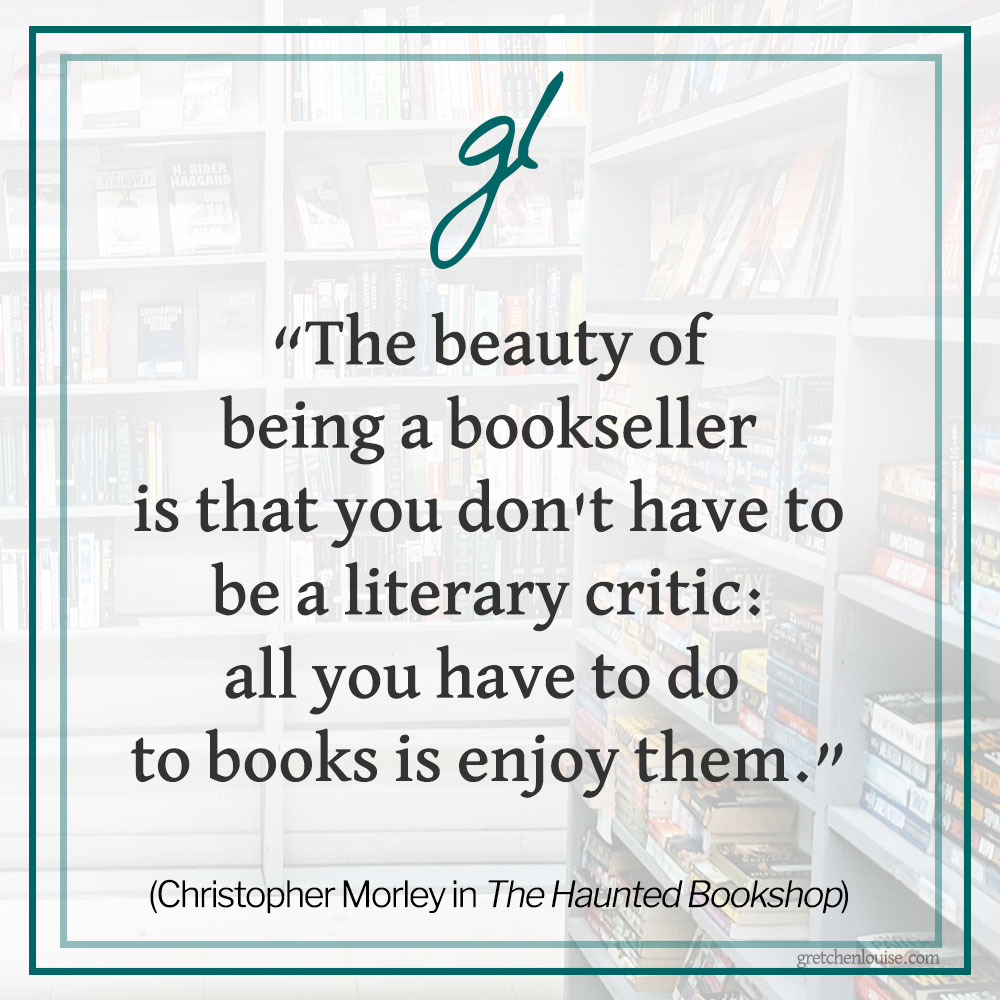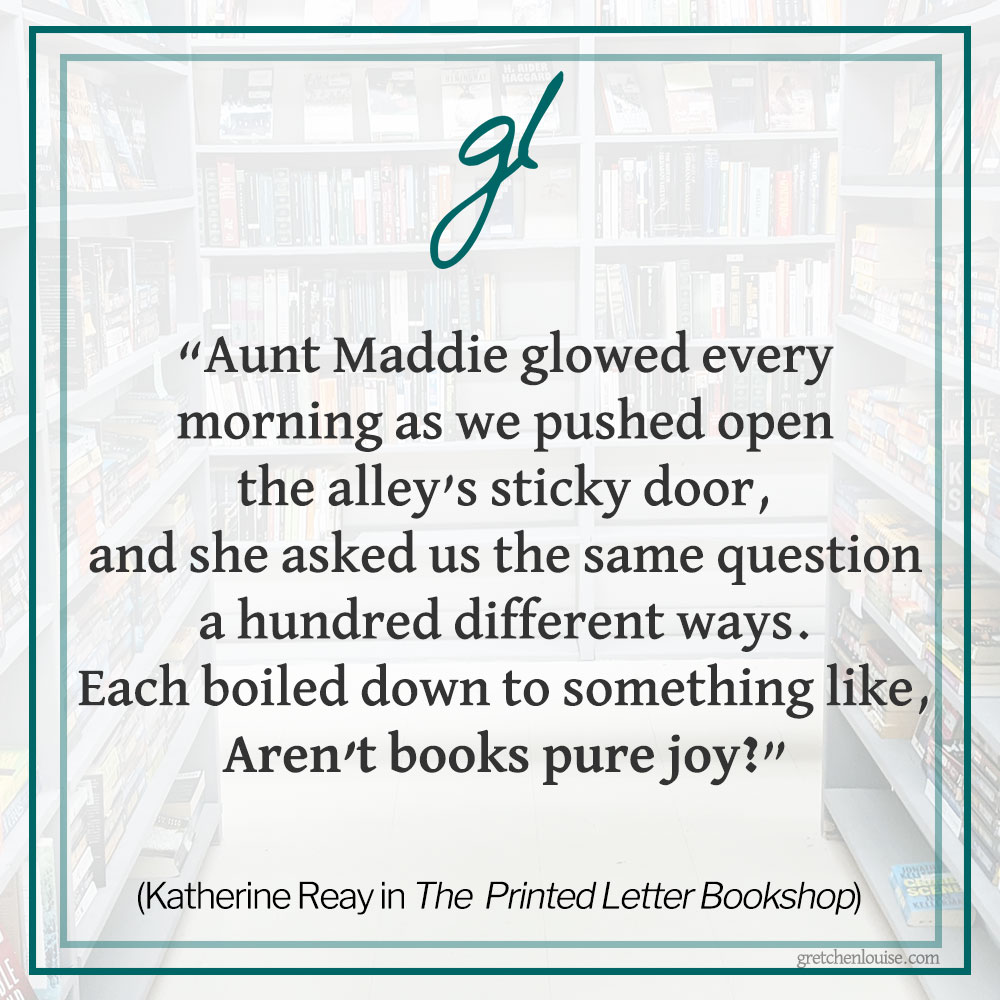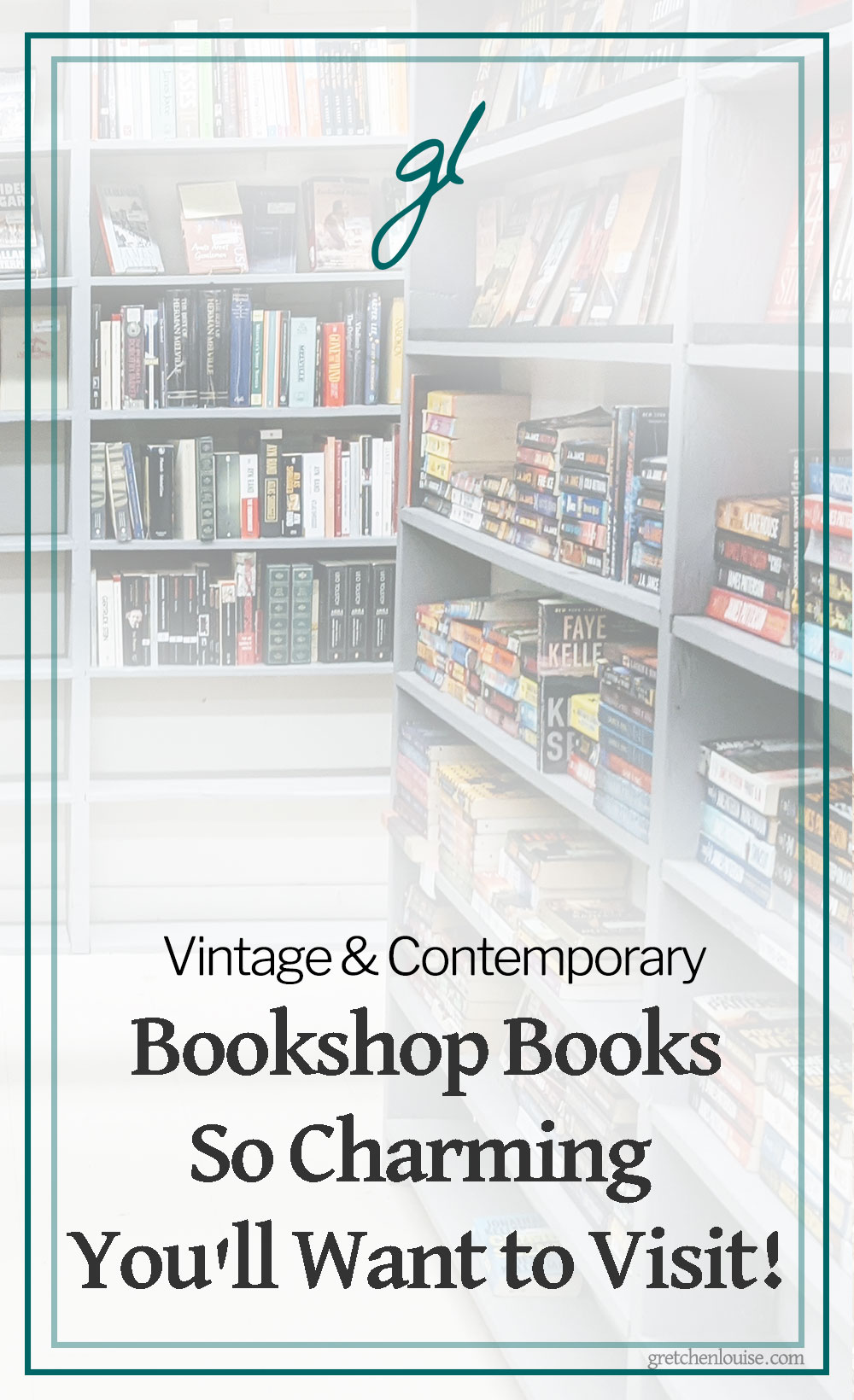 Someday we should open a bookstore… We've said it to each other for years, from our first dates (siblings in tow!) at The Book Bin, to our honeymoon when we found every used bookstore in each town we visited (and came home with a stack of children's books). We repeat it when we leave the children with my parents and browse our favorite used bookshops before going out to dinner. And when we visit a bookstore with our four children in tow, it's clear they take after us as they exclaim over covers and illustrations and we all end up in the same section: vintage children's books.
As a small business owner, I have a penchant for the local business feel of Kathleen Kelly's The Shop Around the Corner in You've Got Mail. (After all, as delightful as it is to see and smell all the new books in a big chain bookstore, "They have to have discounts and lattes because most of their workers have never read a book.")
But the best books about bookshops don't just have a dramatic setting like DeGamez's Parrot Bookstore in The Unexpected Mrs. Pollifax. Nor even a really clever name like Books and Crannies owned by Oskar N. Reteep in The Wingfeather Saga.
No, the author of a bookshop book should be like Kathleen Kelly in You've Got Mail: the author should know exactly what books to recommend to you within the text. ("I'd start with Ballet Shoes first, it's my favorite.")
The best books about bookstores will introduce you to new authors as well as remind you of old friends; they will leave your "to-read" list longer and your imagination ready to wander the pages of another book.
Whether you store your beloved books on a shelf in an oil-cloth covered lock-box on top of a stump in the swamp like Freckles and A Girl of the Limberlost or on shelves under the windows in the tower room like Anne Shirley in Anne of Windy Poplars… Whether you write your neighbors into your novel like Barbara Buncle in Miss Buncle's Book or your little sister burns your manuscript like Jo March in Little Women… If you would collect books until the last book is banned, like Liesel Meminger in The Book Thief and Guy Montag in Fahrenheit 451… I think you'll love these books set in and around bookshops.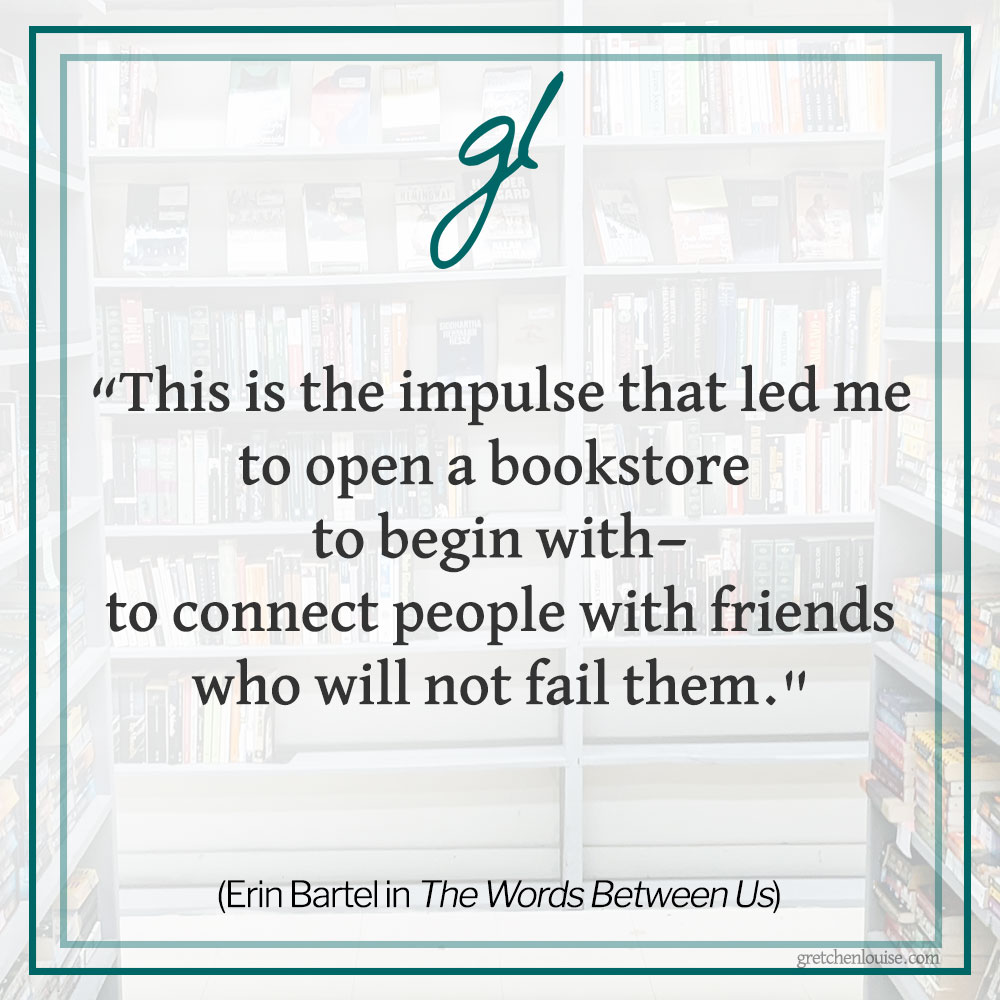 The Best Bookshop Books
5-star books about bookshops. The ones I'd put near the entrance of my bookstore (if I ever open one). The books that leave you with a longer to-read list.
Contemporary Bookshop Fiction
These one-of-a-kind books introduce you to bookshops you wish were anything but fictional. Complete with good coffee and a profound love of literature, these bookshop owners will feel like mentors and friends once you've visited their pages.
The Printed Letter Bookshop and its owner were beloved by everyone in the town of Winsome. It was a bookshop, not a bookstore, mind you, because, as Aunt Maddie said, "It's more intimate, more friendly and communal." Aunt Maddie, who always knew the right book, for the right person, at the right moment. She'd ask you about your favorite book when you were sixteen and then as she handed you a book she thought you'd like, she'd say: "Please try it and come back and tell me what you think."
But Aunt Maddie was gone. And her will left Madeline big shoes to fill–the legacy of a woman loved and trusted by the entire town. Is moving to Winsome and running a bookstore using Madline's skills to their fullest potential? Can she afford to keep Aunt Maddie's employees Janet and Claire?
Three women's stories intertwine into one, drawn together by the bookshop and the woman who owned it. The Printed Letter Bookshop is a timeless tribute to friendship, motherhood, marriage, and the power of good books. Don't miss the list at the end of the book which includes every title alluded to within its pages! (Read my full review of The Printed Letter Bookshop.)
I loved the chance to revisit the town of Winsome, Illinois in Reay's next book, Of Literature and Lattes, especially since The Daily Brew was just on the other side of the street from The Printed Letter Bookshop.
"Aunt Maddie glowed every morning as we pushed open the alley's sticky door, and she asked us the same question a hundred different ways. Each boiled down to something like Aren't books pure joy?"

(The Printed Letter Bookshop)
By the Book has floor-to-ceiling bookshelves, the smell of old books and good coffee, sun shining through the windows and cats lounging about the books. Alice lives above the bookstore she's desperately trying to keep afloat while she single-handedly fights to keep big tech stores out of the historic district. Will a famous gamer be able to show her that technology and books are not at complete odds? Will she ever meet her mysterious correspondent who speaks so poetically of "sharing shelf space"?
With flavors of You've Got Mail and even a bit of 84, Charing Cross Road, The Pepper in the Gumbo is a cute, can't-put-down read even if the characters seemed a bit over-the-top at times. (The quotations at the beginning of each chapter were each positively perfect!)
"You get lazy and just download a copy instead of finding the book on the shelf. And the finding is half the fun. Browsing on either side, above and below, that is the joy of it."

(The Pepper in the Gumbo)
Split-Time Bookstore Books
I'm not always a fan of split-time novels–too many storylines sometimes confuse me. But these held me spell-bound, flipping anxiously from one narrator and time to the next. While each is quite unique, these three split-time bookstore books share common threads of grief.
Clara Blackwell inherited Blackwell's Books & Things from her great-grandmother. Though she knew "the story-delight ran in her blood," Clara had no idea the secrets Blackwell's had hidden in its walls. A desperate search to save the 100-year-old family bookstore leads her to surprising discoveries and an unexpected friendship. An exquisite split-time novel, Hope Between the Pages is a story of kindred spirits and fairy tales, of a library fairy and a book goblin, and even a wizard. This tribute to friendship, love, bravery, and selflessness will leave you with tears in your eyes but a smile on your face. Hard work and bravery shine through dusty bookshelves and feather dusters–from the library of the Biltmore Estate in 1915 to the two-story brick bookshop in present day Biltmore Village. The literary references are worthy of their own booklist! (Content warning: loss.)
"It rarely takes pixie dust for the true book lover to locate magic between the pages of a well-written story."

(Hope Between the Pages)
Sisters Callie and Brie love to seek out the stories of the items left between the pages of the used books they sell at the Magic Balloon Bookshop. But when they find a name, a list, and a photo inside a book that was banned during Hitler's regime, they are faced with the greatest mystery yet. This stunning split-time novel brings together the stories of a modern-day bookstore owner and a professor with the tragic tale of three young people who lived in Austria in the 1930s. "Greater love hath no man than he lay down his life…" Don't miss the list at the end with the titles of the children's books in the collection of Callie, the Story Girl. (Content warning: rape, the Holocaust.)
"The owner of a book, I've discovered, can be as intriguing as the author. And owners often lose more than someone else's story when they give away their books. Sometimes they give away a part of their story as well."

(Hidden Among the Stars)
Brick & Mortar Books is the home of Robin Windsor and her parrot, The Professor. Loneliness and death are recurring themes for Robin, struggling to come out from under the shadow of her parents' alleged crimes. But then a padded manila envelope starts arriving each day, taking her back twenty years ago, to Peter, the boy with whom she shared so much–mostly books. From an angry teenager to a miserly bookshop owner, Robin has no hope of being happy again. An unusual tale of two teens passionate about books and the power of an author's words to communicate long past the grave. Not a cozy read, but a contemplative one. (Content warning: death row.)
"A dozen or so books are plucked from the shelves and carried off to new homes. I send each one off with a silent charge: to live inside this reader in that long, drawn-out conversation across the miles and the ages. This is the impulse that led me to open a bookstore to begin with—to connect people with friends who will not fail them."

(The Words Between Us)
Classic Bookshop Books
These are some of my very favoritest books. I do believe every lover of literature should read Morley and Hanff's love letters to the written word.
What would you do if a travelling bookseller were to pull up to your farm and offer to sell you his whole outfit–books, wagon, horse, and all? If you were thirty-nine years old, unattached, and had a hankering for adventure, you just might–like Helen McGill–decide to take Roger Mifflin up on his offer right then and there. This first-person tale of the Travelling Parnassus is downright hilarious. A true delight for book lovers of all ages. (Parnassus on Wheels has a similar feel to Letters to a Woman Homesteader, and includes a delightful epistolary dedication to David Grayson, author of Adventures in Contentment.) The Librivox narration of Parnassus on Wheels by Dawn Larsen is unrivaled. Follow Mifflin's story further in The Haunted Bookshop.
"When you sell a man a book you don't sell him just twelve ounces of paper and ink and glue – you sell him a whole new life. Love and friendship and humour and ships at sea by night – there's all heaven and earth in a book, a real book I mean."

(Parnassus on Wheels)
When a New York woman first wrote a London bookseller in 1949 of her "most pressing problems" in response to their advertisement regarding out-of-print books, I'm sure none of them had any idea that their almost twenty-year correspondence would eventually become famous. Listen in as writer Helene Hanff corresponds with Marks & Co., Booksellers at 84, Charing Cross Road. This entirely epistolary volume is filled with a wealth of literary discussion interspersed with Helene's dry wit and the staff's personality. A classic! (And likely faster to read than it is to watch the movie, though fans will enjoy that, too.) Don't miss the rest of the story in The Duchess of Bloomsbury Street as well as Q's Legacy.
"It is the loveliest old shop straight out of Dickens, you would go absolutely out of your mind over it… The shelves go on forever. They go up to the ceiling and they're very old and kind of grey, like old oak that has absorbed so much dust over the years they no longer are their true color."

(84, Charing Cross Road)
I found the title in The Haunted Bookshop: "Over Bemerton's, certainly, because it's a bookshop story," mused Mifflin when selecting books for Miss Titania's shelf. Over Bemerton's chronicles the thoughts and experiences of Kent Falconer, recently returned from abroad, when he rents a room above the bookshop owned by Mr. Joseph Bemerton (who will kindly suggest "bed books" that are guaranteed to put you to sleep). Mifflin's recommendation notwithstanding, I found it not surprising that this 1908 title is no longer in print. Perhaps it was the frequency of chapters dedicated to retellings of the author's favorite collections of miniature biographies (such as "A Gallant Company of Sea Dogs," in which the recollections of a Naval officer about each of his shipmates are set forth in brief). But Chapter XIII, entitled "I Go Into Business Pro Tem, Read a Good Poem Under Difficulty, and Learn Something of What it Means to be a Second-Hand Bookseller," is definitely worth reading. And if you skip the Who's Who style bios and persevere through the more narrative chapters, you'll find some quotable gems (along with shocking tidbits and commentary on everything from suffragettes to theology). (Download a copy in PDF or ebook format.)
"Apart from the necessity of replenishing his stock by attending sales and buying books; the wearing task of looking narrowly at larcenous fellow-creatures; the pangs that it must cost him to sell the books that he wants to keep; and the attacks made upon his tenderer feelings by unfortunate impoverished creatures with worthless books to sell; apart from these drawbacks, the life of a second-hand bookseller seems to me a happy one. I could myself lead it with considerable contentment."

(Over Bemerton's)
---
More Bookshop Books
Books every book lover will enjoy…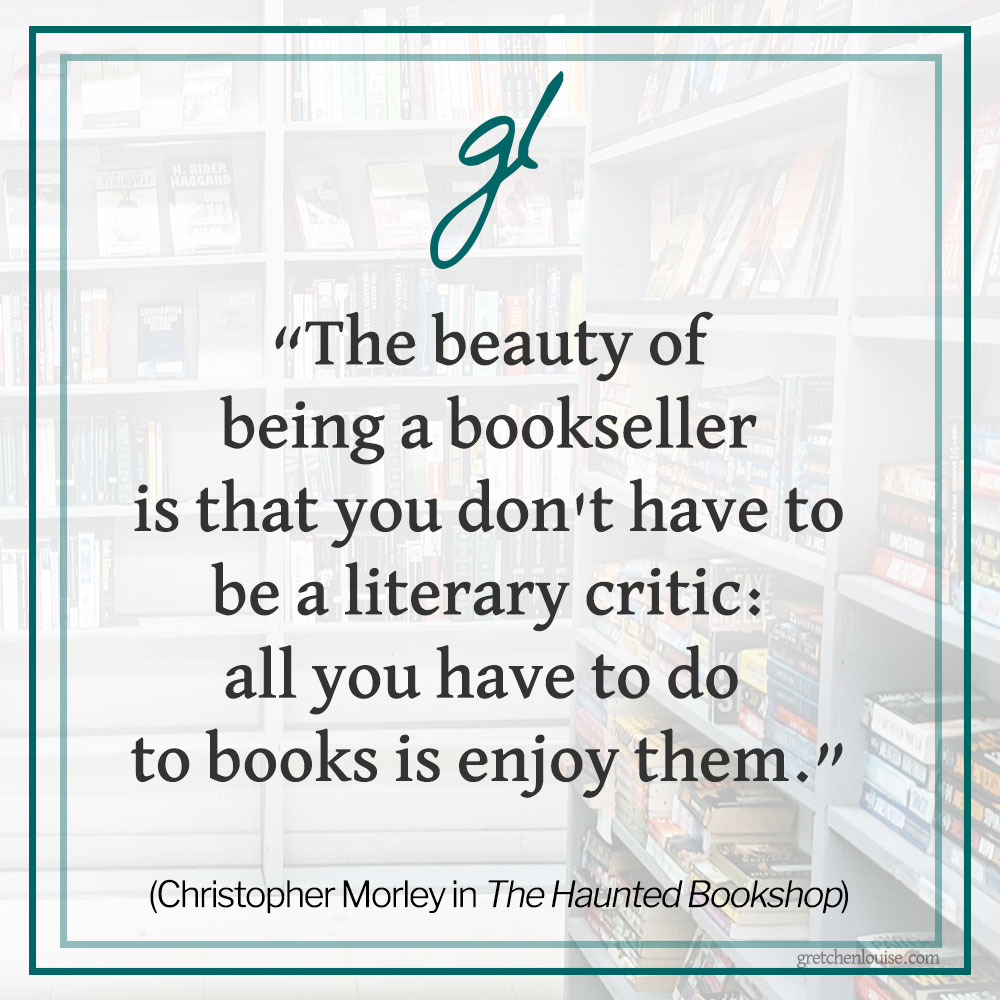 Mysteries Set in Bookshops
A used bookstore is really the perfect setting for a mystery. Or even a murder. Of course, it could simply be a place in which you are haunted by the ghosts of the books you have not read. Here is an eclectic collection of haunted, mysterious bookshops.
"That's why I call this place the Haunted Bookshop. Haunted by the ghosts of the books I haven't read. Poor uneasy spirits, they walk and walk around me. There's only one way to lay the ghost of a book, and that is to read it."

(The Haunted Bookshop)
Once a traveling bookseller, Roger Mifflin is now settled in his "Parnassus at Home" in Brooklyn and delighted to find a bookselling protégé in Miss Titania Chapman. When Thomas Carlyle's Letters and Speeches of Oliver Cromwell disappears from the shelf of The Haunted Bookshop, Roger and co. find themselves engaged in more than selling books. Thankfully young advertising agent and amateur sleuth Aubrey Gilbert is on the scene. This humorous tale is at turns both pompous and political (set at the end of World War I) but it's worth reading for the dialogues on advertising and the monologues on bookselling alone! (While written as a sequel to Parnassus on Wheels, it's not necessary to read one before the other.) The Blackstone Audio/Skyboat Media audiobook narrated by Stefan Rudnicki is amazing.
"The beauty of being a bookseller is that you don't have to be a literary critic: all you have to do to books is enjoy them."

(The Haunted Bookshop)
There's a dash of mystery and a bit of fantasy in this tribute to books and tech. Soon after his employment at Mr. Penumbra's 24-Hour Bookstore, it becomes apparent to Clay that it's more than just a bookstore–and the mystery of the ancient tomes sets him on a path that includes everything from Googlers and data visualization to underground museums and burning books. Quotable and quirky! While not my usual genre, I found myself enjoying it immensely. (Content warning: the bedroom scenes had to be read between the lines, but they were there, along with some language, etc.) Fans will enjoy the "prequel" of sorts, Ajax Penumbra 1969 (just a 1-hour listen on Scribd).
"Her home is the burrow of a bibliophile hobbit -– low-ceilinged, close-walled, and brimming over with books."

(Mr. Penumbra's 24-Hour Bookstore)
The Wilkester Mysteries are not your average Christian romance. Nor are they the typical whodunnit mystery. It all starts in Frank's Bookstore next to the campus of Wilkester College. Brought to Book is clever, cozy, and clean (especially for a murder mystery). But it's also delightfully different from the norm (and full of bookish references!). I loved Katrina's dry sense of humor, and the way she supported her friends who are foster and adoptive parents. Don't miss the next time Katrina finds herself in the middle of a murder (and the further development of her bookstore-coffee shop), in Snuffed Out. Katrina finds her happily ever after in book three, Written Off–but she also encounters hate crimes that seem to be connected with the writing class she teaches.
"Conversations in a bookshop…flowed much more easily than conversations in the real world."

(Hope Between the Pages)
Cassie Ellis missed Rescue Squad 65. She loved books, but she'd never intended to do more than sell rare books online as a hobby. Until the nursing home fire that sidelined her. Now there's an arsonist on a spree and Cassie's friend firefighter Jack O'Malley is determined to catch the arsonist before he turns on Cassie. Cassie's bookstore and its vintage titles make cameo appearances throughout this firefighting suspense novel. Book four of the inspirational romantic suspense series about the O'Malleys (orphaned/abandoned teens who adopted each other as siblings), The Protector can also be read alone. (Content warning: a lot of fire!)
"A second-hand bookseller, I found, may read much in his time, but he cannot read continuously."

(Over Bemerton's)
When widow and mystery novel aficionado Mary Fisher decides to return to Cape Code and open her very own eponymous bookshop, she certainly didn't expect to find a mystery of her own in the quiet coastal village of Ivy Bay. If you're looking for cozy mysteries set in and around a bookshop, check out Guideposts' Secrets of Mary's Bookshop series. I've only read A New Chapter by Kristin Eckhardt so far, but there are 24 books in the series, written by a variety of authors. Perfect for those who enjoy retirement-age characters and a gentle Mitford-like feel.
"The store smelled of old books and woodsmoke. A counter stood on the wall to his left, flanked by bookshelves and magazine racks. Photographs hung over the counter—pictures of authors, it looked like. Bookcases jutted out from the wall to his right, and bookshelves covered every wall, even under the windows. On the shelf before him, books ran in a proper row for half a shelf, then a stack of books on their sides. More books rested in front of the row, on top, wherever they fit. New books with crisp dust jackets stood beside older titles with spines shiny from wear. More books covered a table by the window, circled by two mismatched wooden chairs and a stuffed armchair."

(Until Leaves Fall in Paris)
---
Historical Fiction Set in a Bookshop
English-language bookstore Green Leaf Books has been a home for American, British, and French literati since Hal and Erma Greenblatt founded it after the Great War. But now, as the Germans advance, the Jewish couple is leaving Paris, closing their store—their dream, their life. Unless they accept Lucie Girard's offer to buy Green Leaf Books so that she—an American ballerina who knows nothing about business!—can keep her favorite bookstore open.
Lucie buys, loans, and sells books (including those banned by the "Otto List") in a determined effort to nourish a cultural oasis in occupied France—and to secretly help the resistance. Meanwhile, American widower Paul Aubrey and his little daughter Josie—an aspiring young author—attend storytime at Green Leaf Books. Josie and her Fenee stories quickly win Lucie's heart. But whose side is Paul on?
"They turned down rue Casimir-Delavigne, and the cheery green façade of Green Leaf Books quickened Lucie's steps. She'd always thought a street named after a French poet was a lovely location for a bookstore."

(Until Leaves Fall in Paris)
Bookshop historicals on my TBR list:
---
Christmas Fiction Set in a Bookshop
Bookstores, like many other retail stores, see their profit margin increase dramatically between Thanksgiving and Christmas, making the holidays the perfect time to weave romance or small-town drama into a bookstore tale. From yester-year's Hallmark-esque bookstore scenes to modern-day bookstores with twinkle lights, here are some fun bookstore titles to read at Christmas or anytime.
The Bridge is a bittersweet story, reminiscent of It's a Wonderful Life. It shows people who believe in the power of books, a bookstore, and community. (Even if the love story is a bit lacking in communication.) The Beginning is about healing through stories found in books. The Bridge is about the power of community and the importance of books. (Content warning: loss of a spouse, loss of a child.)
"He called it The Bridge because that was how felt about books. They connected the past and the present, the present and the future. Books brought people together and gave them a path to worlds they would not otherwise experience."

(The Bridge)
This Christian fiction set in the early eighties feels like a cozy Hallmark Christmas movie. Rick Denton comes back to town to help run The Book Nook when his step-father is hospitalized on Thanksgiving weekend. Despite his determination to make his visit brief, Rick can't help but be touched by the community's view of his mother and the step-father he'd always disliked…as well as the tramp who lives behind the basement bookstore and the single mom who works there. (Remembering Christmas doesn't feature actual book titles, but you will hear mention of some of the classic Christian music artists you'd have found albums for in the eighties.)
"Books were changing her life. But she didn't consider the idea that they could do so much more. That they might actually heal her."

(The Beginning)
The Cozy Shelf is a bookshop situated in a lovely Victorian, where baked goods and mugs of coffee await shoppers, and owner Kendall Jackson makes her home upstairs. When single dad Quinton Hendricks starts showing up every day to buy a book for his son, Deuce, Kendall's friends get suspicious that he might be interested in more than just books. Then little romantic notes begin appearing around the bookstore… Deck the Shelves is Christian romance complete with a blizzard, second chances, and fun classic quotes at the beginning of each chapter.
The Book Barrow is Mallory Barrow's own "parnassus"–a bookstore/coffee shop that's part of the mobile business plan she's proposed for Independence Islands. Christmas on Breaker's Point is where it all begins: you'll fall in love with Uncle Bud and his taste in books as he helps Mallory brainstorm her "book business." Mallory and The Book Barrow appear in other books in the Independence Islands series, as well, including Dual Power of Convenience and Bookers on the Rocks. You'll enjoy the discussions Mallory has with her customers about romance and classic literature alike–all set within Chautona Havig's inimitable style of Christian romance.
I wanted to love this book, with its mysterious letters, the theme of forgiveness, and the passion for books evidenced in the employees and patrons of Bobbooks. But it left me feeling a bit sad and empty–perhaps because it seemed to be missing the true Hope of the Christmas season.
More Christmas bookstore books on my TBR list:
---
More Books Featuring Bookshop Settings
A bookshop is a beautiful backdrop for a romance–even if the characters are not literary connoisseurs in their own right. I suppose we'll have to forgive them if it wasn't love at first sight of books, since they seem statistically (at least fictionally speaking) more likely to inherit a bookshop than to buy one. The books below are set in and around bookstores. And even though they don't leave me with a longer to-be-read list, they are titles that many a book lover will love.
This split-time novel revolves around the stories of three women. Sophia and Ginny's stories are intertwined when Sophia travels to England to rent a room for the summer at Rosebud Books. Then, a discovery amongst boxes of donated books introduces them to a woman named Emily. Was Emily's story fact or fiction? And why did Sophia feel so determined to find out? This book kept me on the edge of my seat, hoping for impossible happily-ever-afters for all.
Sophie's determination to open Bookshop by the Sea on time will not be dampened by the threat of a hurricane–or the appearance of her ex-boyfriend Aiden. A charming story showing the power of community and second chances.
A chance meeting at a benefit auction brings together an unlikely pair: Kenia, who manages her aunt's bookstore Page Turners, and Zane, who doesn't want to admit why he doesn't like books. A sweet story of learning to love and trust.
Ivy's on Spruce contains a cafe and cascading stacks of books and is owned by a notoriously untidy book hoarder who has also provided a home to two dogs, a cat, and a parrot. Naomi has changed her name and vowed never to return to her hometown but when Aunt Ivy lands in the hospital, Nai finds herself face to face with her past and her friend Mateo. Lessons in self worth and trust are just a few of the things the community of Chapel Cove offers.
When Mona finally returns to her hometown to start the Footsteps of Heaven bookstore, she's met by disasters–and a mysterious handyman–at every turn. Secrets, forgiveness, and family restoration are themes of this shoreside story.
An estranged family, a hunky landscaper, and an inherited bookshop called Paige's Turn. A fun romantic read, compete with letters left behind by a quirky aunt!
Wednesday was Book Day for Lucy, seller of rare books at Sid McKenna Antiques and Design. She'd learned early on that "telling a story helped to sell the story"–whether it was an inscription in the front of Jane Eyre or a fore-edged painting on Kidnapped. Lucy wasn't an instantly likable heroine but Reay's impeccable and intriguing writing drew me in and, as always, left me a bit better for the reading. (Read my full review of The Bronte Plot.)
"All the books have it . . . That time when you don't know where you'll be, but you can't stay as you are. In life or in literature, that time rarely feels good."

(The Brontë Plot)
---
On my TBR list:
"…why are there so many statues to generals, admirals, parsons, doctors, statesmen, scientists, artists, and authors, but no statues to booksellers?"

(The Haunted Bookshop)
---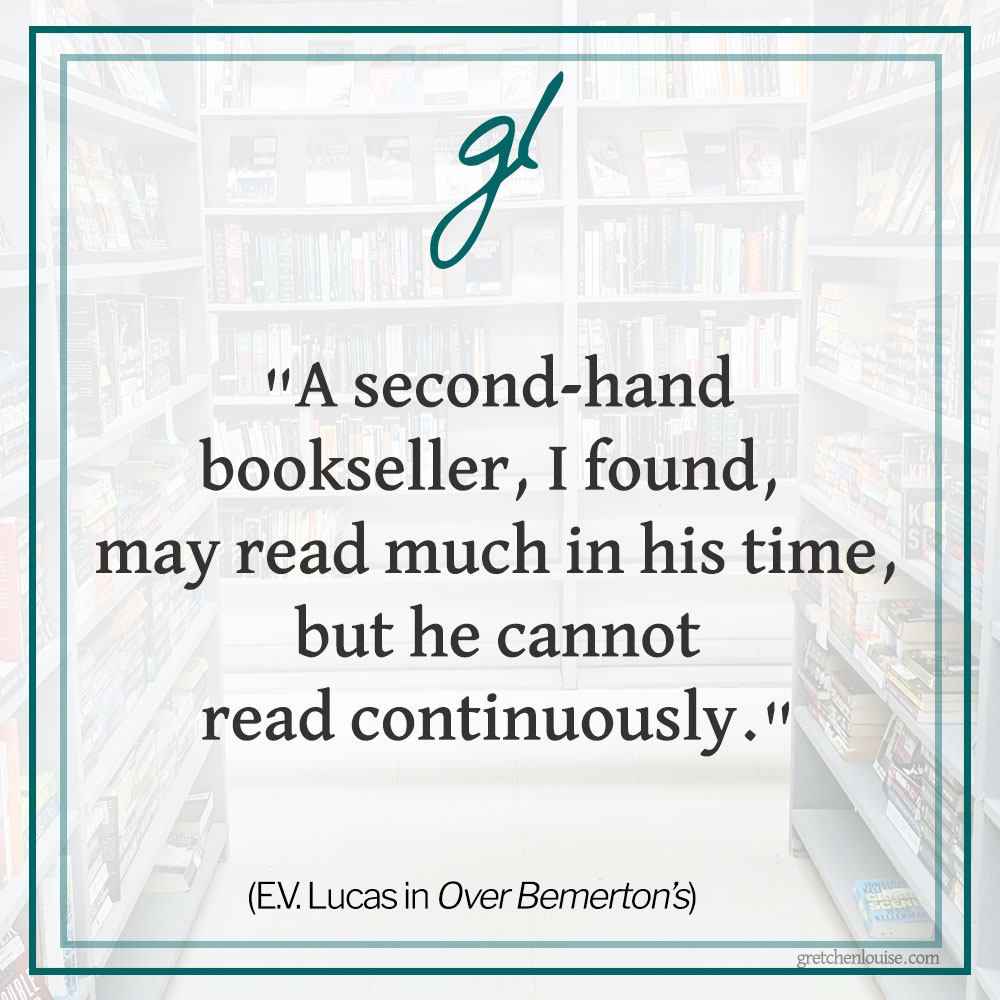 Other bookshop titles I have enjoyed, which include more adult content than I usually review on my blog and therefore may not fit the taste of every reader: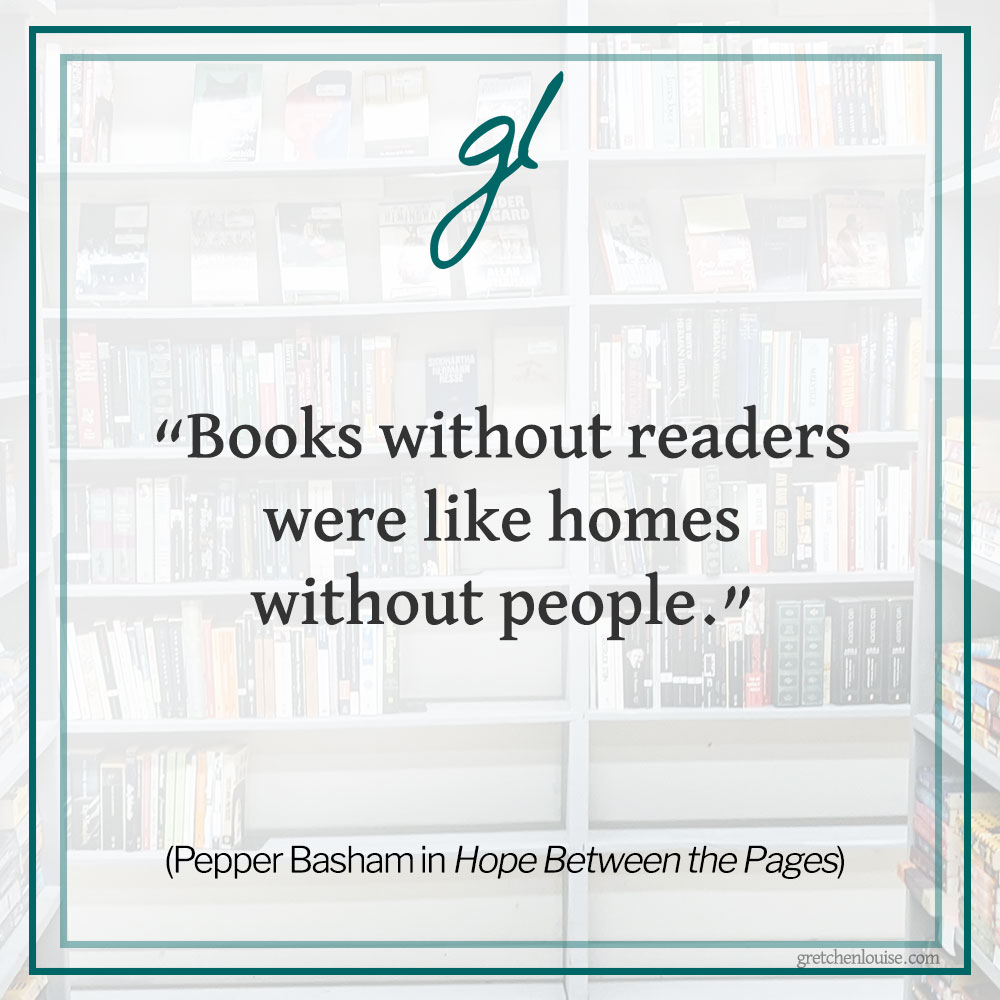 Disclosure: I received complimentary copies of Of Literature and Lattes, Bookshop by the Sea, and Hope Between the Pages from NetGalley. Opinions expressed are completely my own. I pre-ordered my own copy of Hope Between the Pages and will be purchasing more copies for gifts, too!