Dear Ru,
Sunday is Mother's Day. But at two, you can't understand that yet. Instead, you love everyone and expect everyone to love you. Your trust in those you love is so implicit that you take every good thing as something just for you.
Your daddy went to town on Wednesday. But he got more than just the parts he needed and the items on Mommy's grocery list.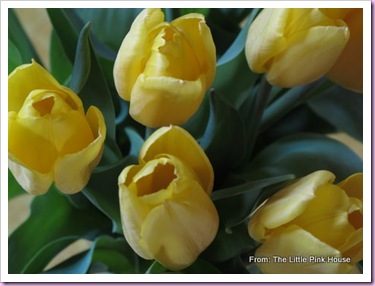 He walked in the door with a bouquet of yellow tulips in his hand.
And as I looked from the flowers to his face with a shy smile, we heard your happy little voice say:
"My daddy brought me flowers!"
It never occurred to you that they could be for anyone else but you.
We laughed.
You were thrilled.
You excitedly grabbed the bouquet from your daddy's hands, carrying it around and exclaiming over and over again about how your daddy had brought you flowers.
You showed them to Mary, nearly shoving them in her face as she sat in her walker, enjoying the sight of the yellow flowers (and probably thinking they were just for her benefit).
I finally rescued the tulips, offering to put them in a vase.
"Mommy water my flowers."
I put them on the table, and you pulled up a chair beside it.
"I watch my flowers."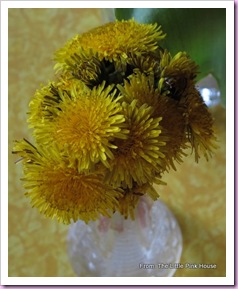 The next day, you picked a big bouquet of dandelions (we've taught you that every dandelion is for picking!). You brought them inside and proudly laid them on the table next to the big vase of tulips. I found a smaller vase in which to secure your dandelions (which, for once, had long stems—unlike most of your finds which go "swimming," as you say, in a bowl of water).
I slyly asked if you'd picked these flowers for Mommy.
"My flowers!"
I laughed again.
Throughout the day, I see those bouquets and smile. I'll gladly share them with you. After all, you being my daughter is what made me a mother!
And the trust and love with which you view your daddy makes this mother's heart rejoice.
It makes me think of this verse:
If you then, being evil, know how to give good gifts to your children, how much more will your Father who is in heaven give what is good to those who ask Him!

-Matthew 7:11
Ru, I am so thankful that you know nothing but love from your daddy. It will make it so natural for you to love and trust your Heavenly Father.
I love you, my Ru girl. You can share my flowers any time.
On Mother's Day and always,
your mommy
P.S. I wrote this while you were napping. When you woke up, you happily exclaimed, "My crayons are back! My crayons are home!" (I had hidden them for a while as they were being used as toys not drawing instruments). "I draw picture for you—I draw pretty picture for my Mommy." And now you're sitting here on the floor next to my desk, drawing a pretty picture for your mommy. So far, it appears that there's a green stem on the page. Perhaps you're drawing me a bouquet?