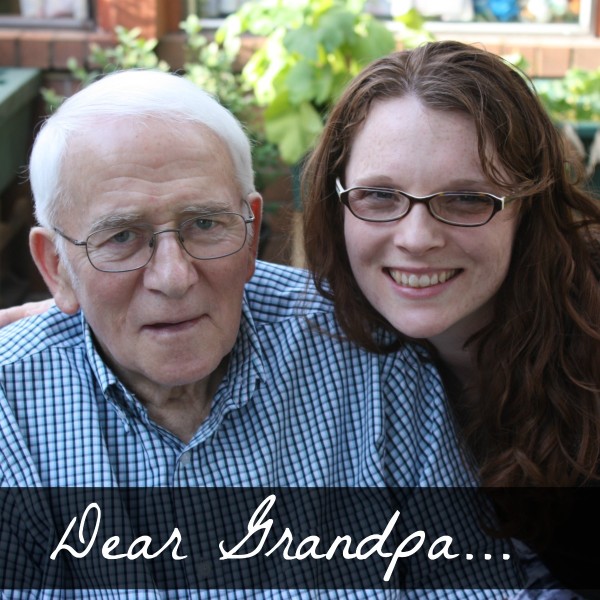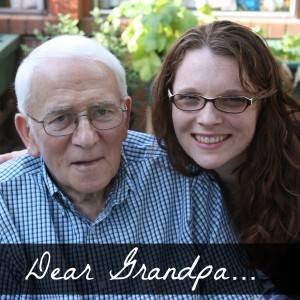 Dear Grandpa,
There are two smells that are forever intertwined with my memories of you: fiberglass and butterscotch. You never have liked chocolate, a fact which Grandma and I were always unable to understand. But you loved your Butterscotch cookies and candies. And you were my most faithful "Cookies Express" customer, paying for dozens of Butterscotch cookies I made to order just for you (to the great advantage of my piggy bank but not that of my parents' pantry, I'm afraid!).
But it was the strong scent of fiberglass that surrounded you all day long, as you created fiberglass baptistries and vaults and molds of all sorts. The smell was overpowering, but it was fascinating to watch the threads and the resin take shape. The work was hard on your hands and your body. I remember watching you using sand paper on your hands each evening, trying to remove the rough callouses before you applied Pacquin hand cream. That was usually right before you performed your evening ritual of simultaneously watching the news, reading the newspaper, and taking your evening nap. I never ceased to be amazed at how you could do all three at once, in addition to carrying on a conversation with Grandma about what you were reading or watching. You always had one eye on the weather and could tell us the weather report for the upcoming week, thanks to your little NOAA weather radio and your fancy weather station that kept track of the wind and the rain.
While I never did more than observe your work in the fiberglass shop (and read the countless comics you had pinned to every available spot of your shop office walls and doors), I got to spend many happy hours planting Poplar tree starts with you in the late 1990's. First we fenced and turned one of your fields into a nursery patch, then we used the growth from that patch to plant other areas of your property (and ours) with Poplar trees. I loved the sense of accomplishment to look back at the rows of trees we'd planted. And you were always there with your Kawasaki Mule with more tree starts or to check on our work. I remember learning the song "Puff the Magic Dragon" in between radio accounts of the O.J. Simpson chase during our hours planting that nursery patch. (Don't worry, Grandma, I think the song was my daddy's fault, not Grandpa's.)
We always laughed because the first place my daddy went when he walked into your house was to the candy drawer. (And everyone always knew because the drawer glide had a tell-tale shriek as it was opened.) But as we got older, we were privileged to open the candy drawer for ourselves and see what was inside. There was always red licorice (a general favorite). You loved hard candy of every variety, but we were always sure to find butter and peppermint candies there waiting for us. And I still remember the taste of the bag of Skittles you bought me one time when I got to go to town with you all by myself.
You like candy, but you've always loved a good bowl of ice cream. If ever someone mistakenly set a regular sized ice cream bowl at your place, we grandchildren would watch with amazement as you replaced it with your own super-sized ice cream bowl. Ice cream to you was something to be enjoyed in great melting quantity. You were sure to microwave your bowl of ice cream so it was soft enough to eat. And of course, you topped it with butterscotch or caramel sauce. From the little wooden spoons and Dixie Cup ice cream when we were younger, to the Schwan's ice cream bars when we got older, we were always guaranteed to enjoy a good cold dessert at your house. (We could also look forward to you removing your dentures for our inspection. And you've never let me forget that I once made you an "extra" pair with macaroni noodle teeth!)
I remember countless church potlucks and family barbecues hosted at your house, but it wasn't just there that we enjoyed eating together. I remember many visits to your mom's favorite Chinese restaurant after church. And the refrigerator drawer overflowing with the extra Arby's sauce packets you always requested. They were the perfect thing to go with the sandwiches Grandma made us grandkids from the double meat Arby's sandwiches you were always getting at that great 5 for $5 deal. You've always had a knack for finding new restaurants and you're never without a new dining recommendation to share.
I delighted in hearing the stories about the days back when you were a logger like my own daddy, and the times he came along and helped you or drove the truck across the field when he could barely reach the pedals. It was so much fun to hear you talk about Rango the monkey. Or to hear you tell the rare stories about when you were a boy—like that time you broke your leg. And when we visited Great Grandma's farm it was amazing to think about you being a boy there. I loved knowing that you helped build the house you and Grandma lived in with your own two hands. You also built the A-frame and formed the fiberglass swimming pool where we spent so many happy hours. And then, seeing the penchant your grandchildren had for fort-building, you built us cousins a little house as well. We had many hours of fun in that play house!
You've always been good with your hands. You could mechanic anything and indeed many of the ways the fiberglass shop worked were your own inventions. You were a logger and fiberglass expert and small business owner. You love gadgets and tools and the history of things like automobiles and tractors. Your sons, your grandsons, and your great grandsons are following in your footsteps, handyman "Jacks of all trades" who work with their hands as well as their minds. And the man I married not only fits right into the bunch, but so many things about his personality remind me of you. (Which is kind of fun to realize, since I inherited much of Grandma's personality, in addition to her middle name.)
But it was in those years of working for you in your office that I saw your real personality shine: you are a people person through and through. I loved listening in on the one-sided conversations you carried on with pastors across the country about their church baptisteries, even if your handwriting on the form was impossible to decipher later. That map full of push pins on the wall didn't just represent sales—it symbolized individuals with whom you'd carried on conversations, people you'd encouraged by your cheerfulness.
You've always been quiet and laid back, yet always had a story ready or a joke to tell. And we've always known you loved us. Especially when there was inclement weather close at hand.
I love you, Grandpa. Thank you for all your hard work through the years, all the little ways you daily showed your love for your family. That legacy of love and hard work is one we don't take for granted. Thank you.
Love,
Gretchen
{Grandpa went Home to be with Jesus on September 11, 2014.
Click here to read the tribute I read at his memorial service.}