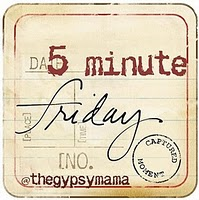 The door closes behind my husband, off to work. I take a deep breath. The day is ahead of me. Along with a table full of breakfast dishes and un-eaten food, an overflowing laundry basket, and a desk covered with unpaid bills and unwritten thank you notes.
But before I can attend to them, there's a crying baby, a sticky 21-month-old, and a 3-year-old who needs to share.
Deep breath. In, out. And I remember, Don't just try to survive: thrive!
The baby's finally asleep, the girls are listening to a Curious George CD, and I hop in the shower. There's a strong temptation to stay under the hot water all day—or at least until the hot water heater empties.
Deep breath. And again, I remember, rely on Him in anticipation, not just desperation.
I step out of the shower to be greeted by….quiet? I pour my tea, grab my Bible, and settle on the couch as someone starts to cry.
Deep breath. I can read my Bible and drink my tea while I nurse. I need the Word like he needs my milk.
And so begins another day of taking deep breaths—not just surviving the stress but thriving through thanks.
Baby's crying, five minutes are up.
Deep breath…