Epistolary Picture Books That Will Make Your Child Want to Be a Pen Pal
(This post contains affiliate links. Read my full disclosure.)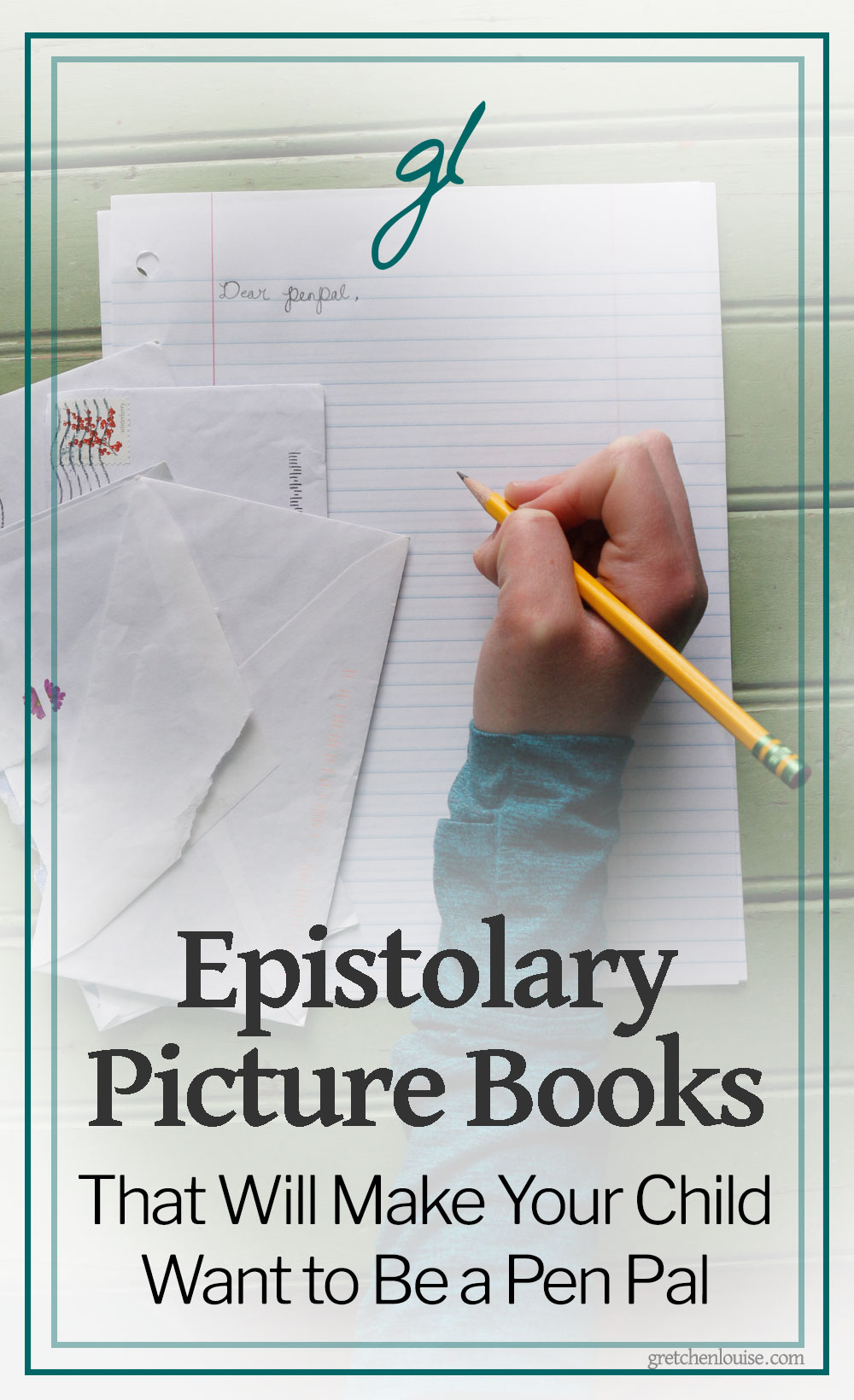 "Any letters?" One of my children asks the oh-so-hopeful question almost every single day when they see me walking back from the mailbox, flipping through the mail. And oh the delight–the raptures–when an epistle has arrived from one of their pen pals!
My children come by it naturally. I've been writing letters to my pen pals since I was a young girl. And their daddy and I even fell in love through letter-writing.
Now I collect books about letters. My children think they are indulging their mother's love of all things epistolary when they let me read them picture book after picture book about writing letters. In reality, I'm doing all I can to inspire the lost art of letter writing in the next generation.
In honor of Universal Letter Writing Week (the second full week in January), here are some of our favorite picture books with an epistolary theme.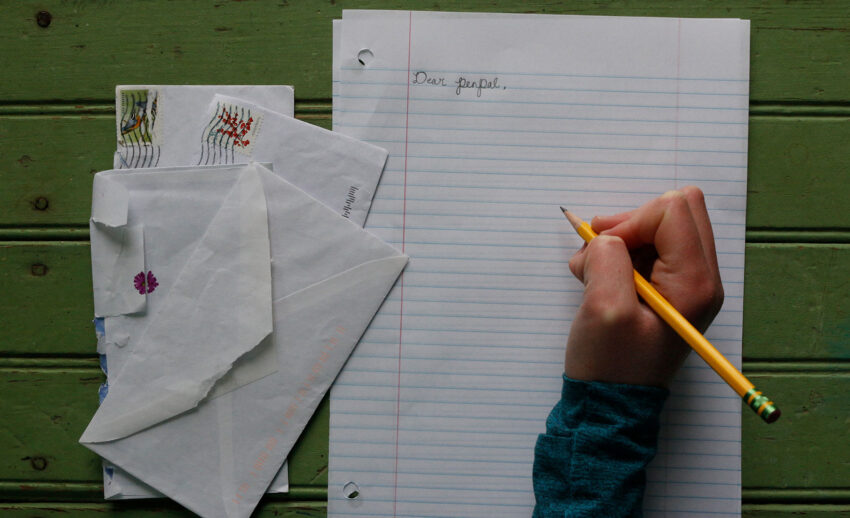 Exclusively Epistolary Picture Books
epis·​to·​lary :: adjective :: "contained in or carried on by letters" or "written in the form of a series of letters"
(definition from Merriam-Webster)
There is a delightful plethora of picture books in which the story is told entirely through the epistles therein! You've probably seen the ever-popular The Day the Crayons Quit and Dear Mr. Blueberry. Your library may display dog-eared copies of the dog-themed Dear Mrs. LaRue series and Postcards from Mr. Pish. And there are many variations on the theme of Dear Santa. But for exclusively epistolary picture books that tug at the heartstrings, I've chosen these that I think will inspire the next generation of pen pals.
This fun story is told through short letters from Lydia Grace (aka "The Gardener") and the illustrations that accompany them. At first glance, it's a simple story, but the illustrations help you read between the lines of a little girl's mission to create happiness in the lives of those she loves–even when she's lonely and far away from home.
Isabel's letters to her Aunt Lupita reveal she struggles to find her place in her new home in America. The at first lonesome tone becomes increasingly more confident as Isabel goes to birthday parties and finds community and new words. My children are big fans of "box houses" and upon reading this tale immediately wanted to make their own "quiet place," too.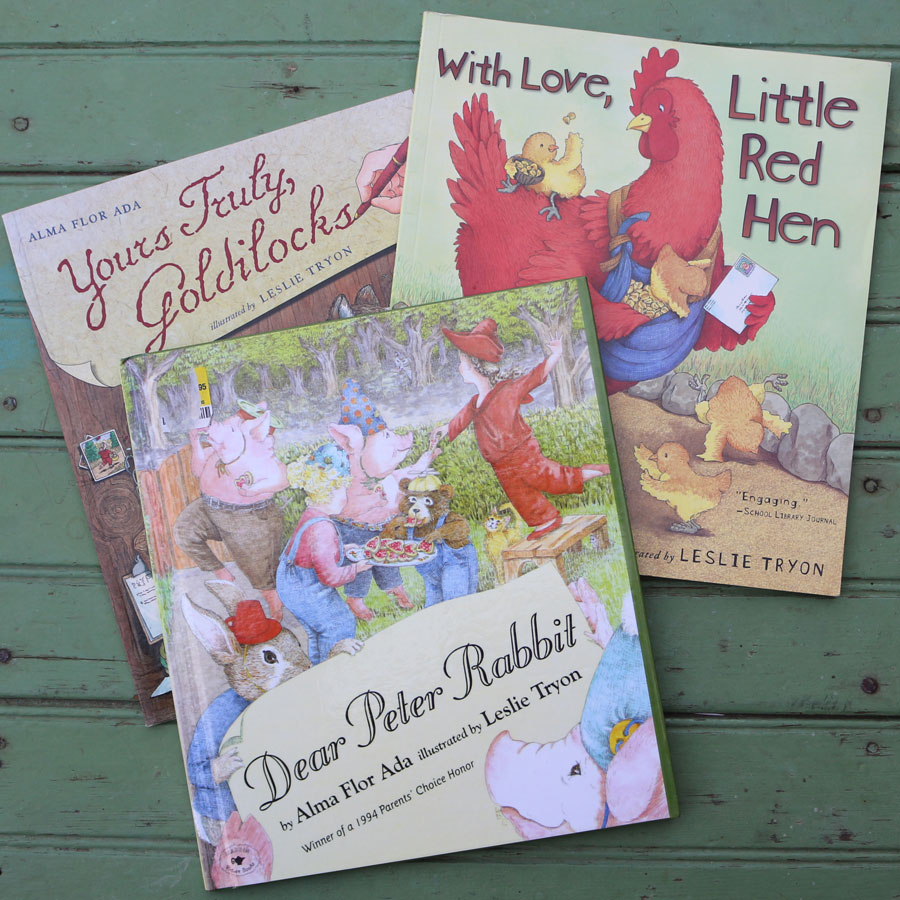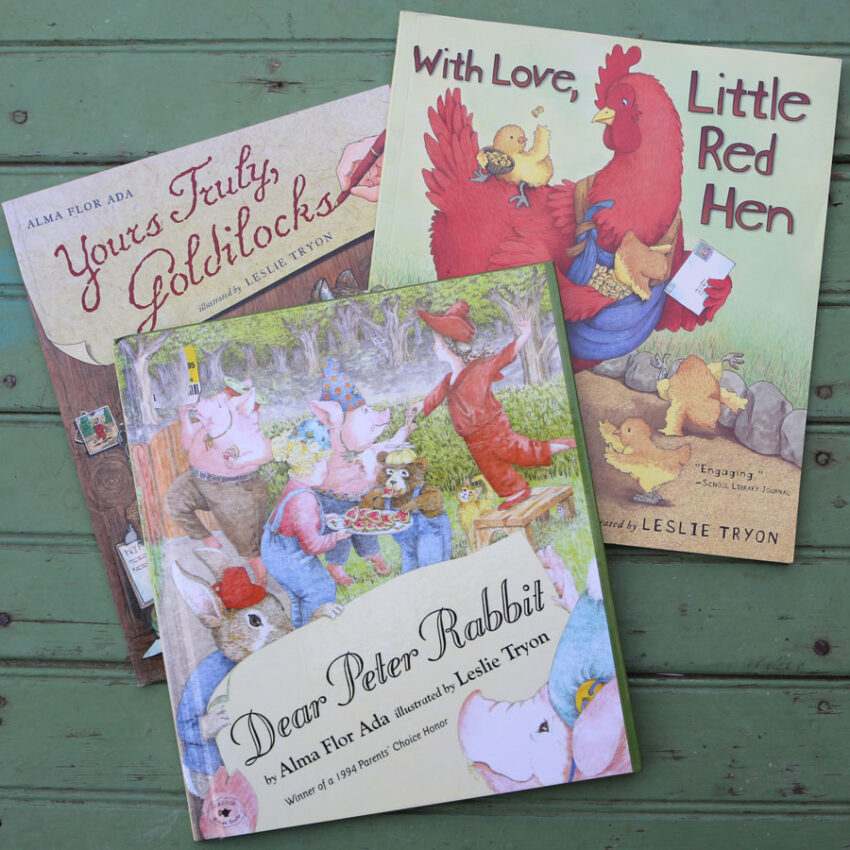 In Dear Peter Rabbit, Yours Truly, Goldilocks, and With Love, Little Red Hen, we get to peek into the mailboxes of some of our most beloved fairytale characters as they exchange letters with each other. What if Peter Rabbit was invited to a housewarming at the Three Little Pigs' home? Can you imagine Goldilocks and Little Red Riding Hood secretly working in the fields of the Little Red Hen? Visit the world where all the fairytale characters live together via these entertaining letters! Oh, and watch out for Wolfy and Fer O'Cious. (The first book in this series must not be confused with the story featuring real letters by Beatrix Potter!)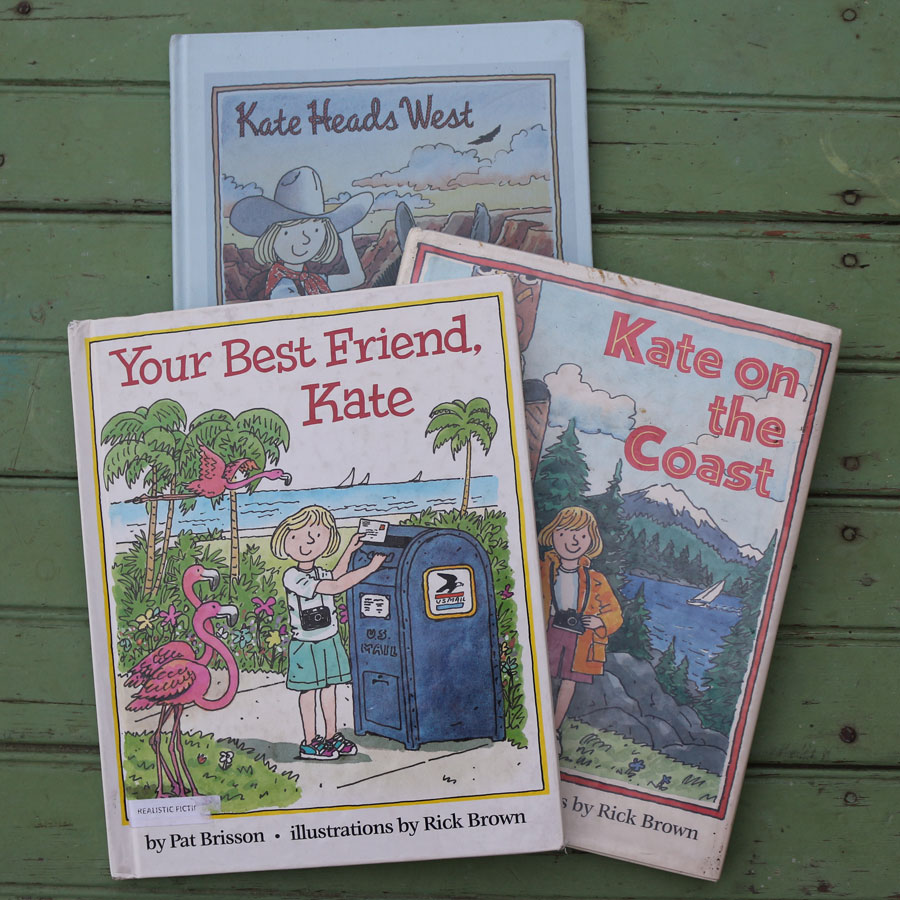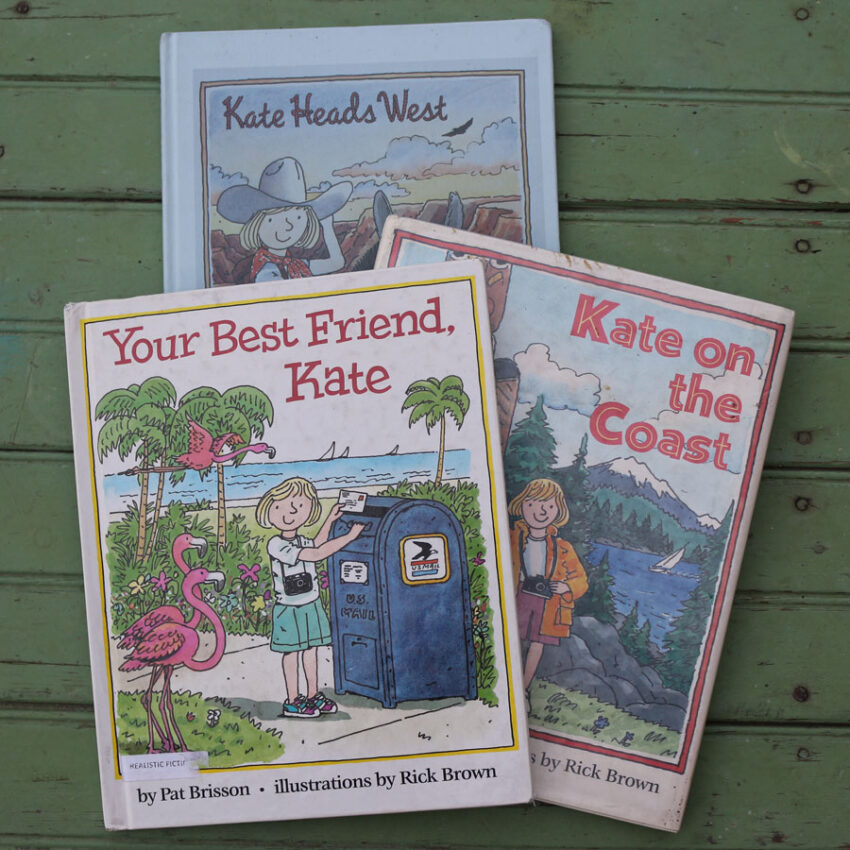 With bright illustrations and educational drawings in the margins (state flowers, state birds, and other historical details), the Kate books are a nice read-aloud blend of fun and learning. Kate's letters to her best friend, Lucy, capture the trivia surrounding each place her family visits in Your Best Friend, Kate. When Kate's family moves to their new home in western Washington, Kate's letters highlight the interesting details of the west coast in Kate on the Coast. The two best friends even get to experience a trip together when Kate travels with Lucy's family in Kate Heads West. (I didn't appreciate the constant jabs at her little brother in Kate on the Coast, but the other books had a kinder tone.)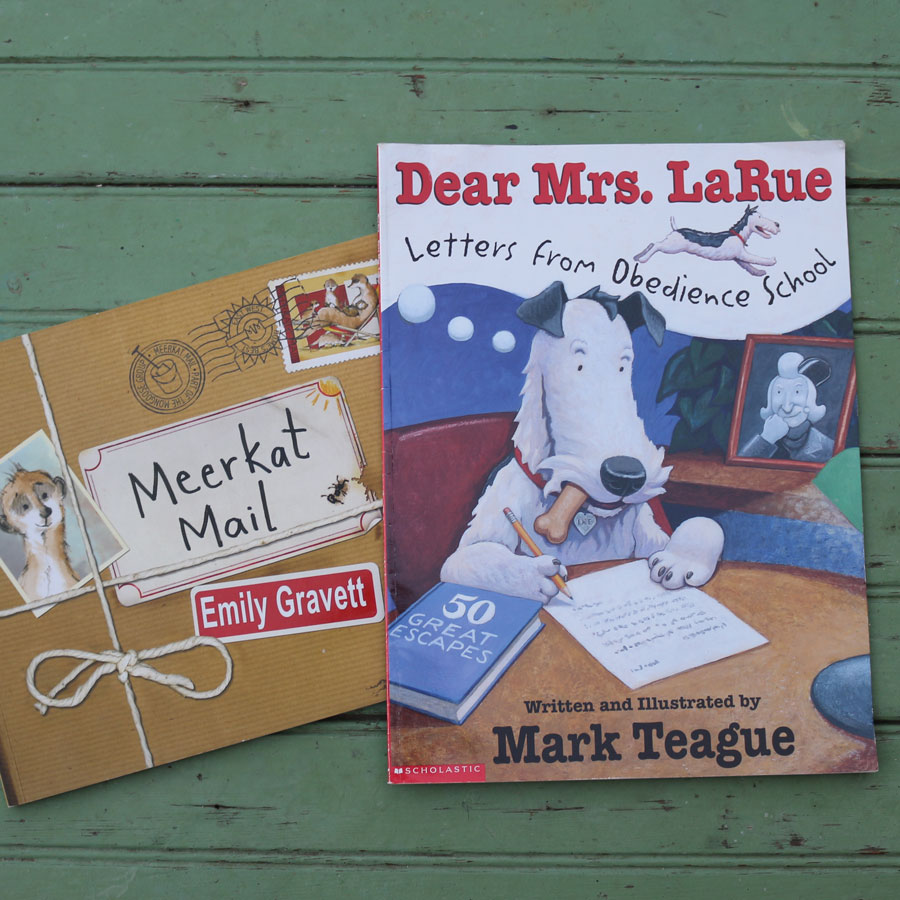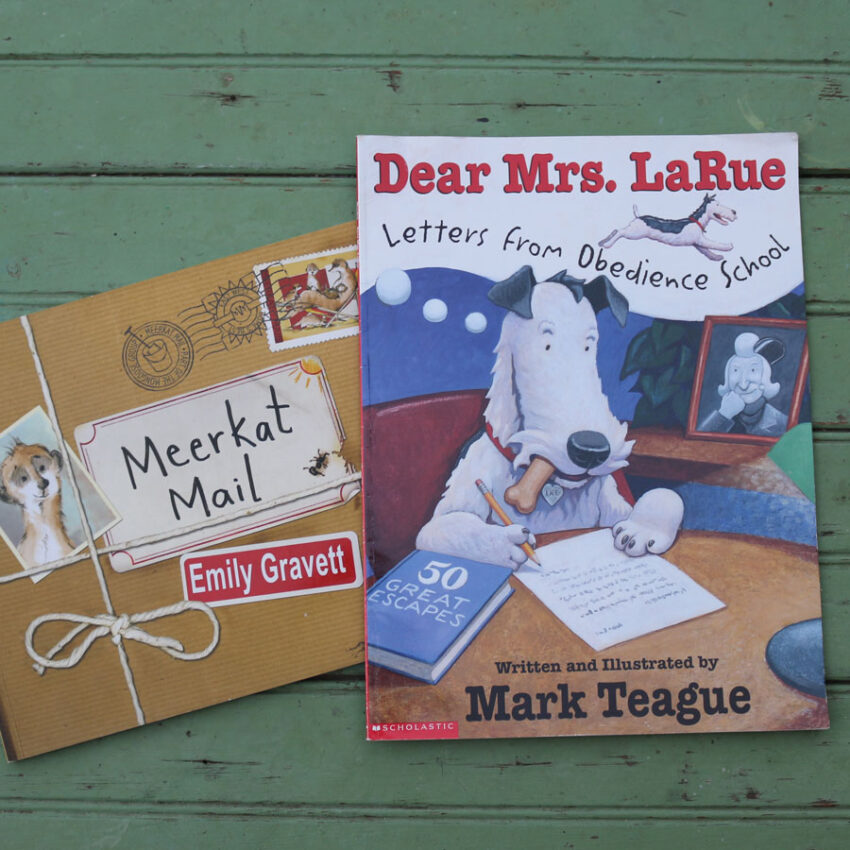 When Mrs. LaRue sends her dog, Ike, to obedience school, he sets up an epistolary protest from what he calls a "prison for dogs" in Dear Mrs. LaRue: Letters from Obedience School. Little did Ike know then that after an escape from obedience school and a heroic rescue, he'd find himself in jail–for real. Suspected in the case of a feline kidnapping, Ike is arrested, and his letters in Detective LaRue: Letters from the Investigation detail his quest to prove his innocence and rescue Mrs. Hibbins' cats. In LaRue For Mayor: Letters from the Campaign Trail, Ike's letters to Mrs. LaRue detail his decision to "throw his hat into the ring" as mayoral candidate while the newspapers report a mysterious, "dog-friendly" candidate. LaRue Across America: Postcards from the Vacation finds Ike writing home to Mrs. Hibbins all about the mishaps he and Mrs. LaRue encounter–which, he's quite certain, are all the fault of none other than Mrs. Hibbins' cats.
This hilarious series written and illustrated by Mark Teague is told entirely through newspaper clippings and Ike's letters. Mrs. LaRue's perspective is depicted in color, with an inset or the opposite page in black and white showing what Ike sees is really happening. Ike ends one of his letters from South Dakota with this postscript: "P.S. The local postmaster claims that it would be illegal for me to send live cats through the mail. I wonder if that could be true."
Although we have more cats than dogs here on the farm, my children were delighted by the fact that this book is based on the true story of a dog named Owney who wandered into an Albany, New York Post Office in 1889. Owney moved from sleeping on mail bags to hitching a ride across the country on mail trains until eventually his notoriety earned him a trip around the world. This book of (fictionalized) letters telling of Owney's travels is both delightful and educational. (Read more about Owney on the National Postal Museum website.)
This story reminded us of Paddle-to-the-Sea, as "woodman" Oliver travels across the country to Redcrest, California, to visit Tameka instead of Uncle Ray, the cabinet maker. Oliver's chauffeurs and traveling companions send letters back to Uncle Ray, telling of Oliver's adventures. The differing letter styles are a fun reflection on the characters Oliver meets on his way.
There's no shortage of books about the Christmas Truce of 1914 but this fictionalized epistolary account is particularly moving. Written as one soldier's letter to his mother, complete with hand-drawn maps and historical notes from the author, you'll feel like you were really there to see the Christmas Day miracle that happened on the front lines of World War I.
"Today is Thursday. You left three days ago and I mouse you…" Love, Mouserella is a crayon-scrawled letter written to Grandmouse, detailing all Mouserella and Ernie have been doing since Grandmouse left. From the crossed-out misspelled words to the mention of working on her posture (like Grandmouse showed her!) Love, Mouserella reads like many a letter many a grandchild has written. (My littlest enjoys the audiobook, brief though it is!)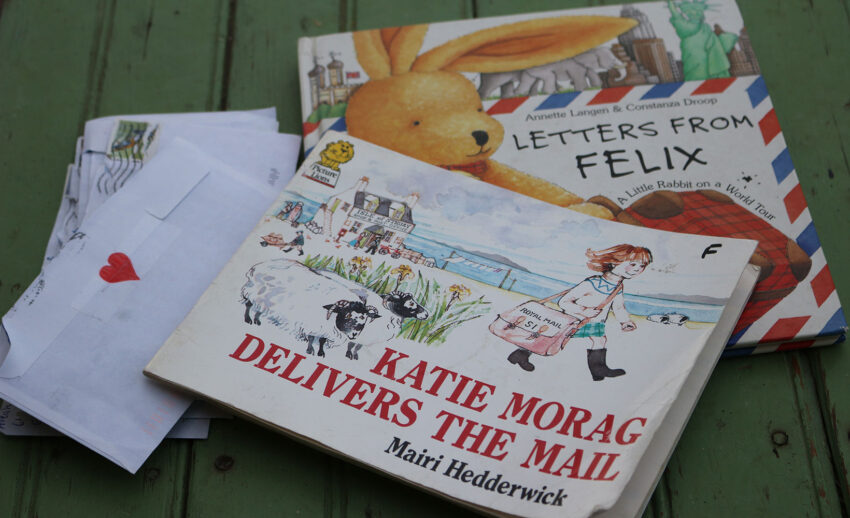 Epistolary Themed Picture Books
epis·​to·​lary :: adjective :: "of, relating to, or suitable to a letter"
(definition from Merriam-Webster)
From friendship to world travel, there are many tales woven around themes of mail and correspondence. Some of our favorite epistolary picture books are in this category–not exclusively epistolary, but featuring letters nonetheless!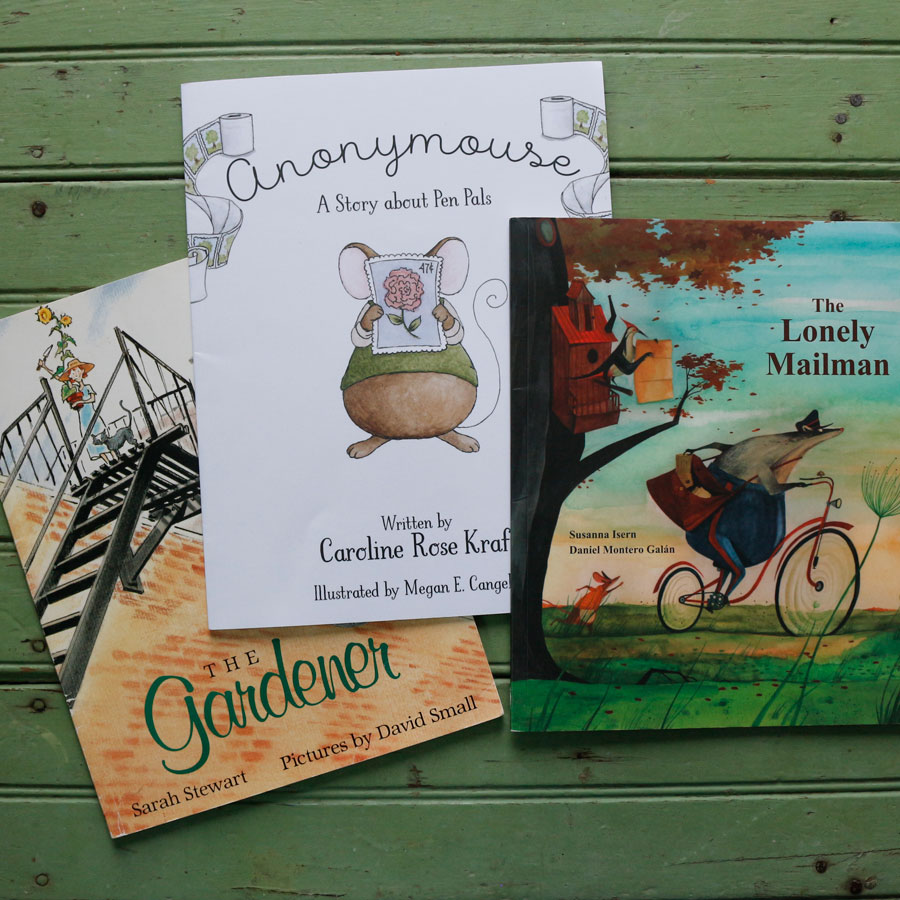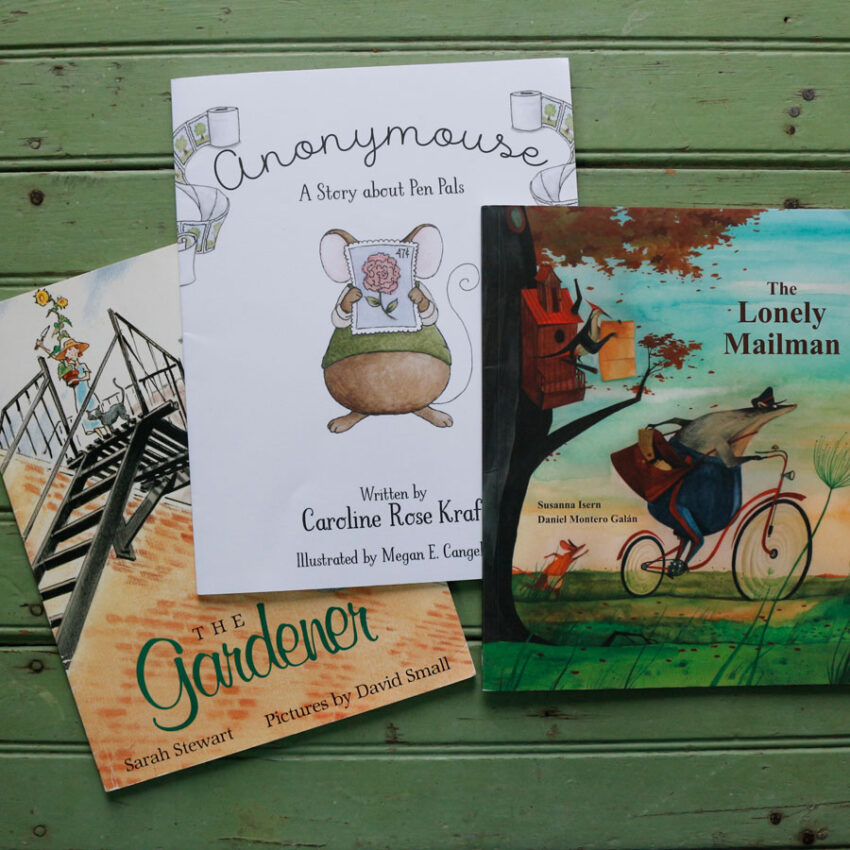 Parsnip Peppersnatch lives in P.O. Box 12 with his wife Coriander. Parsnip is terrified of people, squeaky shoes, ink, and sticky postage stamps. But one day, Parsnip sees a small, sad little girl checking her empty P.O. Box. And he sets upon an anonymous correspondence which will take every bit of his courage (and some very large postage stamps). The delightful storytelling in Anonymouse, combined with its charming watercolor illustrations, creates an exquisite celebration of pen friendship! (Read my full review.)
"The animals see him cycling through the forest every day. But they hardly know him. In fact, nobody knows anything about the mailman at all." What might happen if the animals would take the time to get to know the mailman who so faithfully brings special letters to each of them? The rich illustrations in this book will sweep you into this touching story featuring the letters the animals receive each day.
Aunt Hetta lived way out in the boonies. She was lonely and feared she'd been forgotten. So Mother sat down and wrote Aunt Hetta a long, long letter. She wrote of the garden produce, the chores she was neglecting, and the changing seasons. She wrote day and night, until she ran out of ink and paper. It took a thousand stamps to mail the boxes containing the long, long letter. What happens next–well, let's just quote the postman: "That's what I'd call writing up a storm!" The Long, Long Letter is a hilarious and heartwarming tale, inspired by the author's admiration for own sister's talent as a correspondent.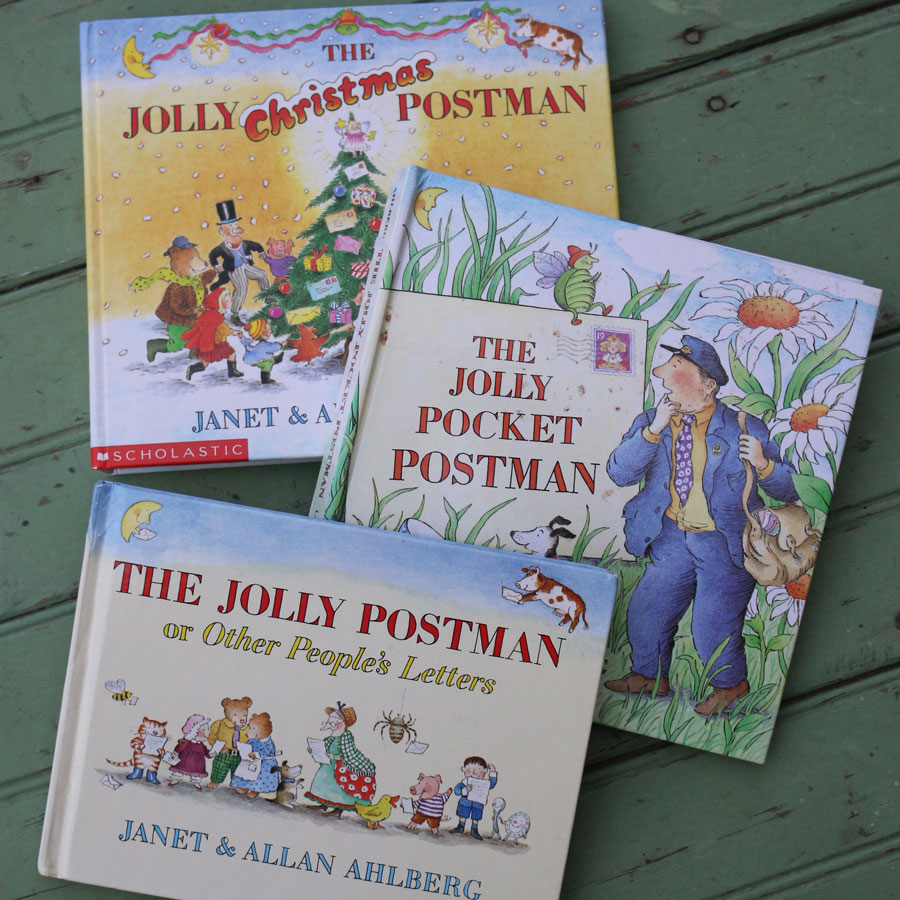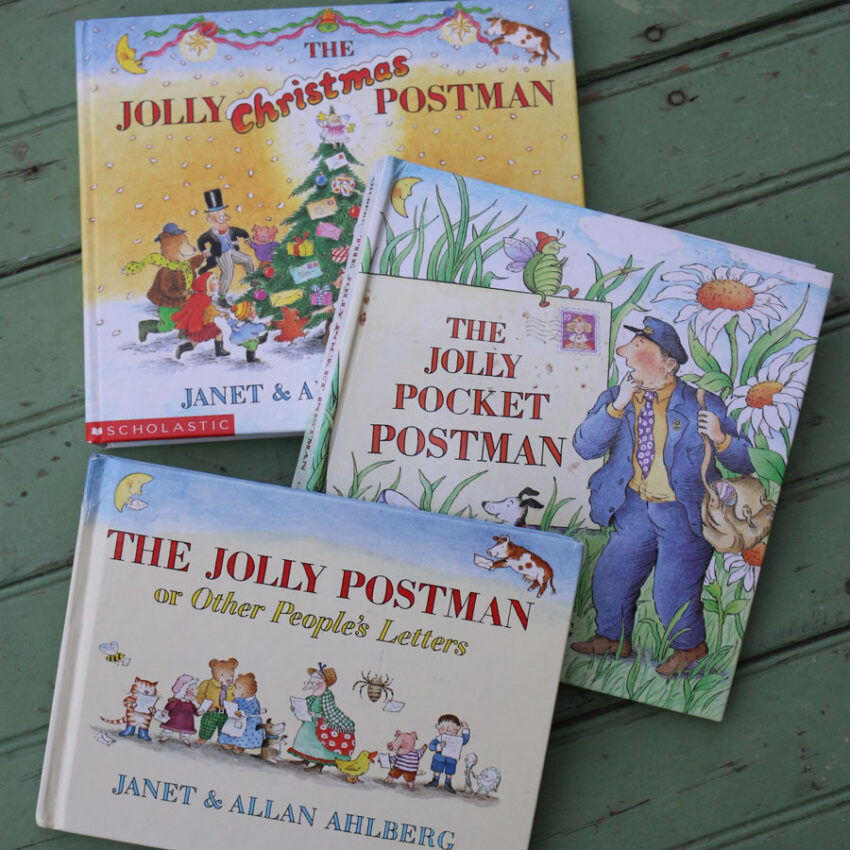 The Jolly Postman stories are told in rhyme and are really rather nonsensical. But since he delivers letters to Goldilocks and Cinderella, not to mention the Wolf and the Wicked Witch, and also encounters characters like Dorothy and Alice as he goes along his route, you can't blame him for being a little silly (and delightfully so). Don't miss The Jolly Pocket Postman and The Jolly Christmas Postman for more adventures! Each book feature letters which you can remove from pockets and envelopes.
"At the end of vacation something terrible happened. Suddenly, in the middle of the airport, Sophie's cuddly rabbit Felix disappeared." Sophie was very, very sad. How can she come home from school without knowing Felix will be waiting for her? But then, there's a letter waiting for Sophie. A letter from Felix! It turns out that Felix got lost and went on the wrong airplane. But now he can write letters home to Sophie as he travels the world! Originally written in German, the Felix books are based on the author's own love of travel and correspondence. A favorite with my four-year-old, each of Felix's letters are in real envelopes to open and read. If you fall in love with Felix, he will keep you busy collecting for awhile! There's also: Felix Travels Back in Time, Felix Explores Planet Earth, Felix's Christmas Around the World, Felix Joins the Circus, and Felix and the Flying Suitcase Adventure. You can even get Felix: What Time Is It?, The Felix Activity Book, and Felix's Cookbook. (We haven't read all of the books yet, but Felix Travels Back in Time does include a visit to the Stone Age.)
Sunny the Meerkat lives in the Kalahari Desert together with his large family. Their motto (as outlined in the newspaper clipping in the front of the book) is, "Stay safe, stay together!" But Sunny has had just about enough of "together." He sets off to find somewhere perfect to live. His journey is chronicled in lift-a-flap style postcards back home. He begins to be worried that "nowhere is right for him." But you'll be glad to know there's a happy reunion at the end of the book, complete with newspaper headlines featuring Sunny's homecoming. Meerkat Mail has a fun picture book layout, front and back featuring a glimpse into Sunny's travel scrapbook along with the newspaper clippings. A sweet story illustrating the beauty of belonging and togetherness.
Beatrix Potter was known to amuse her young correspondents with little letters in tiny envelopes written as if they were by Peter Rabbit and his friends. This book provides a brief visit with our favorite characters from the world of Peter Rabbit by means of a story woven around miniature letters (that you can pull out of tiny envelopes to read!) which were really truly written by Beatrix Potter.
Though these do not appear to be letters that were actually written by Mabel and her friend Sarah Jane, this is a sweet collection of letters written in the spirit of the Grandma's Attic series, complete with explanatory notes from Grandma. Some of the letters are contained in actual envelopes; other pages show illustrations of fabric from a favorite dress or feature a favorite poem. Reads like a Grandma's Attic scrapbook.
It was 1942 when Japan attacked Pearl Harbor. And the Japanese Americans living on the West Coast were forced to move to prison camps. But Miss Clara Breed, the children's librarian at the East San Diego Public Library, didn't let them leave empty-handed. She gave them stamped postcards with her address on them. And she met them at the train station to give them books to take with them. This heart-wrenching true story gives a glimpse into the struggles of the Japanese American children with whom Miss Breed corresponded during WWII. Excerpts from letters the children wrote show how the books she sent helped them through their internment in Poston, Arizona. A touching tribute to the power of correspondence to grant hope in dark times!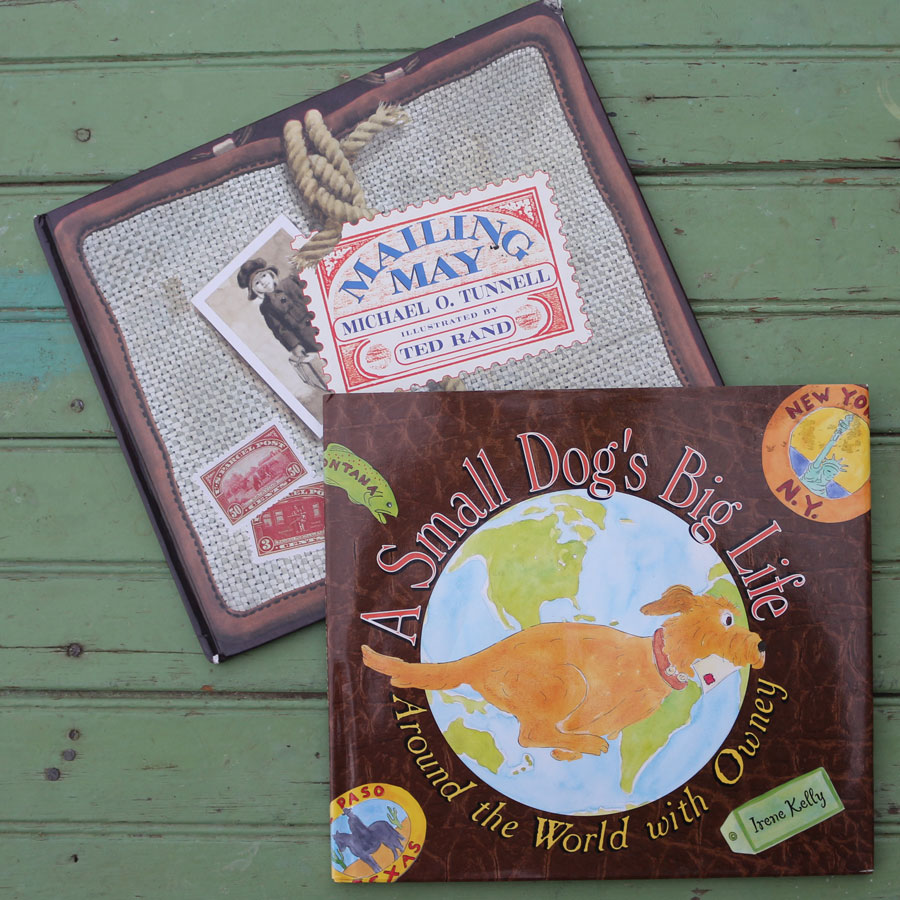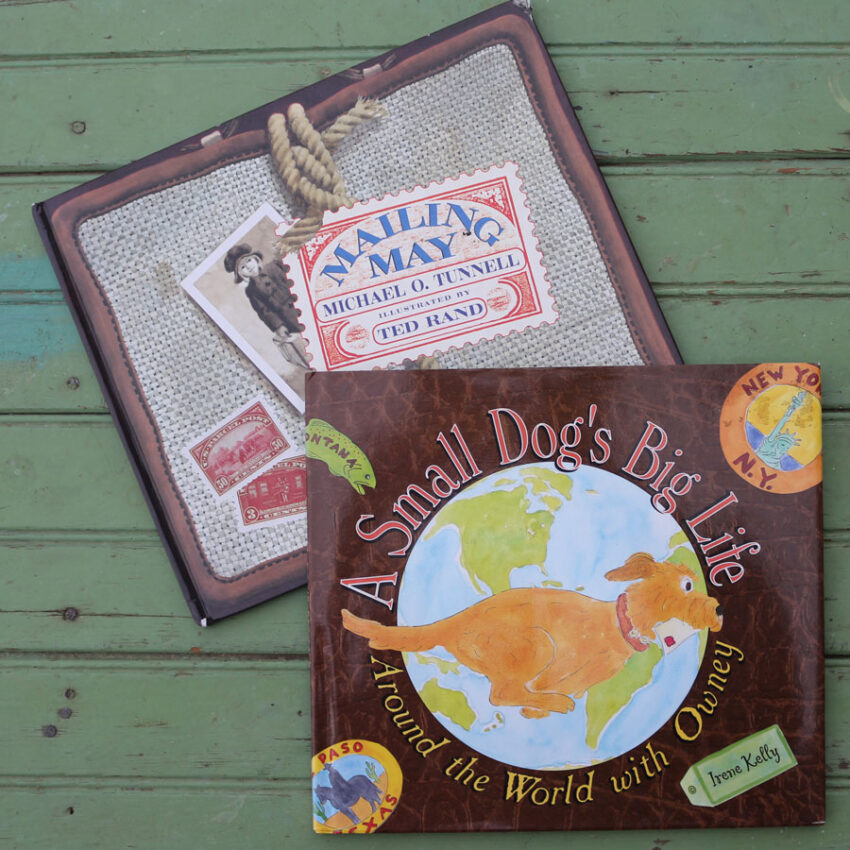 Picture Books About Mail
mail :: noun :: "material (such as letters and packages) sent or carried in a postal system" or "a nation's postal system"
(definition from Merriam-Webster)
There are so many delightful picture books about mail, including the classic Little Golden Book Seven Little Postmen, as well as A Tinyville Town Book I'm a Mail Carrier and Mail Truck's Busy Day. When it comes to real examples of how the postal service works, you'll find The Post Office Book and We Need Mail Carriers informative. There's even the cautionary tale Never Mail an Elephant and the alarming Pigs! Under the Post Office?! The titles below are among our favorites about our beloved snail mail.
There are some things you just can't send via text or email. Snail Mail is a celebration of the letters that are sealed with a kiss and smell just a bit like the sender.
"Wednesdays were always hectic on the Isle of Struay, for that was the day that the boat brought mail and provisions from the mainland…" But what happens when the baby is teething on Wednesday and her parents can't make the delivery? His big sister Katie gets to deliver the mail across the Bay. Grannie and her tractor even come to the rescue!
Delivering Your Mail is a simple look at the U.S. mail system with soft yet modern (2004) illustrations appropriate for young children. There's a "Did you know?" section in the back, as well as a brief timeline of important dates like the first postmaster general (do you know who it was?) and the world's first postage stamp.
In this delightful classic from Richard Scarry, Postman Pig travels all around Busytown delivering mail. From Doctor Lion to Farmer Haystack, there's a letter for many members of Busytown. And even if there's not something to deliver, Postman Pig often stops by to say hello or to do some shopping of his own. Until finally his day is done and there's just one package left–for Postman Pig himself!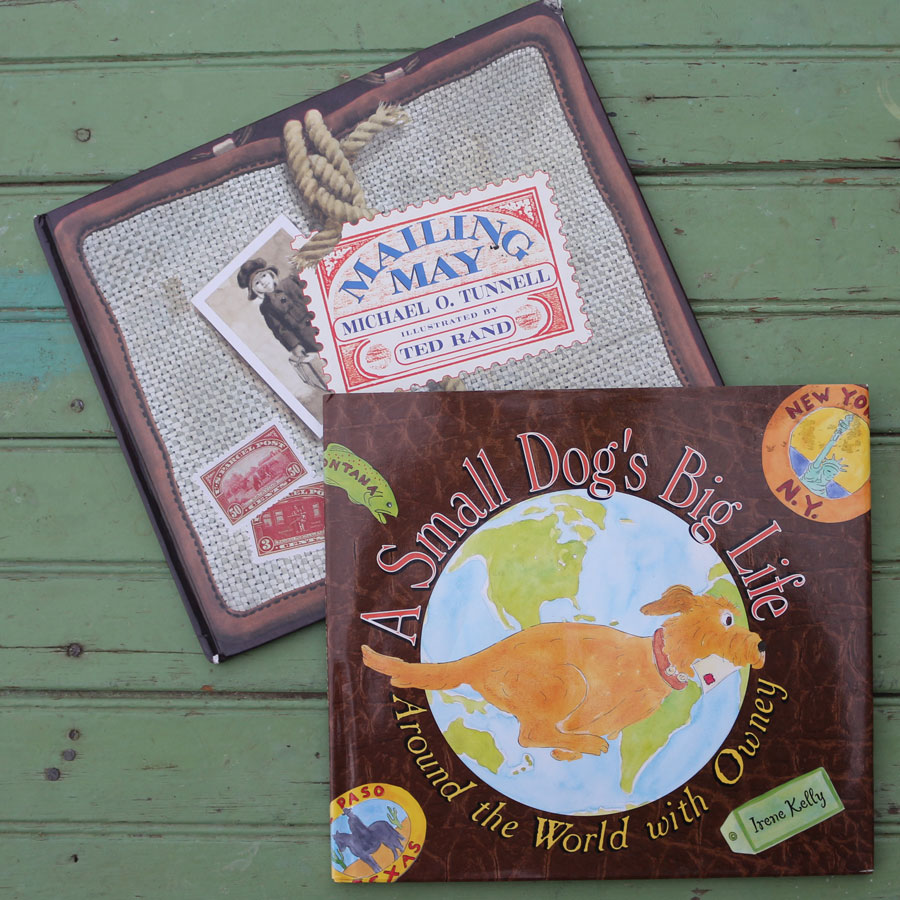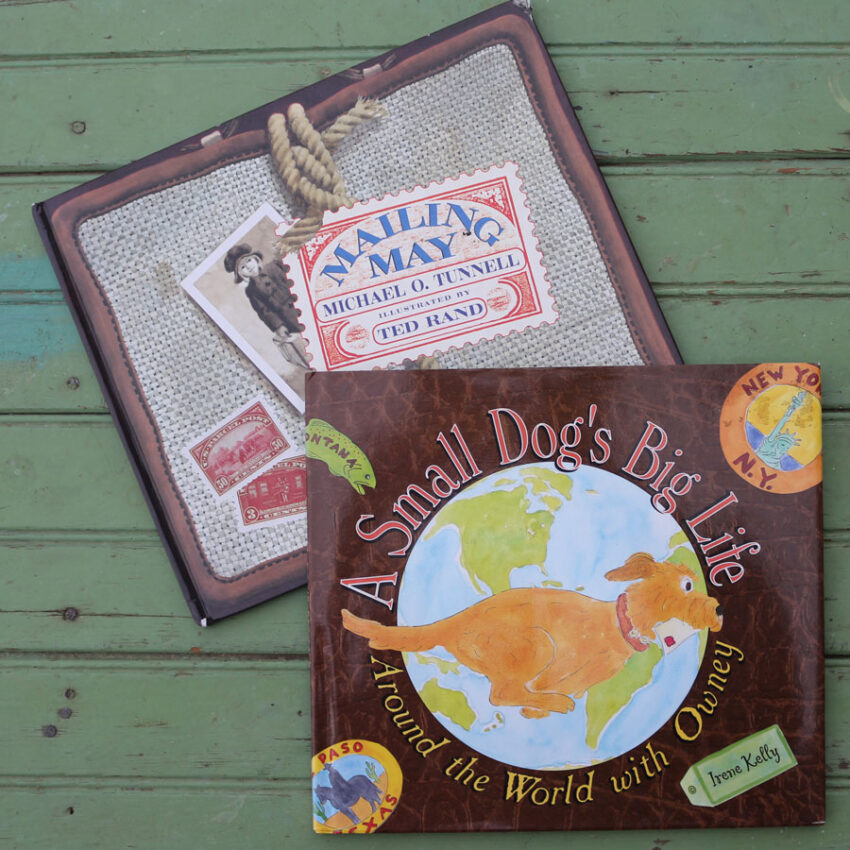 This true story of a little girl named May who was mailed from Grangeville to Lewiston, Idaho in the year 1914–for postage of fifty-three cents–is a delightful edition to your epistolary-themed shelf!
"Dear Reader, Writing letters is fun when you know how it's done…" Messages in the Mailbox explains everything from styling a business letter to how to fold your own envelope. Examples of friendly letters, thank-you notes, get-well letters, sympathy letters, notes of apology, and more… There are even ideas for business salutations and suggestions for varying your closing. "Writing letters is great, but the greatest part of all is finding letters in your mailbox," says Loreen Leedy, author, illustrator, and letter-writer. This book is the perfect primer on letter-writing for little correspondents!
---
read more: Epistolary Books That Will Have You Checking the Mailbox
An Epistolary Book Flight from Emily C. Gardner
find me on Goodreads: suggest your favorite epistolary picture books and epistolary themed picture books to add to my shelves!