Epistolary Books That Will Have You Checking the Mailbox
(This post contains affiliate links. Read my full disclosure.)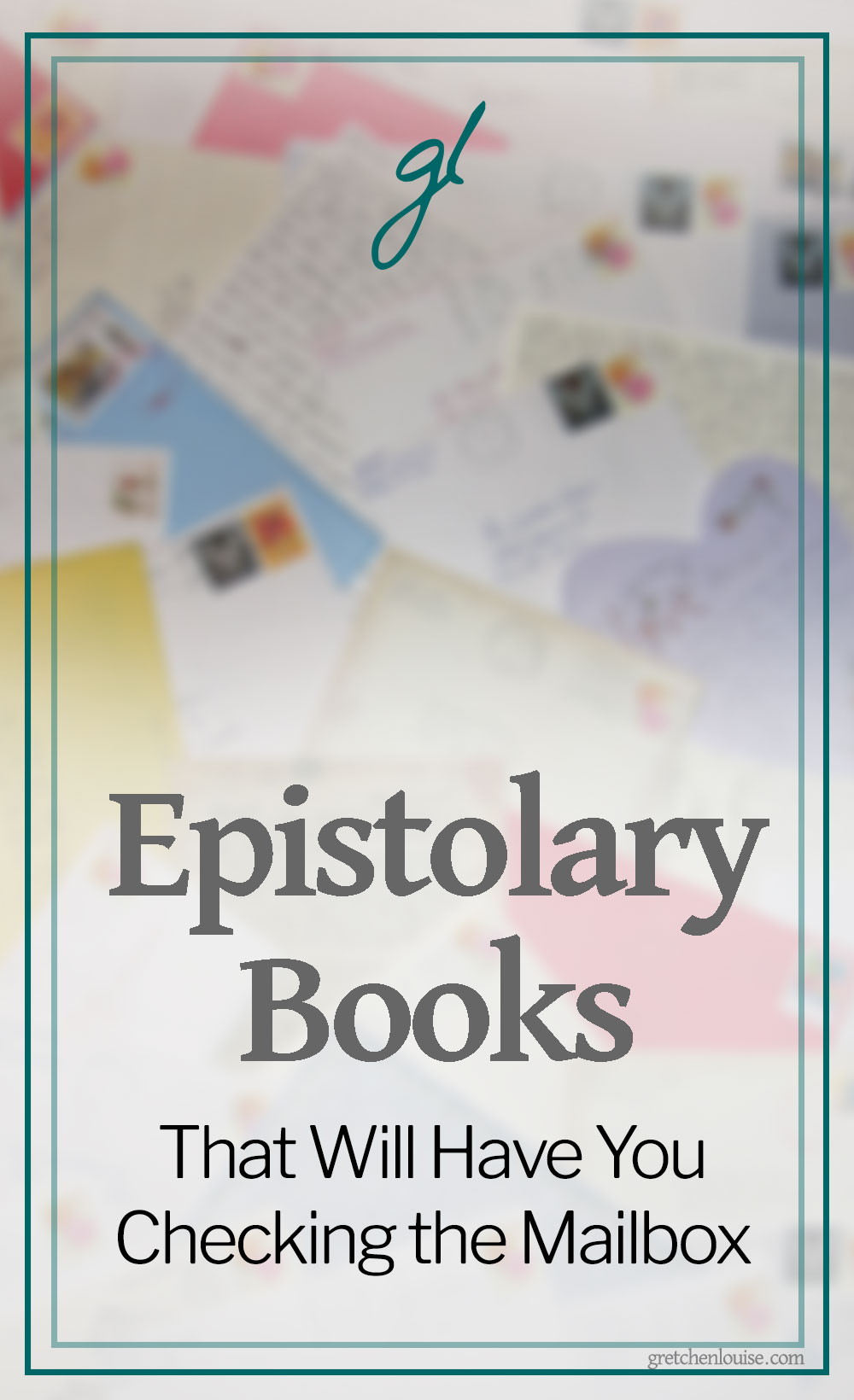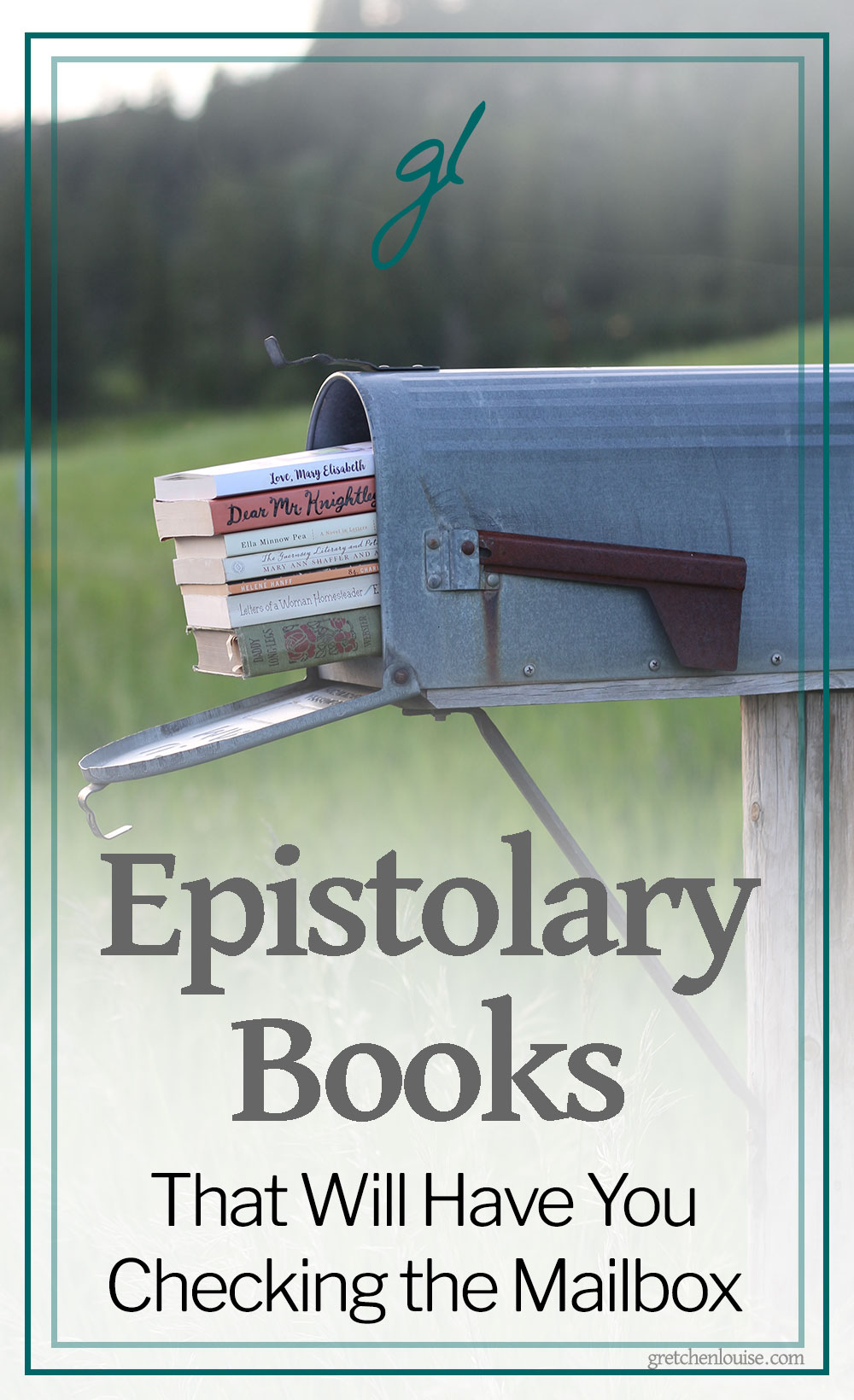 I met my husband when we were thirteen years old. Our families exchanged mailing addresses after a "chance" meeting and a few hours' conversation in Yellowstone National Park.
His big sister became one of my many pen pals. Soon so did his little sister.
And then one day, when I was 17 years old, I found a letter in my mailbox from him. In all honesty, the letter was written to both my brother and myself. But everyone knew the computer questions he asked were directed to me. And so of course, I had to write back.
As our friendship grew, so did the frequency of our trips to the mailbox. I began to view my day through the lens of my next letter to Merritt, saving up anecdotes to share with him.
We talked about our music and church, life and family. And we talked about books.
The first book he ever sent me was Eggs, Beans, and Crumpets by P.G. Wodehouse. He introduced me to W. Phillip Keller and J.R.R. Tolkien. He was the reason I made it beyond The Hobbit and read C.S. Lewis' space trilogy.
And then one day, five years after that first letter, he knelt down on one knee and asked me to be his wife.
Now we share the same mailing address and the same bookshelves. (But he still mails me cards on special occasions, just so I can have something in the mailbox.)
It's no surprise then that, since letters make up my love story, stories told through letters make up some of my favorite books.
Many books feature letters. Sarah, Plain and Tall includes more than a few heartwarming letters Sarah shares with the children and Papa. Heidi, Clara, and Grandmama exchange letters in Johanna Spyri's classic tale. Mary Shelley prefaces her Gothic tale of Frankenstein with four letters. There is Mr. Darcy's pivotal letter to Elizabeth Bennett explaining his conduct in Jane Austen's Pride and Prejudice. And of course, Captain Wentworth's letter to Anne Elliot in Persuasion is one of the most poignant and romantic letters in literature.
And while my most treasured collection of letters is the one that my husband and I still add to regularly, I have a stack of books that are anthologies of others' real letters. Beloved Bride (the letters of Stonewall Jackson to his wife), Love and War (250 years of wartime love letters), A Chord of Three Strands (three centuries of Christian love letters), War Letters (extraordinary correspondence from American wars), a longtime favorite I Love You, Ronnie (chronicling the creative correspondence of President Ronald Reagan and his bride Nancy), and my new favorite, Devotedly (the personal letters of Jim and Elisabeth Elliot).
But then there is a special group of books in its own class, in which the entire tale (or nearly so) is told through letters.
I met my husband 21 years ago today in Yellowstone National Park. It was September 30, 1996. In celebration of that day and the many love letters we've exchanged since, I present a list of my favorite epistolary books.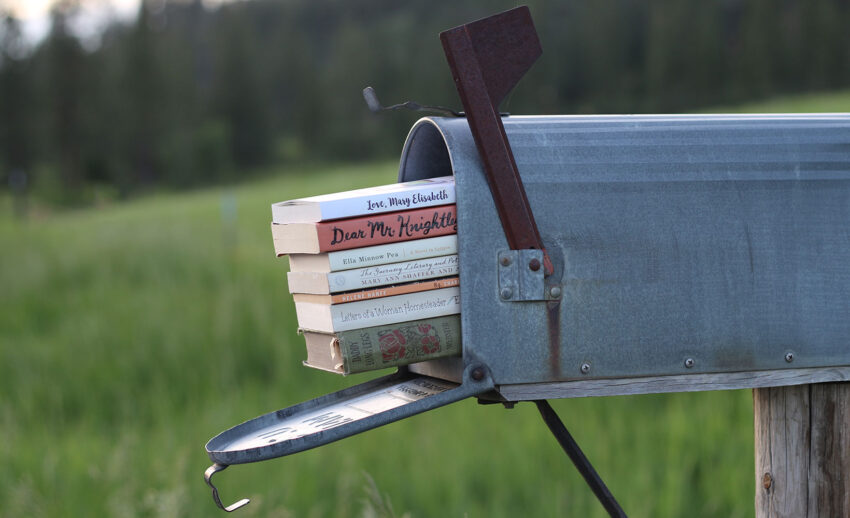 Epistolary Stories
While many compilations of real-life letters read more like an anthology, some read like a novel. Here I highlight a collection of epistles that will keep you laughing–and on the edge of your seat.
In April 1909, young widow Elinore Pruitt traveled to Burnt Fork, Wyoming to become housekeeper for a Scottish cattleman named Mr. Stewart. She details her escapades (and those of her young daughter Jerrine) in letters to Mrs. Coney, her former employer in Denver. Elinore promptly files claim to the land adjacent to Mr. Stewart's quarter-section, becoming a proud homesteader. We hear first-hand of her encounters with horse thieves and the likes of Zebulon Pike. Elinore regales Mrs. Coney with tales of blizzards and wagon rides, stocking legs and weddings. This real-life collection of autobiographical letters contains more than one plot twist–not to mention period literary references. Elinore apologizes more than once for the length of her letters—"You know I can't be brief. I have tried and cannot."—and their quality—"I am ashamed of my long letters to you, but I am such a murderer of language that I have to use it all to tell anything." But readers will complain of neither the length nor the composition of this clever and witty glimpse into the life of Elinore Pruitt (spoiler!) Stewart, woman homesteader. (My ten-year-old has listened to the audiobook several times and finds it hilarious!)
Epistolary Novels
While C.S Lewis' The Screwtape Letters and the modern day Lord Foulgrin's Letters are epistolary novels in their own class, here I pay tribute to the the heartwarming (though not exclusively romantic) epistolary novels that I love to read and re-read.
Love, Mary Elisabeth has the same classic feel as Little House in the Big Woods, In Grandma's Attic, and Sarah, Plain and Tall. Enjoy a delightful glimpse into the 1920's in this charming book full of letters from little Mary Elisabeth and her family. Her letters are filled with enchanting stories of life on her aunt and uncle's farm where she stays while her mother recovers from tuberculosis. Readers of all ages will enjoy this piece of middle grade historical fiction.
When the teacher reads Mr. Henshaw's book about a dog to the class, Leigh decides to write Mr. Henshaw a letter. The book is a one-sided compilation of the clever correspondence that ensues. Leigh's parents are divorced and his mother works long hours, so writing to Mr. Henshaw and then writing in his diary is the way he spends his time as he practices to become a real author. This juvenile novel is an entertaining and easy read for everyone!
I don't know why I waited so long to read these marvelous pieces of literature. It took reading a modern-day (but equally exquisite) retelling for me to search out the original. And I was not disappointed. The insight into the life of a child raised in an orphanage, and then the reform of an orphanage, is a story that will not leave you unchanged. And it's all told through correspondence (with a bit of romance thrown in). (If you've seen the movie with Fred Astaire and Leslie Caron, know that–while delightful in its own way–it only scratched the surface of the first book.)
I actually avoided this book for awhile, assuming it was some Austen spin-off. Little did I know the delightful collection of letters awaiting me in its pages! The one-sided correspondence is a re-telling of the original Daddy-Long-Legs but it is also a beautiful story in its own right. I read it once and I read it again. Definitely a classic to keep and enjoy alongside the original version.
What an enchanting correspondence between a bookstore employee in London and a book lover in New York! Comprised of actual letters to and from the author, 84, Charing Cross Road brings you London's rationing and New York's comparative wealth. The Duchess of Bloomsbury Street continues the story. Both heart-rending and delightful, these books will be of especial interest to lovers of great literature. (The story behind these books is told by the author in Q's Legacy.)
These letters between an English author, a London publisher, and inhabitants of a British island occupied by the Germans during the war put you in the middle of a simple island, ravaged by war, but filled with people who are characters in every sense of the word.
The original subtitle "A Progressively Lipogrammatic Epistolary Fable" gives one a glimpse into the literary delight that is Ella Minnow Pea. (Lipogrammatic, in case you don't have a dictionary nearby, is "composed of words not having a certain letter or letters.") What if the use of certain letters of the alphabet became forbidden in the land? What if you were exiled for speaking or writing a word containing the latest banned letters? Ella Minnow Pea is an absolute treat for wordsmiths. You'll be turning back through the pages to see if they really managed to write the last epistle as required. A fun and surprising read!
First published in three volumes, Evelina is not a short work. Yet the eighty-four letters of this epistolary novel are rich in both literary beauty and ironic humor. Evelina is a principled young lady of 17 who has been raised by her guardian, the Rev. Mr. Arthur Villars. When Evelina's grandmother Madame Duval threatens to reappear on the scene, family friend Lady Howard conveniently invites Evelina to come visit Howard Grove. Safely ensconced in the country, Mr. Villars considers his ward safe from the influences of her own relatives. Until the party sets out for London, and Evelina encounters the world beyond her sheltered upbringing. The travails and triumphs of Evelina's days are detailed in letters back to her guardian, who entreats, "cheer me with a few lines, that may assure me, this one short fortnight spent in town has not undone the work of seventeen years spent in the country."
Lady Susan Vernon is quite unlike Austen's other heroines. At first one may think that this woman must simply be misunderstood. Yet each letter reveals more of the mean-spirited, manipulative cunning hidden beneath a sociopath-like wit and intelligence. She is selfish and scheming, salacious and shameless. Containing twenty-two epistles, the novella concludes with a brief third person summary, explaining, "This correspondence, by a meeting between some of the parties, and a separation between the others, could not, to the great detriment of the Post Office revenue, be continued any longer." A quick read, if perhaps not an easy one. May be viewed as a cautionary tale!
Novels Featuring Epistles
There are many novels that include letters in their storyline. I'm always adding new epistolary themed novels to my TBR list. Here are a few I have thoroughly enjoyed, with both minor and major epistolary themes.
I'd never read a love story like this one. While the epistles in this book are in the form of telegrams, and woven into the narrative of the book, Wired Love deserves a place on every epistolary book list. An absolutely intriguing storyline told in such unique style. And don't miss the passage–appearing in this book published in 1879–that so accurately predicts the invention of cellphones!
Offering "Real Letters from Imaginary Persons," The Serial-Letter Company seemed the perfect boon for an invalid with no one to talk to. But then Carl became curious about the girl behind the signature, "Molly Make-Believe." A brief, amusing read, with quotables such as, "even a business letter does not deserve the paper which it is written on unless it contains at least one significant phrase that is worth waking up in the night to remember and think about."
One woman's scheme to arrange an anonymous letter writing campaign between her husband's Engineer Aviation Battalion and her own crew of WWII flight nurses becomes a lifeline for Lt. Philomela Blake and Lt. Thomas MacGilliver Jr. In The Shop Around the Corner style, they are searching only for friendship, not romance. A beautiful blend of historical WWII facts with a fictional epistolary friendship that will touch your mind and your heart.
A forgotten letter and a one-hundred-year-old family bookshop make for a split-time novel you'll definitely want to pre-order!
"She laid the unopened letter atop the others, along with her hopes, her dreams, her very life. Maybe even her God…" She had me at unopened letter! Add a precocious 4-year-old girl and a maiden sister to the scene of a white three-story boarding house in the town of Emmett, Washington in 1922. Give us a cat named Geoffrey Chaucer and a dog named Uffda for comic relief. Grace Halstad's story–and the letter that directs her path–is one you won't soon forget. (Read my full review.)
A letter cloaked in mystery, a daring student of medicine, and a house full of hurting people in need of love. How many sets of eyes would read the love note before it was delivered for the one for whom it was written?
These fun titles by Chautona Havig (the first featured in the Crossroads Collections Yesterday's Mail) explore themes of matchmaking, long-lost letters, and misdelivered packages.
As a life-long fan of Anne with an "E", I can't help but mention Anne of Windy Poplars. Anne's flowery letters to Gilbert are interspersed with the chapters of this fourth book in the Anne of Green Gables series. I think we'd all agree with Anne that, "Still, letters, even the nicest, aren't satisfactory. I want to see you."
---
More Epistolary Book Lists:
Epistolary Picture Books That Will Make Your Child Want to Be a Pen Pal
An Epistolary Book Flight from Emily C. Gardner
Find me on Goodreads and suggest your favorite epistolary novels to add to my shelf!