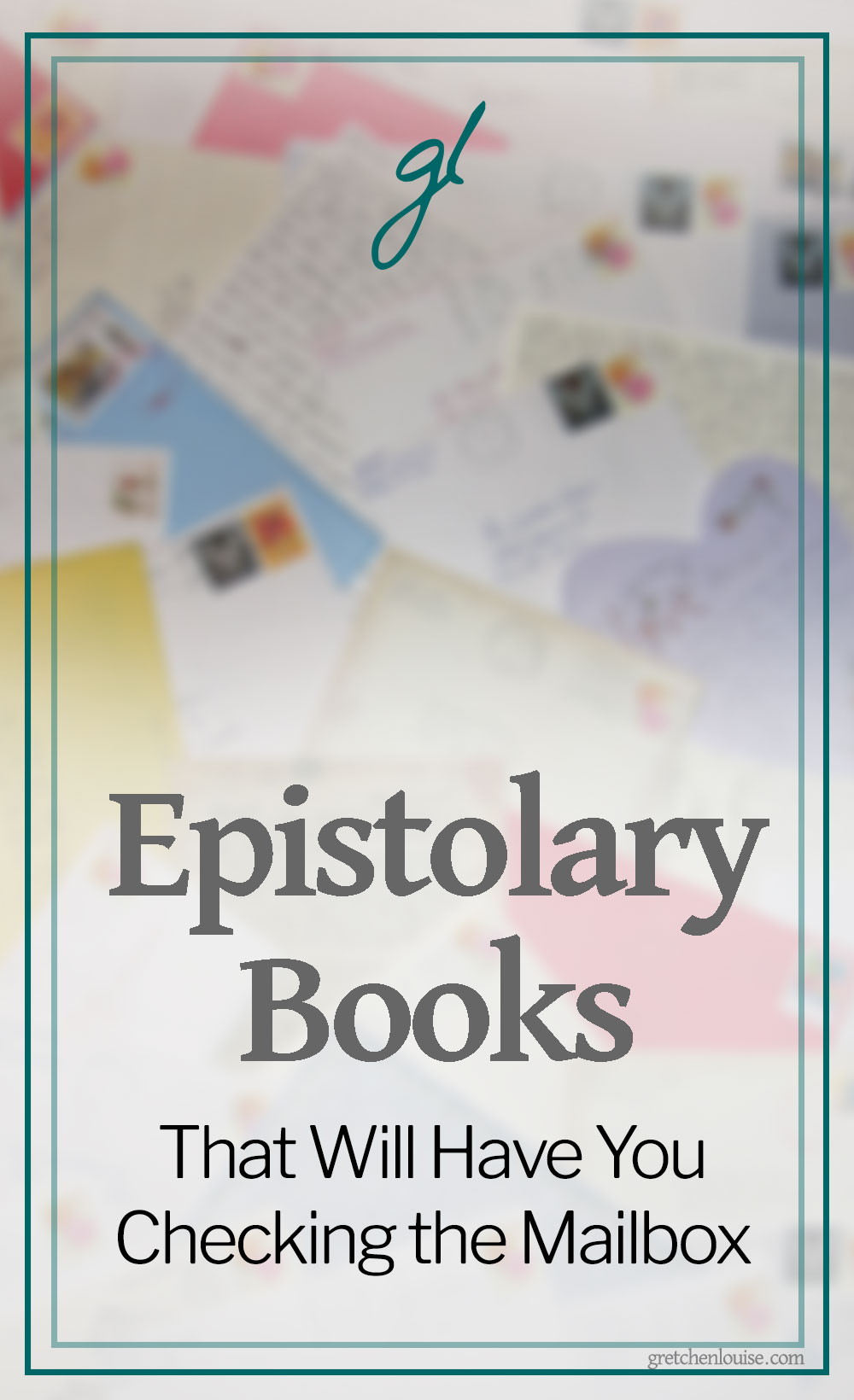 I met my husband when we were thirteen years old. Our families exchanged mailing addresses after a "chance" meeting and a few hours' conversation in Yellowstone National Park.
His big sister became one of my many pen pals. Soon so did his little sister.
And then one day, when I was 17 years old, I found a letter in my mailbox from him. In all honesty, the letter was written to both my brother and myself. But everyone knew the computer questions he asked were directed to me. And so of course, I had to write back.
As our friendship grew, so did the frequency of our trips to the mailbox. I began to view my day through the lens of my next letter to Merritt, saving up anecdotes to share with him.
We talked about our music and church, life and family. And we talked about books.
The first book he ever sent me was Eggs, Beans, and Crumpets by P.G. Wodehouse. He introduced me to W. Phillip Keller and J.R.R. Tolkien. He was the reason I made it beyond The Hobbit and read C.S. Lewis' space trilogy.
And then one day, five years after that first letter, he knelt down on one knee and asked me to be his wife.
Now we share the same mailing address and the same bookshelves. (But he still mails me cards on special occasions, just so I can have something in the mailbox.)
It's no surprise then that, since letters make up my love story, stories told through letters make up some of my favorite books.
Many books feature letters. Sarah, Plain and Tall includes more than a few heartwarming letters Sarah shares with the children and Papa. Heidi, Clara, and Grandmama exchange letters in Johanna Spyri's classic tale. Mary Shelley prefaces her Gothic tale of Frankenstein with four letters. There is Mr. Darcy's pivotal letter to Elizabeth Bennett explaining his conduct in Jane Austen's Pride and Prejudice. And of course, Captain Wentworth's letter to Anne Elliot in Persuasion is one of the most poignant and romantic letters in literature.
And while my most treasured collection of letters is the one that my husband and I still add to regularly, I have a stack of books that are anthologies of others' real letters. Beloved Bride (the letters of Stonewall Jackson to his wife), Love and War (250 years of wartime love letters), A Chord of Three Strands (three centuries of Christian love letters), War Letters (extraordinary correspondence from American wars), a longtime favorite I Love You, Ronnie (chronicling the creative correspondence of President Ronald Reagan and his bride Nancy), and my new favorite, Devotedly (the personal letters of Jim and Elisabeth Elliot). (My wishlist includes Letters of the Century by Lisa Grunwald and An Expression of Character: The Letters of George MacDonald.)
But then there is a special group of books in its own class, in which the entire tale (or nearly so) is told through letters.
I met my husband 21 years ago today in Yellowstone National Park. It was September 30, 1996. In celebration of that day and the many love letters we've exchanged since, I present a list of my favorite epistolary books.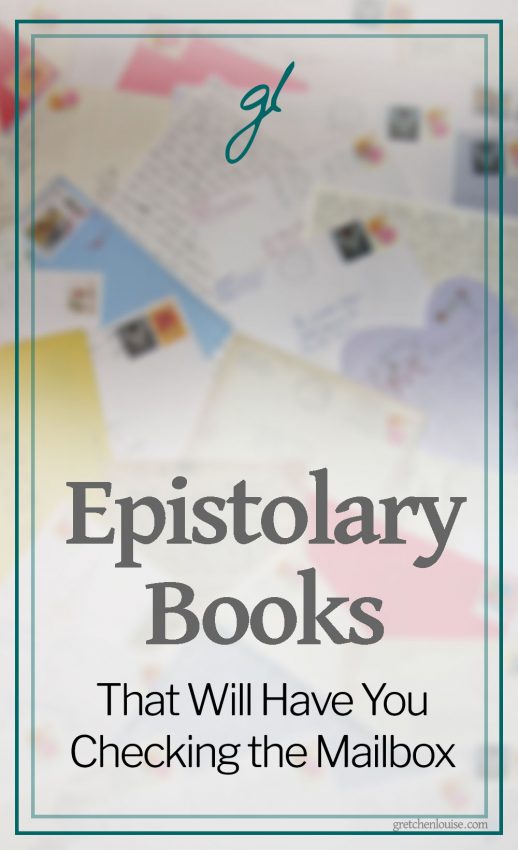 Epistolary Picture Books
There's The Day the Crayons Quit and Dear Mr. Blueberry. There's the Dear Mrs. LaRue series and Postcards from Mr. Pish. There are many variations on the theme of Dear Santa. And of course, there is classic Little Golden Book, Seven Little Postmen (plus The Post Office Book and even Pigs! Under the Post Office?). But for epistolary picture books that tug at the heartstrings a bit more, I've chosen these.
This fun story is told through short letters from Lydia Grace, "The Gardener", and the illustrations that accompany them. At first glance, it's a simple story, but the illustrations help you read between the lines of a little girl's mission to create happiness in the lives of those she loves–even when she's lonely and far away from home.
A look inside Isabel's letters to her Aunt Lupita as she struggles to find her place in her new home in America. The tone is at first lonesome, but increasingly more confident as Isabel goes to lots of birthday parties and finds community and new words. My children are big fans of "box houses" and immediately wanted to make their own "quiet place", too.
Kate's letters to her best friend highlight the interesting details of her new home in western Washington. And when her family travels, her letters capture the trivia surrounding each place they visit. With bright illustrations and educational drawings in the margins (state flowers, state birds, and other historical details), the Kate books are a nice read-aloud blend of fun and learning. And while I didn't appreciate the constant jabs at her little brother in Kate on the Coast, Your Best Friend, Kate promises to remedy that.
My children were delighted by the fact that this book is based on the true story of a dog named Owney who wandered into an Albany, New York Post Office in 1889. Owney moved from sleeping on mail bags to hitching a ride across the country on mail trains until eventually his notoriety earned him a trip around the world. This book of (fictionalized) letters telling of Owney's travels is both delightful and educational. (Read more about Owney on the National Postal Museum website.)
This story reminded us of Paddle-to-the-Sea, as "woodman" Oliver travels across the country to Redcrest, California, to visit Tameka in place of her Uncle Ray, the cabinet maker. Oliver's chauffeurs and traveling companions send letters back to Uncle Ray, telling of Oliver's adventures. The differing letter styles were a fun reflection on the characters Oliver met on his way.
In Dear Peter Rabbit, Yours Truly, Goldilocks, and With Love, Little Red Hen, we get to peek into the mailboxes of some of our most beloved fairytale characters as they exchange letters with each other. What if Peter Rabbit was invited to a housewarming at The Three Little Pigs'? Can you imagine Goldilocks and Little Red Riding Hood secretly working in the fields of The Little Red Hen? Visit the world where all the fairytale characters live together via these entertaining letters! Oh, and watch out for Wolfy and Fer O'Cious. (The first book in this series must not be confused with the collection of Beatrix Potter's own letters, which now I want to read!)
The Jolly Postman stories are told in rhyme and are really rather nonsensical. But since he delivers letters to Goldilocks and Cinderella, not to mention the Wolf and the Wicked Witch, and encounters characters like Dorothy and Alice as he goes along his route, you can't blame him for being a little silly (and delightfully so). The Jolly Pocket Postman even features letters you can remove from pockets and envelopes!
P.S. Though not epistolary in nature, I would be remiss not to mention Mailing May by Michael O. Tunnell in this list. It is the true story of a little girl named May who was mailed from Grangeville to Lewiston, Idaho in the year 1914–for postage of fifty-three cents!
Stories Told Through Delightful Epistles
While C.S Lewis' The Screwtape Letters and the modern day Lord Foulgrin's Letters are epistolary novels in their own class, here I pay tribute to the the heartwarming (though not exclusively romantic) epistolary novels that I love to read and re-read.
Love, Mary Elisabeth has the same classic feel as Little House in the Big Woods, In Grandma's Attic, and Sarah, Plain and Tall. Enjoy a delightful glimpse into the 1920's in this charming book full of letters from little Mary Elisabeth and her family. Her letters are filled with enchanting stories of life on her aunt and uncle's farm where she stays while her mother recovers from tuberculosis. Readers of all ages will enjoy this piece of middle grade historical fiction.
When the teacher reads Mr. Henshaw's book about a dog to the class, Leigh decides to write Mr. Henshaw a letter. The book is a one-sided compilation of the clever correspondence that ensues. Leigh's parents are divorced and his mother works long hours, so writing to Mr. Henshaw and then writing in his diary is the way he spends his time as he practices to become a real author. This juvenile novel is an entertaining and easy read for everyone!
I don't know why I waited so long to read these marvelous pieces of literature. It took reading a modern-day (but equally exquisite) retelling for me to search out the original. And I was not disappointed. The insight into the life of a child raised in an orphanage, and then the reform of an orphanage, is a story that will not leave you unchanged. And it's all told through correspondence (with a bit of romance thrown in). (If you've seen the movie with Fred Astaire and Leslie Caron, know that–while delightful in its own way–it only scratched the surface of the first book.)
I actually avoided this book for awhile, assuming it was some Austen spin-off. Little did I know the delightful collection of letters awaiting me in its pages! The one-sided correspondence is a re-telling of the original Daddy-Long-Legs but it is also a beautiful story in its own right. I read it once and I read it again. Definitely a classic to keep and enjoy alongside the original version.
This piece of historical fiction intersperses with the chapters bits of correspondence between the characters. Hearing their unique voices in this way provide a delightful addition to the story. And this friendly glimpse into the life of William Wilberforce is both informative and inspirational.
I'd never read a love story like this one. While the epistles in this book are in the form of telegrams, and woven into the narrative of the book, Wired Love deserves a place on every epistolary book list. An absolutely intriguing storyline told in such unique style. And don't miss the passage–appearing in this book published in 1879–that so accurately predicts the invention of cellphones!
What an enchanting correspondence between a bookstore employee in London and a book lover in New York! Comprised of actual letters to and from the author, 84, Charing Cross Road brings you London's rationing and New York's comparative wealth. The Duchess of Bloomsbury Street continues the story. Both heart-rending and delightful, these books will be of especial interest to lovers of great literature. (The story behind these books is told by the author in Q's Legacy.)
These letters between an English author, a London publisher, and inhabitants of a British island occupied by the Germans during the war put you in the middle of a simple island, ravaged by war, but filled with people who are characters in every sense of the word. (While a riveting work of fiction, there were a few aspects I found unnecessary in the midst of the book.)
P.P.S. As a life-long fan of Anne with an "E", I can't help but mention Anne of Windy Poplars here. While not exclusively epistolary, Anne's letters to Gilbert are interspersed with the chapters of this fourth book in the Anne of Green Gables series.
---
P.P.P.S. These days, my husband and I communicate a lot more by text than by longhand letters. I'm sure there is an epistolary classic or two in the works that uses texting as the primary method of communication (it wouldn't be a far cry from the telegrams in Wired Love, after all!). But in the meantime, these epistolary books continue to inspire my love of good old-fashioned letter writing.