Fantastic Graphic Novels Your Children Will Love
(This post contains affiliate links. Read my full disclosure.)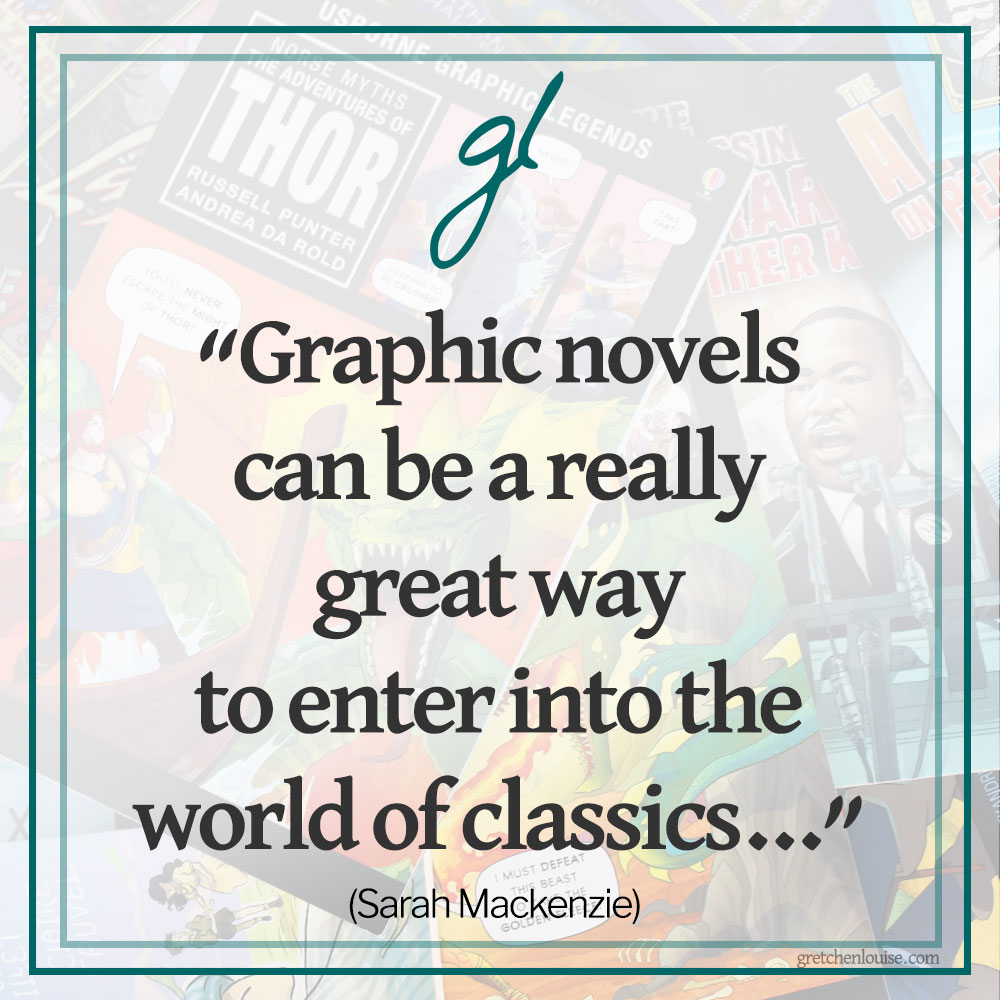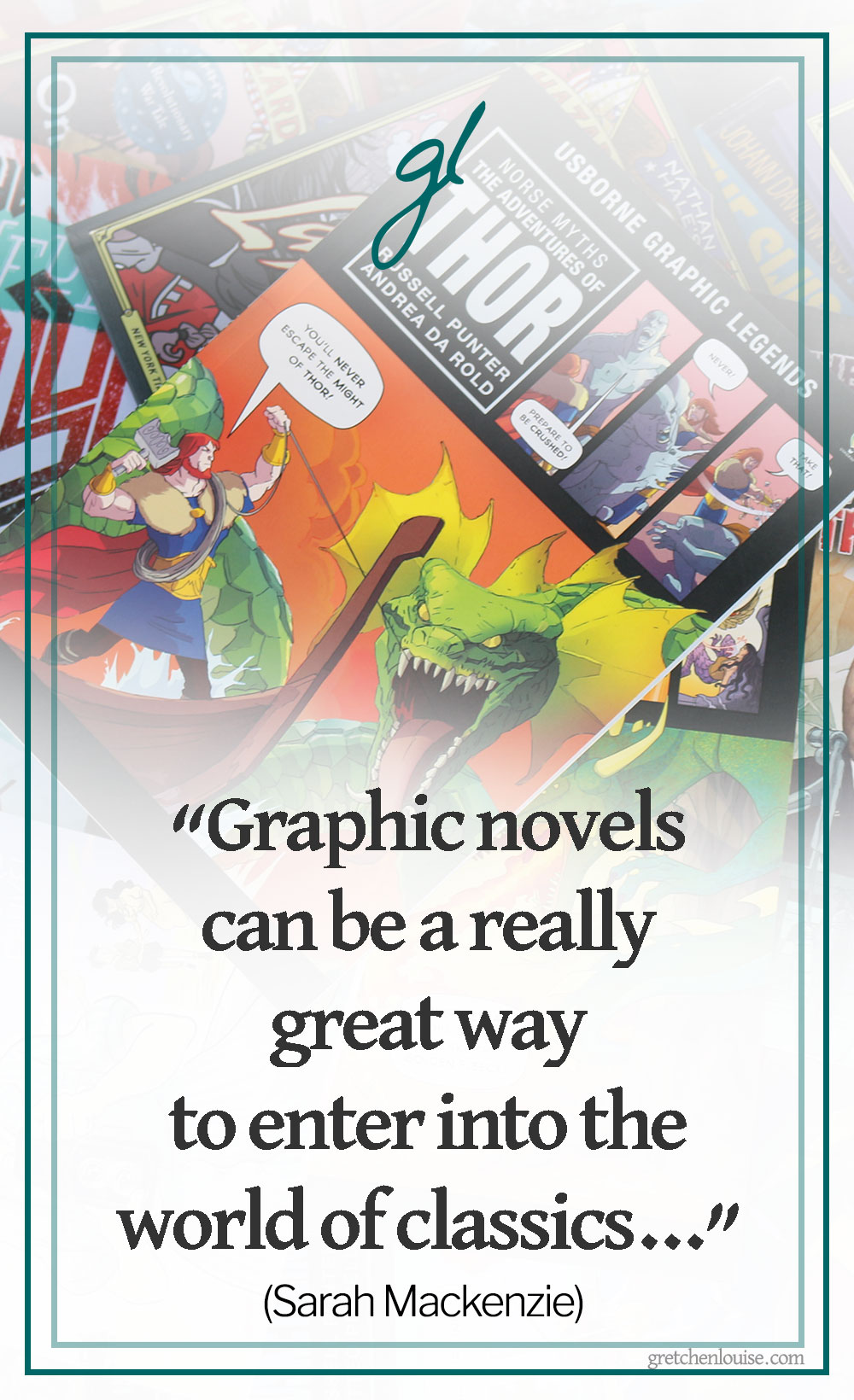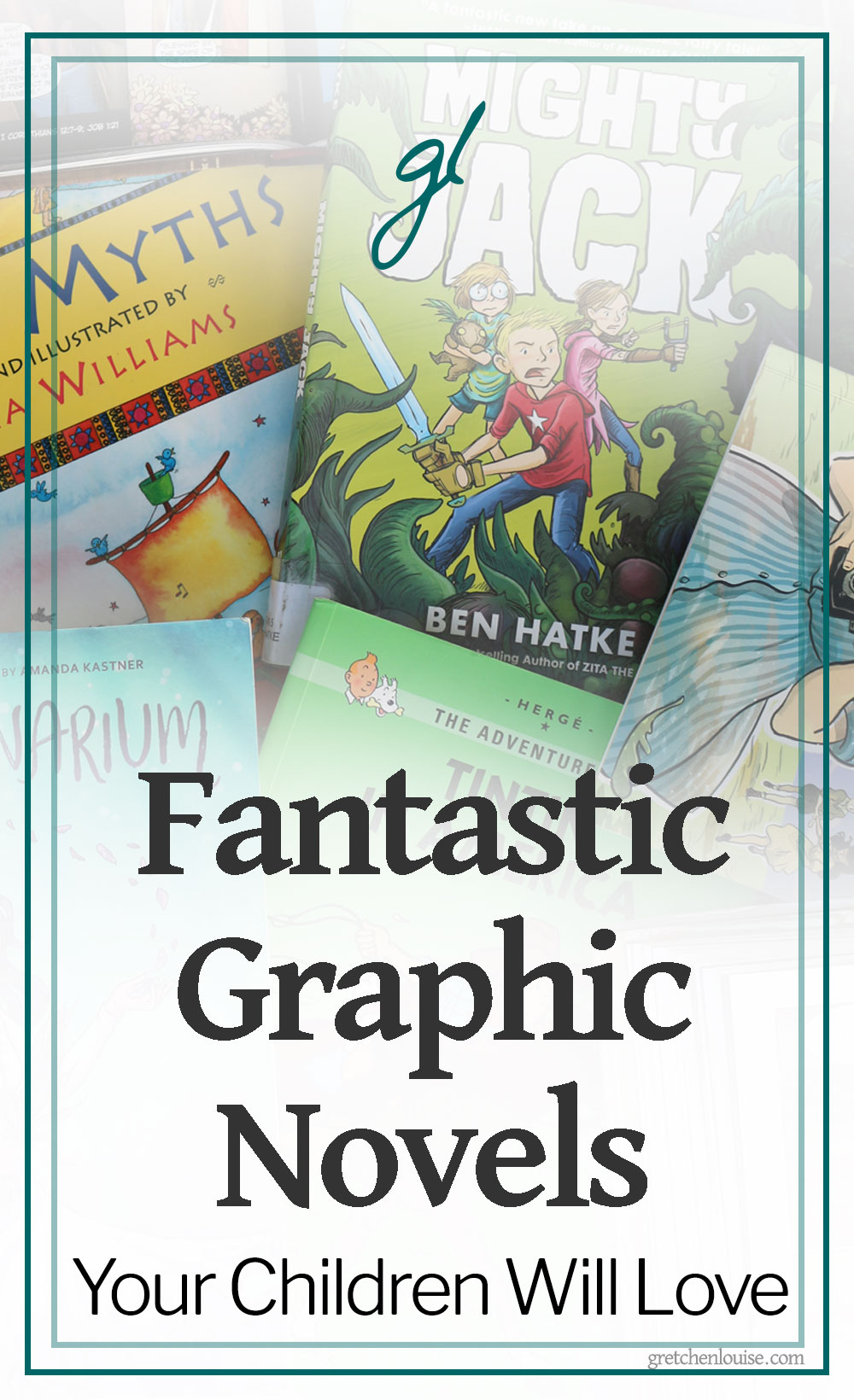 I would never have guessed I would be buying graphic novels for my children. But that's because I mistakenly equated graphic novels with comics. I now know graphic novels aren't just collections of comic strips like Peanuts or Family Circus (though our whole family loves the works of Bil Keane and Charles Schulz!); graphic novels are an entire story arc told in an easy-to-read format with more pictures than the average book.
Graphic novels bridge the gap between traditional children's picture books—which are read aloud as a family and loved by all ages—to a whole new pictorial experience for readers of all ages—but especially reluctant readers.
Graphic novels have captivated my struggling readers. Graphic novels have intrigued my children's interest in classics they previously deemed uninteresting. They introduced myths and mysteries to us, and made the meeting enjoyable rather than a struggle! Graphic novels have become a favorite format in our home as my children return again and again to their favorites.
Here are my three daughters to tell you why they love graphic novels—and give you a list of the ones they've particularly enjoyed. (At the time of publication, my son Daniel had his nose in a graphic novel, and according to his cat Nibbles, was unavailable for comment.)
"If your child is a struggling reader or a reluctant reader, the best way for them to get better is to actually read. If they're willing to read graphic novels, that gives them the practice they desperately need to get more fluent and more confident."

(Janssen at Everyday Reading in "10 Reasons You Should Encourage Graphic Novel Reading")
Why We Think Graphic Novels are Fantastic
1. Graphic novels are the perfect introduction to classics.
14-year-old Ruth Anne says: I like graphic novels for quintillions of reasons—quintillion is a number!—but I'll try to keep it under five. Graphic novels are a great introduction to the classics. I speak from experience, having read A Wrinkle in Time: The Graphic Novel first and then decided to read the actual novel. The pictures help me keep track of what is happening when a story is new to me.
Ruth's top six: Catherine's War, Rapunzel's Revenge, The Hobbit (Graphic Novel), Questless, Mighty Jack series, Norse Myths: The Adventures of Thor.
2. Graphic novels are less intimidating to read.
12-year-old Mary Kate says: I like reading graphic novels because sometimes they are easier to read than longer books. They look less intimidating, so I enjoy reading them more. I love seeing the different art styles that the illustrators use. It's fun to match the character in my head to the illustrations in the books.
Mary's top six: Catherine's War, The Hobbit (Graphic Novel), Greek Myths: Jason and the Argonauts, Imaginarium, A Wrinkle in Time: The Graphic Novel, and Alamo All-Stars.
3. Graphic novels have colorful pictures.
6-year-old Sara says (verbatim, edited only for length): I like graphic novels because they have lots more pictures and because the pictures are usually more interesting than other books. And because they're in color, not like some other books I know. Graphic novels have more stuff about the book in them. Instead of just telling what happened, they show it. I like the funny things they say and the funny pictures.
Sara's top picks: My favorite graphic novels are the ones by Nathan Hale. I like them because they have good pictures and the quotes that my siblings read to me are funny.
We like to collect wholesome graphic novels with redemptive themes that inspire our imagination, further our education, or make us laugh (and sometimes cry!).
Here is a list of fantastic graphic novels we love to check out from the library and collect for our own bookshelves.
Please Note: I have not read every one of the graphic novels mentioned below. In many cases, I made purchases based on recommendations from trusted resources like Redeemed Reader and Read-Aloud Revival. Parents, please purchase and pre-read at your own discretion.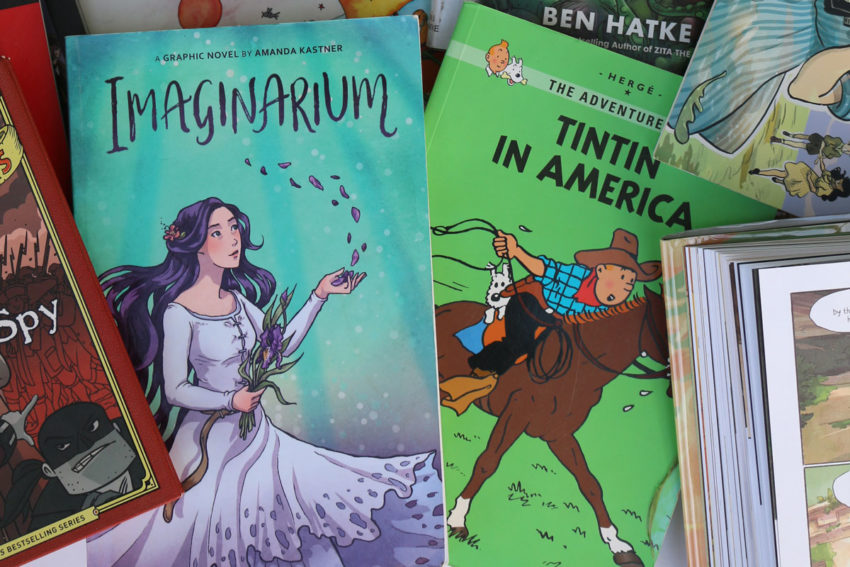 Authors and Illustrators of Original Graphic Novels
First used in 1976, the term "graphic novel" is much younger than the cartoon character TinTin, one of the most enduring examples of this publishing format. While there are many graphic novels that retell old tales in a new way (and we have many of these on our shelves!), there's something extra special about these original tales told by their own creator, who often encompasses the role of both author and illustrator.
Ruth Anne says: Questless is so amazing! In short, Amanda Kastner is amazing. Her illustrations are superb, and her plots are epic. (Mommy says: We first fell in love with Amanda's illustrations in the middle-grade historical fiction novel Love, Mary Elisabeth, then we discovered her delightful graphic novels.)
Questless: In Which the Dwimmervale Is Crossed (coming in 2022)
(Read weekly Questless episodes on Webtoons, as well.)
Ruth Anne says of Rapunzel's Revenge: This book's gutsy heroine and her can-do spirit, mixed with the flavor of the Old West and the fantastical Mother Gothel, was incredible. Also, Nathan Hale has the most awesome illustrations in all of comic history (ironically, he only worked with Shannon and Dean Hale; neither is he related to the spy Nathan Hale).
Dylan Meconis
A fictionalized history of England, accompanied by charming illustrations. Queen of the Sea is epic in length, at nearly 400 pages!
Jonny Jimison
The Dragon Lord Saga from Rabbit Room cartoonist Jonny Jimison features two brothers—a bookworm and a wannabe dragon fighter. (Read his comic "Rabbit Trails" on Rabbit Room.)
Ben Hatke
Ruth Anne says: Ben Hatke's Mighty Jack series is marvelous. The fact that the main characters have swords might have strongly impressed me.
Sarah Mackenzie of Read-Aloud Revival recommended Lightfall for fans of Ben Hatke and the world of The Wingfeather Saga, so of course, we had to check it out. A girl, her grandfather, and a galdurian—and a quest to save Irpa from eternal darkness. Book one ends with a cliff-hanger!
Lightfall: Shadow of the Bird (coming April 2022)
Hergé
My children really enjoy these vintage graphic novels with a mysterious twist, featuring boy reporter TinTin and his dog Snowy. From a Belgian cartoonist who used the pen name Hergé, the first TinTin comic appeared in 1929. Now to work on amassing a collection!
"Graphic novels can be a really great way to enter into the world of classics…"

(Sarah Mackenzie at Read-Aloud Revival in "Why Your Kids Love Graphic Novels")
Classics Retold as Graphics Novels
There are so many fabulous graphic retellings of classics that are available. (Some harder to find than others–the Robin Lawrie versions of Narnia are delightful and collectible!) We'd love to know your favorites!
Marcia Williams
Marcia Williams has retold many classics in her unique comic strip style. While the playful illustrations aren't my children's favorites, I think they feel more approachable (and less intense) for very young readers.
"If kids are intimidated by the idea of some of those big stories and classics, graphic novels can be a way to introduce them to the story and then it becomes familiar and then it totally removes that intimidation factor."

(Kara Anderson at Read-Aloud Revival in "Why Your Kids Love Graphic Novels")
Usborne Graphic Legends
We want to collect all of these gorgeous graphic legends—retold by Russel Punter—from Usborne Books!
"By reading these contemporary graphic novels, we have the opportunity to learn the characters and the main action of the plays and novels, and then as our kids are older and they're ready for the originals, they can approach the work of deciphering the antiquated language but inside the context of characters and stories that they already know."

(Kortney Garrison at Read-Aloud Revival in "Why Your Kids Love Graphic Novels")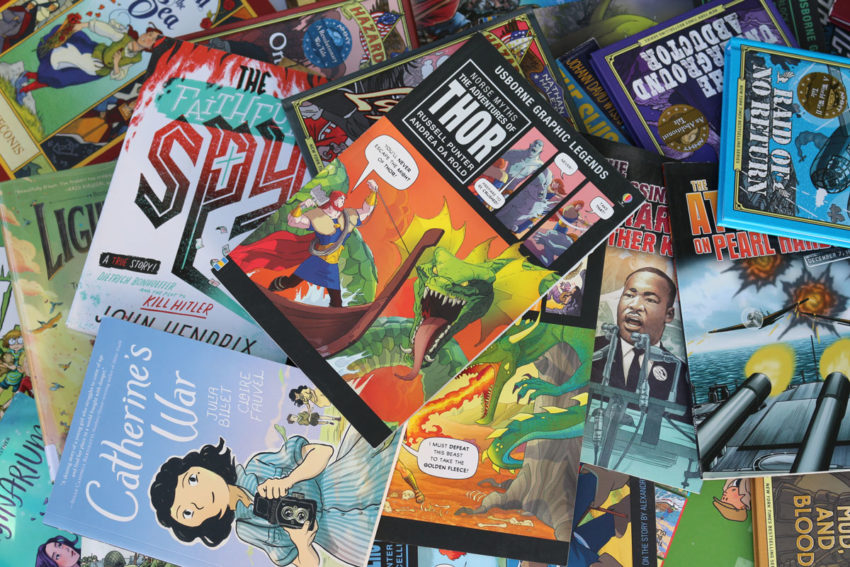 History Retold in Graphic Novels Format
As a homeschool mom, I'm always looking for ways to make history lessons more memorable. My children pore over these comic retellings of historical tales…
Don Brown
We discovered Don Brown via Fever Year right at the beginning of the pandemic, and were fascinated by the way he chronicled historical events. (Brown writes picture books in addition to graphic novels, so check previews if you're looking specifically for graphic novels.)
Nathan Hale
Every time I'm talking about graphic novels with other moms, Nathan Hale's name comes up. A favorite with kids of all ages, his tales of historical events (not to mention his heroic namesake!) make his books a must for every graphic novel library.
"In some sense, comic books are the world's oldest form of literature. Cave paintings, Egyptian wall art, Greek murals—they're all essentially graphic novels, [pictorial] representations of real life, beliefs, and stories."

(C. Hollis Crossman in "Comic Books & Graphic Novels" at Exodus Books)
Biblical Graphic "Novel" Comics
I remember spending hours poring over a few biblical comic books we had growing up. I can still see the illustrations when I think of David hiding from Saul or Elijah and the Widow at Zarephath. When it comes to God's Word, I want to be extra careful to choose biblical comics that do not dilute or distort the truth. The series below come from trusted sources and recommendations.
Illustrated by Marvel and DC Comics artist Sergio Cariello, published by David C. Cook. The expanded edition was published in 2020. Comes recommended by a trusted friend!
Manga Bible series
The Manga Bible series was created by non-profit organization Next. Originally written in Japanese (Manga is the Japanese word for comics), the Manga Bible series was published in North America by Tyndale. Highly recommended by a trusted friend!
Ruth Anne says: I liked Magna Mutiny because it reminds me of the style of one of my favorite illustrators. It is a Bible retelling, and I loved the art a lot. My favorite Bible story is Joseph, and I loved the way Azumi told it.
"Graphic novels are not a substitute for words on a page, but an alternate form of storytelling, like film and theater. Often they can even enhance the reader's experience."

(Janie at Redeemed Reader in "Are Graphic Novels 'Literature'?")
Graphic Novels That Aren't Too "Scary"
My kids aren't bothered by scary scenes in graphic novels. But here are the titles they recommend when one of my friends is looking for graphic novels with fewer intense/scary scenes:
Which Graphic Novels to Start With
If your family is new to graphic novels, here are our absolute favorites that we think are the perfect ones to start your collection.
How We Save Money Buying Graphic Novels
What graphic novels and retellings are your family reading right now? We'd love to hear about your favorites.
Where We Find Good Graphic Novel Reviews
Redeemed Reader reviews many graphic novels and is one of my most trusted resources to find new graphic novels! Read-Aloud Revival also has a great podcast episode on graphic novels that includes a downloadable book list.