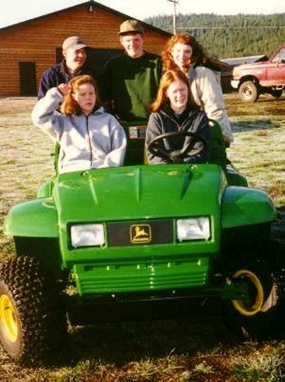 Dearest Fred,
Can you believe that today marks 14 years since our families met? We were just-barely-turned 13-year-olds. We had no idea we would be meeting our future spouse that day. But the God-ordained timing of the Riverside Geyser in Yellowstone National Park on September 30, 1996 changed our lives forever.
It was three and a half years later before we became Fred and Betty. For some reason, your sisters thought your classic car was like that of Fred Flintstone's. (You've given it a lot of TLC since then!) During that March 2000 visit, they dubbed you Fred and me Betty, not being familiar enough with the Flintstones show to realize they had the wrong people coupled together!
All these years of celebrating our September 30 anniversary, it was only this morning I realized that today is the Flintstone's anniversary, too! The Flintstones television program began airing 50 years ago today, on September 30, 1960.
If the Lord tarries, we'll be celebrating our fiftieth anniversary of meeting on September 30, 2046. Of course, we'll only have been married 40 years by then, but we like to celebrate lots of anniversaries!
I love you, my Merritt-Fred. I like ridin' around in your car with you. I like hangin' out with you. I like bein' married to you. Thanks for choosing Betty instead of going back to Yellowstone to look for Wilma… 😉
Happy anniversary!
Love always,
your Betty