Free Audio Adventures to Entertain & Educate for Hours
(This post contains affiliate links. Read my full disclosure.)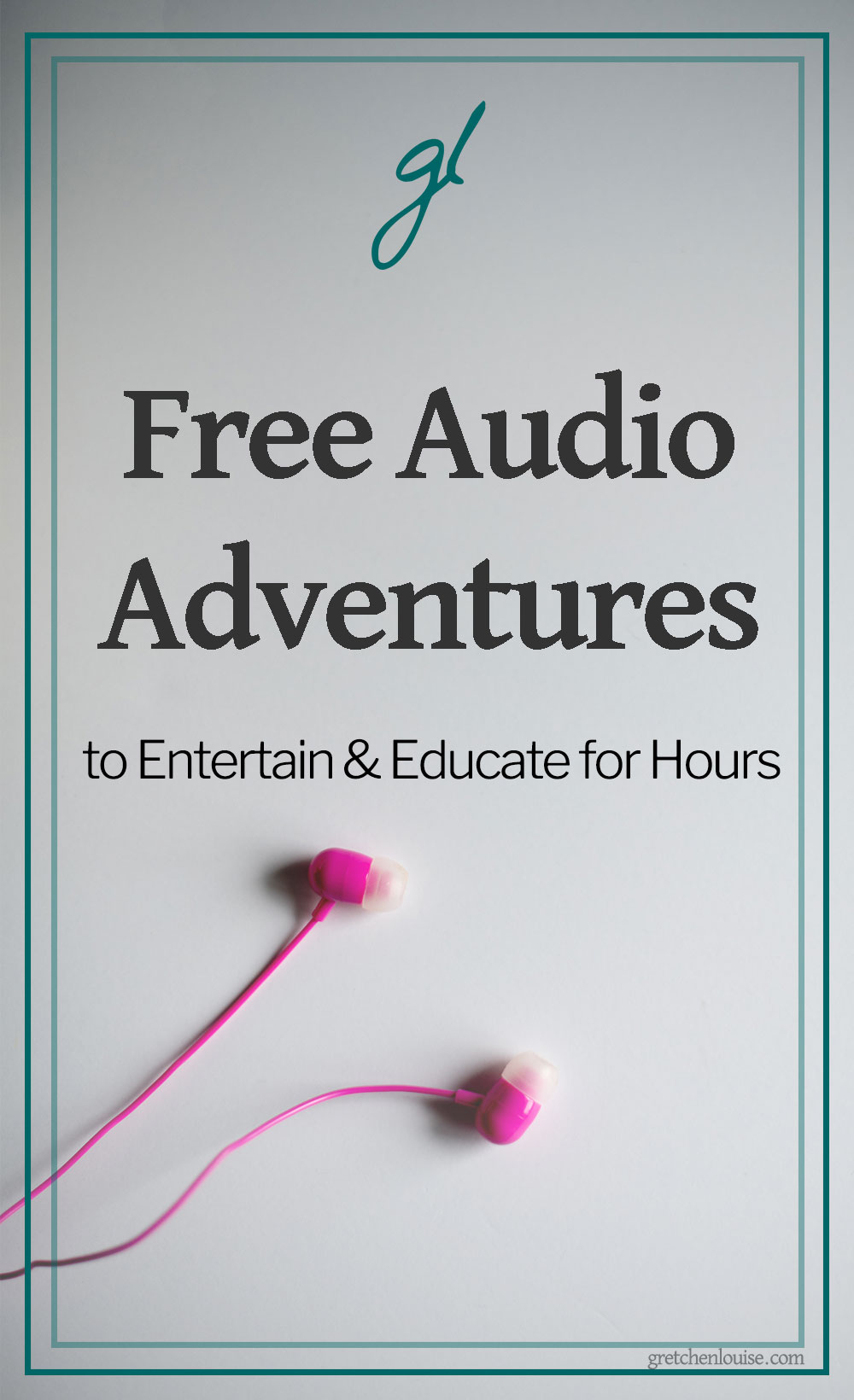 Whether you're schooling at home during this extended change in routine, or missing the extracurricular activities during your normal homeschool week, you might be looking for some screen-free ways to entertain your children.
Audio adventures are a budget-friendly, germ-free way to entertain the whole family.
Nothing fills the extra hours in our home better than audio adventures. My children listen to audiobooks by the hour: while playing a game of Monopoly Deal, while fashioning Play-Doh creations, while drawing with colored pencils. Whether they are curled up on the couch first thing in the morning or taking a mid-afternoon rest, whether the chore is folding laundry or doing dishes, an audiobook is always playing in the background.
If you're looking for free or low-cost ways to add to your family's audio library, look no further. There are many audio resources available for free on a regular basis. Other companies have released special selections for such a time as this! You may even have some audio adventures hiding inside some of the subscriptions you're already paying for.
I'll be updating this list as I find more, so be sure to check back again–and please let me know what free audio you're enjoying right now!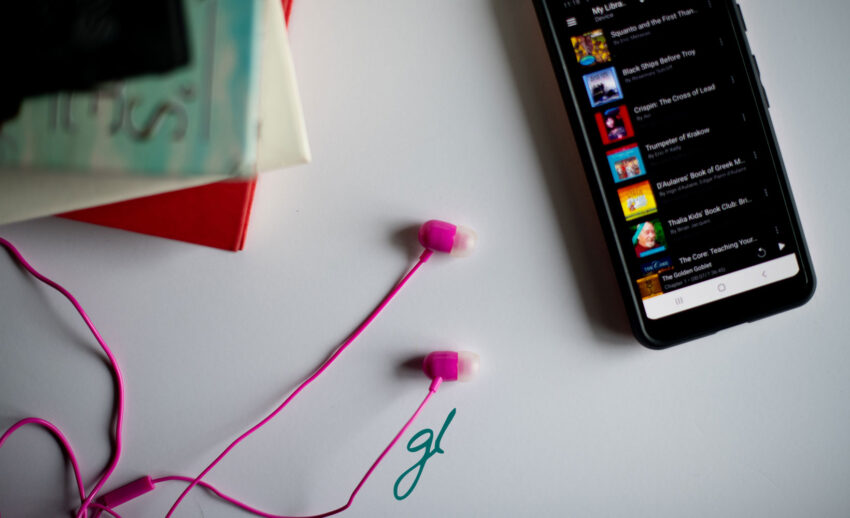 Latest Additions:
Enter your name, email address, and a few other details to be emailed the direct link to access all the Focus@Home FREE family-friendly streaming content from Focus on the Family. Current selections include Radio Theatre, The Imagination Station, Adventures in Odyssey, and much more! Content is updated regularly. Focus@Home Streaming is available in the U.S. as well as from Focus on the Family Canada. (Available to stream for free through December 31, 2020.)
Old Time Radio Researchers
Old Time Radio Researchers have compiled extensive archives of many radio broadcasts (including Dragnet, Lux Radio Theatre, Tarzan, and so many more!). Browse the entire OTRR library (open links in new tab if they don't open in frames) or stream and download select OTRR shows directly on Internet Archive.
Sugar Creek Gang by Paul Hutchens
Download the full audiobook of The Swamp Robber from Beloved Books. This series was an absolutely favorite of mine when I was a girl!
Readalong for book 4 starts on December 26!
New Audio Daily
New radio shows daily at whitsend.org! Or, listen to full-length samples at the Adventures in Odyssey Club. (Also available to stream for free with Focus @ Home.)
Stream daily from Keys for Kids Radio.
Your Story Hour has expanded their "free story of the week" to feature "free stories every day" on the home page of their website at yourstoryhour.org.
Uncle Jon, Aunt Nikki, and Aunt Carole of Your Story Hour are offering a daily read-along on YouTube, featuring books by Sam Campbell. There are even printable coloring pages!
New Audio Weekly
Stream episodes from Keys for Kids Radio.
Weekly podcast episodes of the audiobook The Ark, the Reed & the Fire Cloud by Jenny L. Cote. (You can also buy the whole audiobook straight from Audible.)
New episodes weekly available to stream on OnePlace. (Also available to stream for free with Focus @ Home.)
Listen on demand to your favorite program. Explore retro programming with new episodes every Tuesday.
Stream new episodes weekly on the Lamplighter Theater website!
Follow @anniefdowns and set your notifications for her live videos so you don't miss #miniBFFBookClub Mondays at 6 p.m. CT.
Stream new episodes on the Patch the Pirate website.
Stream new episodes weekly from Chuck Swindoll's Paws & Tales.
Stream new episodes weekly from Keys for Kids Radio.
Live Read-Along Archives
Catch the replays of the Facebook Live read-along of The Charlatan's Boy by Jonathan Rogers on his Facebook page. Click here for Day 1.
A special video read-aloud of Begin by Erin Ulrich.
Catch the re-play of the Facebook Live read-aloud of Henry and the Chalk Dragon by Jennifer Trafton on her Facebook page. Go straight to Day 1 here.
YouTube read-along of the first chapters of Snow Dust by Joanna G. Holden:
Readalong for book 4 starts on December 26!
Catch the replays from the live readalong of the first two books in The Wingfeather Saga by Andrew Peterson: On the Edge of the Dark Sea of Darkness and North! Or Be Eaten.
Free to Stream or Download
Simple yet profound stories in the style of Ethel Barrett. (Mrs. McGuffey is the perfect story for these times!) Stream for free on the author's website.
Audible is making a selection of audiobooks available for free (to stream in any web browser) "as long as schools are closed."
Stream or download from Old Radio Programs.
"The Boxer" read aloud from The Original Adventures of Hank the Cowdog on YouTube by the author John R. Erickson.
Classic Christian radio for kids from the 1940s-1960s. Stream or download MP3s for free directly from Moody Audio.
Lamplighter Theatre
Listen for free to an audio drama by Lamplighter Theatre: Frozen Fire. (You may also sign up for a free interactive devotional that goes along with the audio drama.)
Listen to Lamplighter Theatre's audio drama Buried in the Snow for free by visiting lamplighter.net/buriedinthesnow.
Listen to Titus: A Comrade of the Cross and You Are There: Easter for free by visiting lamplighter.net/easter.
A childhood favorite of my own! Over 200 episodes available to stream for free on archive.org as well as Old Time Radio Downloads, LibriVox Audio Books, or Free Classic Radio Shows. Download all episodes via four zip files at Old Radio Programs, courtesy of Old-Time Radio Researchers. OTRR has also uploaded all of the episodes to YouTube, compiled into one playlist by Audio Drama Blitz. (Check out episode summaries here, or join the Ranger Bill fan club on Facebook for daily episode links.)
This old-time radio program is new to us but we're looking forward to listening! Stream or download MP3s for free directly from Moody Audio. (Filter by "Audio Product Set" to download the 37 sets in zipped folders rather than the 422 individual MP3s.)
Author Alan W. Harris is offering one free Audible code per family for one of the books in his The Tales of Larkin series. Available upon request via email, until the codes are gone. (You may also download free coloring pages of the Larkin characters for your children to color while they listen!)
A perennial favorite with my children! Stream or download MP3s for free directly from Moody Audio.
Free Audio Dramatizations on YouTube
Free Audio Dramatizations on on Spotify
Free With YouTube Music Trial/Subscriptions
Podcasts
Our children listen to our pastor's sermon again each week via the podcast app but we're slowly branching out into other kid-friendly podcasts. I'd love to hear your recommendations!
Free Audiobooks on Librivox or Loyal Books
We use the Loyal Books app to listen to the public domain audio recordings from LibriVox.
Some of my children's favorite Loyal Books audiobooks are:
Some of our favorite LibriVox narrators are:
(Click here for an audiobook list featuring many more of our favorite Librivox offerings, indicated by an asterisk next to the title.)
Free 60 day trial includes access to unlimited audiobooks and ebooks, accessible via the Scribd app on any device. (Payment info required–just visit your account settings to cancel your membership before the trial is over.) Here are a few of our favorite titles that are available via Scribd:
Sign up for a free trial of Audible and choose 1 audiobook for free! If I didn't own any audiobooks right now and wanted to choose a free book for my Audible trial, I'd choose:
Free Audiobooks on Libby or Hoopla (through your library)
Your library may be closed, but you can still access all their digital content through Libby or Hoopla–as long as you have a library card. You may be able to login directly to Libby (powered by OverDrive) or Hoopla with your library card information, or you may need to connect with your library staff for assistance.
Looking for paid subscriptions?
Here are some that just might be worth it right now!
Paid Subscriptions
Paid Digital Downloads
Looking for more audiobook recommendations?
Parents, want your own audio dramas?
Photography: JenniMarie Photography