July 22, 2006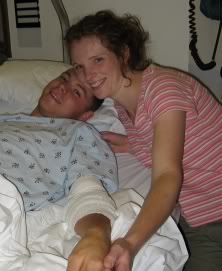 Dear ones,
Our wedding thank you notes are not even half done, and I find myself with a much bigger thank you to write.Thank you for your prayers!
I cannot begin to tell you what it has meant to know we are being held up in prayer by so many.I don't know all your names, but you know ours, and you are praying for us.And for that I can never thank you enough.
I had been hoping to write a group letter to y'all, but I didn't intend to be writing it from the ninth floor of one of the oldest, largest hospital buildings in the state.
Most of you heard that on July 20th, my husband Merritt was welding a small hole in a 250 gallon bio-diesel tank when it exploded on him.He had a compound fracture of both the bones in his lower left leg, and second degree burns on his left arm and shoulder.I'm not sure about my husband's habit of only visiting hospitals by way of a helicopter (his first life flight was when he was run over by a tractor at age 4).But God has reasons we can not always grasp.He has been so faithful in sparing my husband to me.
When I was a little girl, I wanted to be a nurse, but I never imagined I would be watching closely as a RN dressed my husband's burnt arm so I would know how to do it once we got home.Over the course of two surgeries, they pinned the two bones in his leg back together.Now we're praying that he will continue to be in little pain, heal quickly, and that there will not be any infection.
When Merritt carefully explained every detail of his work to me as I tagged along these last 8 weeks—"this is how you start the irrigation wheel line," "you don't have to use the clutch on this tractor," "always cut six rows of hay around the outside of the field so you have room to turn around"—I little guessed how soon I would be glad to know just how he did it.We are so grateful that the first (and biggest) cutting of hay is in, and that we were already finished with the second round of irrigation.Merritt can't put any weight on his leg for 8 weeks, but thankfully meanwhile his dad and brother can take over the farm work, and we have had many people offer their help.
God is so good to us.Had the upper part of the tank exploded, I probably would not be sitting here in this hospital room checking my husband's IV, straightening his oxygen tube, and feeding him chicken noodle soup.We have so much to be thankful for.
Even after the first surgery, every minute was precious, as I spent over an hour reminding Merritt to breathe every time he stopped.I'm sure that in the 55 days we've been married we've had more happiness than many have in 55 years—but I wasn't ready for it to end yet.So I kept telling him to breathe until we got the pain medication under control.And now that he's through the second surgery, he's in much less pain.We have a long road ahead, but I'm just so thankful that I still have him to care for.I have informed him, though, that despite my promise to obey him, he will probably find me to be rather bossy over the next few months.
We're looking forward to getting back to our home sweet pink home.It was such fun to work on our house together the two weeks after we got home from our honeymoon (to Yellowstone, where we met—where else?).I was glad Merritt didn't have the house quite finished—I got to learn how to wire lights and paint concrete—and had a lot of fun with my husband in the process!The last five weeks we've had fun settling in (I love my kitchen!), reading Winnie the Pooh, and swinging in our hammock—in between working in the store, picking beans, and cutting hay.We are so happy.God is so good to us.
The next few months will be a new adventure.It's a bit overwhelming at times.But we know that God will provide.And we are looking forward to the opportunity to be together even more.I am just so thankful that I still have my husband's hand to hold.
Thank you again, so much, for your prayers.And please, continue to pray for us.
Praising God for His faithfulness,
Mrs. Merritt Acheson