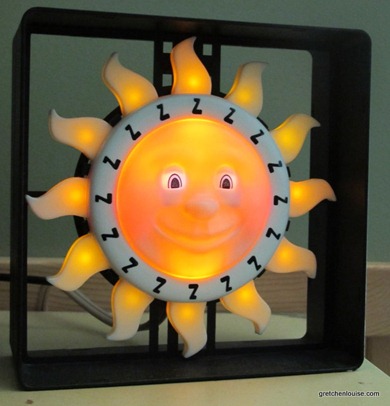 "Our night lite is orange! Our night light is orange!"
The door-opening and loud exclamations sometimes seem to negate the whole idea of "sleeping in", but at least they're getting the idea.
We used to be greeted by "Ready brek-uss! Ready brek-uss!" at about 6:25 each morning. An announcement from a 2-year-old's lips which was loud enough to wake the whole house, ready or not (and usually not).
And it's not that we don't still hear that same almost-three-year-old say almost exactly the same thing (with slightly more clear pronunciation of "breakfast"). But now we can ask her, "Is your night light orange yet? Go back to bed until your night light is orange."
We live where, as Robert Louis Stevenson wrote:
In winter I get up at night
And dress by yellow candle-light.
In summer, quite the other way,
I have to go to bed by day.
And when summer comes and the sun starts peeking over the hills between 4 and 5 a.m. our little ones often think they should wake with the sun. But such little sleep rarely makes for a happy day!

I read about the GoodNite Lite in a post at Passionate Homemaking and really liked the sound of it. So did my husband. We did a lot of research, reading reviews and comparing prices, and still liked the GoodNite Lite best.
We want to teach our children how to tell time. But at the moment we're more interested in "time to sleep" and "time to get up" than the specific hours on the clock. Especially considering the ages of our children (almost 5, almost 3, and just turned 1)—and the fact that there are days we'd like them to sleep in a bit longer than normal! And while it would be nice if it had a setting for naptime, that is rarely the same hour at our house, so it probably wouldn't do us much good.
The GoodNite Lite seemed to be a good combination of features for an affordable price. And we've been just as delighted with it as our children have!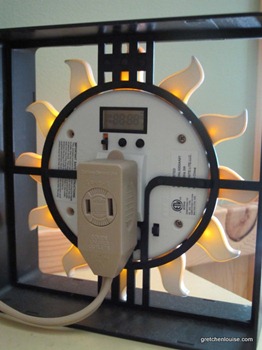 The sun-shaped night light can plug right into the wall, but it also comes with an optional stand if you want it up out of the reach of little people—which might be a good idea, since the battery is small and fairly easy to get out. You'll need an extension cord to use the stand. The night light runs off the plug, the clock runs off the battery (so when you unplug the light, it remembers the time). It was nice to discover that the night light comes with an extra battery, since they could be expensive.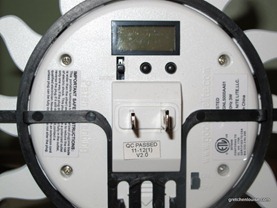 With the instructions in hand, it's easy to set the current time, the good night time, and the wake up time on the digital clock.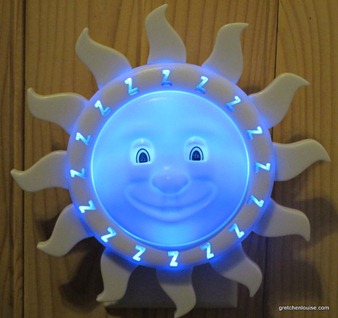 When good night time comes, the center section of the GoodNite Lite is lit with blue, making it look like a moon. It's dimmer than a 6-watt night light bulb we were using, so it doesn't keep the kids awake or distract them with bright colors or noises the way some "sleep aids" do. The moon stays on all night, until the magic morning time arrives, and the whole GoodNite Lite breaks out in sunny yellow rays. I haven't figured out how long the sun shines, but it does turn off for most of the day (so don't worry about wasting power during the daytime).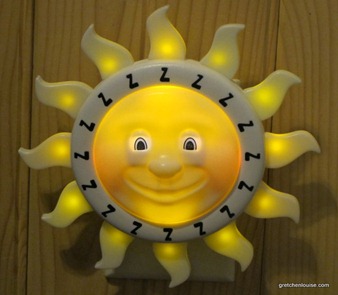 The GoodNite Lite still needs enforcement—it won't magically make your children stay in bed until it's time to get up. But it does provide an unobtrusive visual method of telling bedtime from get up time that even the littlest of children can understand. It's a quiet reminder that even though the sun might be up outside, their sun isn't shining inside. And my children have yet to tire of showing visitors their new night light.
The GoodNite Lite is available from goodnitelite.com and Amazon.com.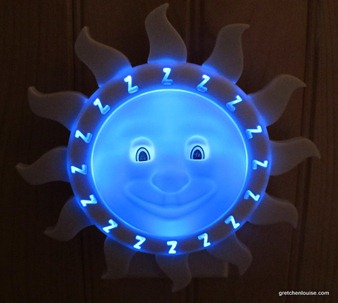 Disclaimer: I received a review copy of The GoodNite Lite in exchange for an honest review.