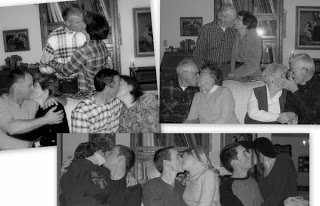 The hardest thing about living far from where I grew up is going back. Going back and seeing how people have changed. The added wrinkles, the feebler steps. They jump out at you, mockingly asking why you stayed away so long. Yet it is because of the absence that they are so easily noticed.
The dear old people are not the only ones who change. My little sister grew from girlhood to womanhood in between one visit. My cousin's little girl was a baby at my wedding, a toddler the next time I saw her, and so excited to meet my own baby.
You savor the conversations. Give extra hugs. And try to keep from crying as you say goodbye. Never knowing if it might be your last.
For every new baby there to greet me when I go back to visit, there's another dear old saint who has crossed Jordan's shores.
I remember how I handed the baby off to someone else the moment the service was over when we last visited the little church I grew up. Marge hadn't been doing so well, and I knew I'd never get all the way across the church to see her if I had my baby in my arms. I made a beeline for her. She may not have been able to see my face any more, but she recognized my voice, and asked where my baby was. She got to meet my little girl last time we visited. But this hug was just for me. Little did I know she would be in Jesus' arms a few days later. I know Ed was there waiting for her at the gates of pearl, but he wouldn't have to hold her arm to lead her down those streets of gold–she'd be able to see again.
Every New Year's Eve "the clan" gathers at my grandparents' ranch. We've been doing it for at least twelve years, since long before we were ever actually related. Then Robert and LeAnn wed, tying together the families who'd been friends for forty-some years. One of our many traditions (along with eating too much food and having a jammin' session with everything from fiddles to harmonicas to harps) is "the kiss picture." It was "picture," singluar. But as the younger generation got married, there got to be way too many happily married couples to fit on and around the couch, let alone in one picture. Last year we had to take three separate pictures, one of each generation. This year one of the kissing wives will be missing. Marcyene will be watching the birth of her new great grandchild from Heaven's shores. And I'm sure she'll be smiling at all us young couples as we kiss in the New Year.
She wasn't just my cousin's wife's grandma. I've known her all my life. I remember how last New Year's she pulled me aside and told me how nice she thought my husband was. She was that kind of sweet, soft-spoken lady. We will all miss her. None so much as Cliff. He won't have anyone to pose with in this New Year's kissing picture. But I'm sure he'll be glad to fill his aching arms with that new little great grand baby.
The Lord gives, and the Lord takes away… Blessed be the name of the Lord.