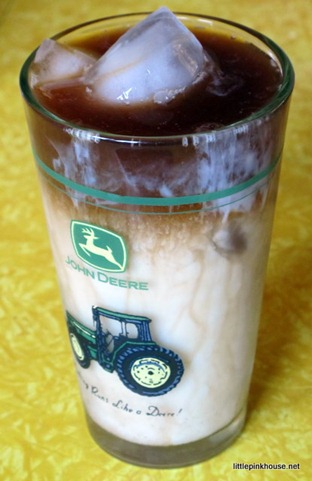 Four things have happened since I posted my favorite frappuccino recipe:
My almost-2-year-old developed a terrible fear of loud noises, including my Cuisinart blender.
I tried eliminating some dairy (mostly milk and yogurt) from my diet to help with my almost-4-month-old's reflux symptoms.
I realized I could cut my (sugary) calories a bit and start thinking about my pre-pregnancy size.
I discovered a new iced coffee recipe (those same ones I linked to as a post script to my frappucino recipe).
I tried using coconut milk in my frapps, but the texture was totally different.  The noise scared Mary.  And I didn't need all those calories.
Enter the iced coffee recipes I discovered via Money Saving Mom, Simple Bites, and The Pioneer Woman.
The only thing I didn't like was the amount of coffee the recipes called for.  It sounded expensive making all that coffee at once! But I gathered that perhaps The Pioneer Woman's recipe used less.  My sister and I did the math.  Sure enough, according to what we found was the average measurement for 1 pound ground coffee (4 3/4 c.), The Pioneer Woman's recipe used only 1/2 c. + 2 T. coffee per quart of water, compared to 1 cup coffee per quart at Simple Bites, et al.
So I made my first batch of iced coffee concentrate, with just half a cup of coffee grounds.  And many, many quart jars thereafter (some with as little as one third cup grounds).
I'd tried iced lattes before, but always with hot coffee (usually leftovers from the bottom of the pot, to boot).  This cold brew makes all the difference.
I like to have one jar ready, one jar brewing.  And it's always nice to have enough ready to serve to company.
We don't add any sweetener—though I hear that it's good with sweetened condensed milk.  It's fabulous with coconut milk, that's for sure!  But even just whole milk makes a delicious iced coffee.
I still like my frapps.  But I save them for when I need a meal replacement, not just a cold pick-me-up.  The rest of the time, it's iced coffee—preferably, two or three times a day!
Frugal Farmer's Iced Coffee Concentrate
Mix in quart jar and refrigerate 24 hours:
1/3 to 1/2 c. course ground coffee
1 quart cold water
Pour through strainer to remove grounds.  Return to rinsed quart jar for storage in refrigerator.
Tired Farmer's Iced Coffee
Fill a glass half full with ice cubes (John Deere glass optional).
Pour iced coffee concentrate (recipe above) over ice cubes to make the glass half full with ice and coffee (more if you like your iced coffee to taste more like coffee than milk).
Fill the remainder of the glass with whole milk, half and half, coconut milk, or almond milk (coffee art optional).
And just so you know, it doesn't work to re-use the grounds for another cold brew.  I tried it.  It's kind of like skim milk vs. half and half.  Except, the water doesn't even turn very brown.  Better for frugality's sake just to cut down on the coffee grounds the first time—start with half a cup per quart and adjust to your tastes.
P.S. You know those YouTube videos with amazing latte art created by pouring cream into coffee?  Yes, well, this is not one of those.  This is what happens when you are too tired and really need coffee: 1) You drop the jar, which creates a modern art look all over the kitchen floor, 2) You take a deep breath, tell everyone to stand perfectly still, then tip toe around the mess to put the children in bed, 3) You call your sister and say you need help right away because the baby's just finally asleep in the carrier and you have a Very Large Mess for her to help clean up.

P.P.S. Here are a few more cold brew coffee links I've found: