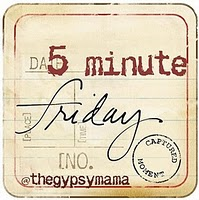 If you met me, you'd find a girl with dark red hair who still feels closer to 20 than to 30 (even though it's not true) and is taller than most of her friends (but not her brothers). You'd see two little girls bouncing around me, and a swollen stomach indicating another little one on the way (and no, we don't know if it's a boy or a girl, I'd explain—we're old-fashioned).
If you met me these days, I hope you'd see past the tired smile to how glad I really was to see you. I hope our children would stand still for a few moments so we could talk, but considering my exhausted state of mind I most likely would have a hard time making sensible conversation. (Know that when I lay in bed that night I'd think of all the things I wish I'd expressed to you and thanked you for, and I'd plan to write them in a little note which will unfortunately never get written or mailed except in my dreams…)
I'm sure you'd ask me when I'm due, the obvious conversation starter as my hand is often on my belly, feeling those kicks and contractions. I'd tell you the doctor was saying sooner than later but that I didn't know for sure and I'm just thankful the baby is still growing strong.
And when I next went for a conversation topic, this farmer's wife would probably make a comment on the weather, because farmers and their wives are always thinking about the weather.
Then somebody would probably start to cry or need held or chased, and we'd smile and wave in understanding and look forward to next time—always wishing there was a bit longer to sit down and chat, uninterrupted, sharing heart to heart about deeper things than due dates and the weather, and maybe even finding a new kindred spirit…
And that's more than five minutes by the clock, but considering the amount of time I slept last night, maybe I get an extra minute or two for today's Five Minute Friday?