Airing Our Clean & Dirty Laundry {Link-Up}
(This post contains affiliate links. Read my full disclosure.)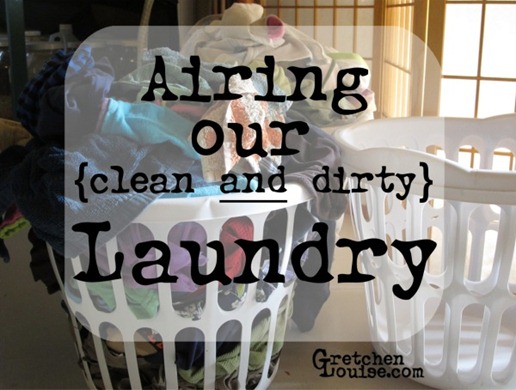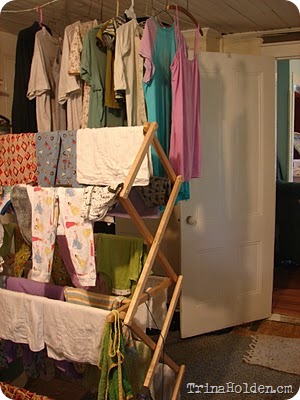 There's something so beautiful about it. Hung all in a row on the line to dry. In colorful mounds waiting to be sorted or neatly stacked and folded piles. Clean or dirty, I love looking at other people's laundry! And it's always fascinating to read about their laundry methods—find out if they turn the clothes inside out before hanging them on the line, whether they read the tags for the washing directions, and which kind of detergent they're using these days.
I'd love to hear about your laundry—and to see what it looks like, too! Whether it's a blog post you wrote two years ago about trying your hand at making your own laundry detergent or whether you just like to wax lyrical about your love of clotheslines, you can link up to your post below (and earn five extra entries into the Laundry Week giveaways!).
And if you like to take pictures of your laundry, too, then I'd love to see a picture of that overflowing laundry basket, clothes hung out to dry, or neatly folded stacks! Email your photo(s) to laundry @ gretchenlouise.com to have them included in a photo post later this week (from the looks of it, we'll have one post dedicated entirely to colorful little diapers on the line!). Please be sure to include your name (and a link to your website, if applicable) as you'd like it to appear in the image credit if it's used. (And you'll get ten extra entries in the Laundry Week giveaways just for sending laundry pictures my way!)
Here's a bit of my own clean and dirty laundry, and that of some friends of mine. I can't wait to see (and pin!) yours!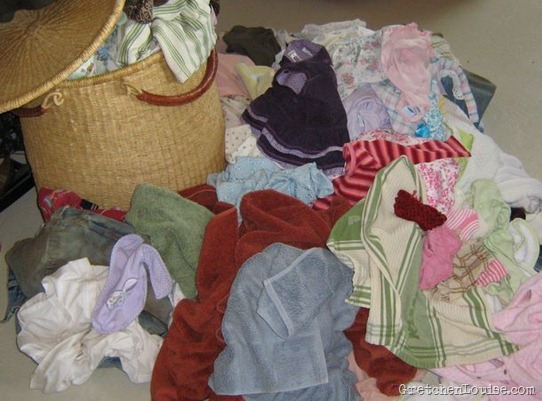 "I know what it's like to finish the laundry and to look in the basket five minutes later and it's full again."
-Ann Romney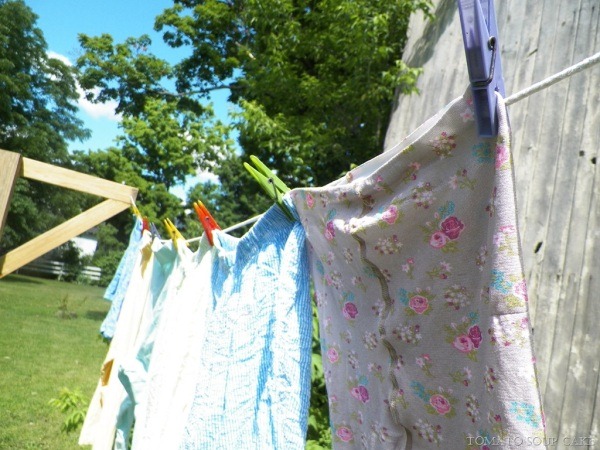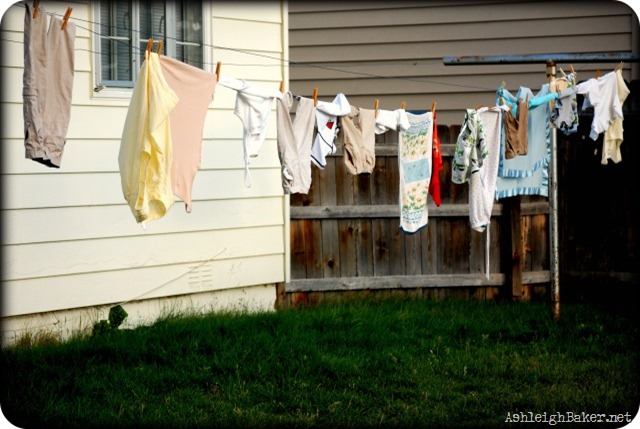 "Not one of the family noticed that Monday's wash was not on the clothes line as usual."
–Daughter of the Land, Gene Stratton-Porter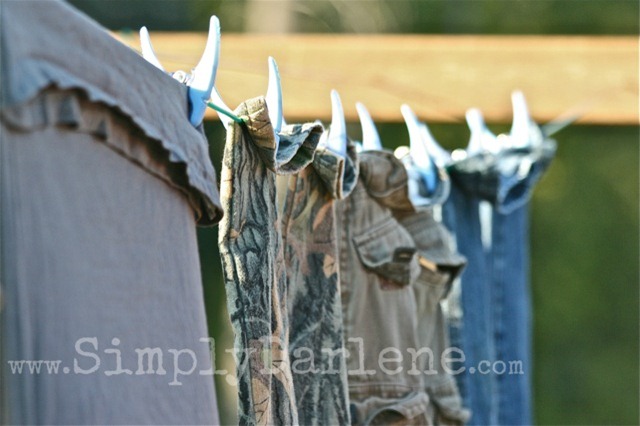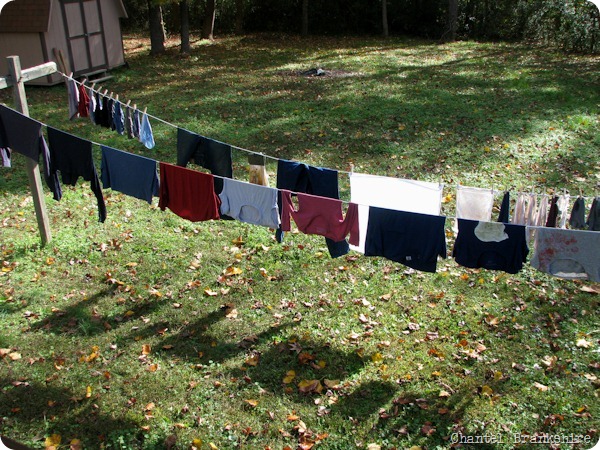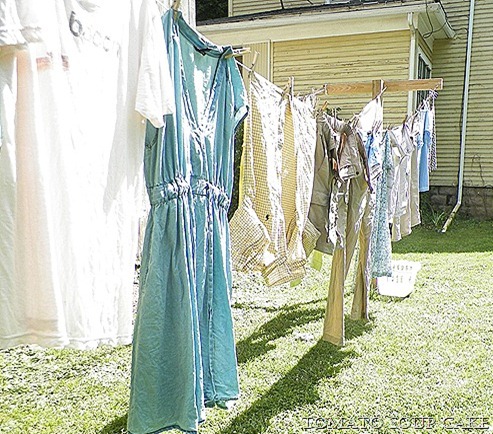 "A house backed with a group of haystacks and wide brown fields about it, two aged horses standing head to tail, a little orchard with washing hanging on the line, and a rabbit staring at the train…"
–That Hideous Strength, C.S. Lewis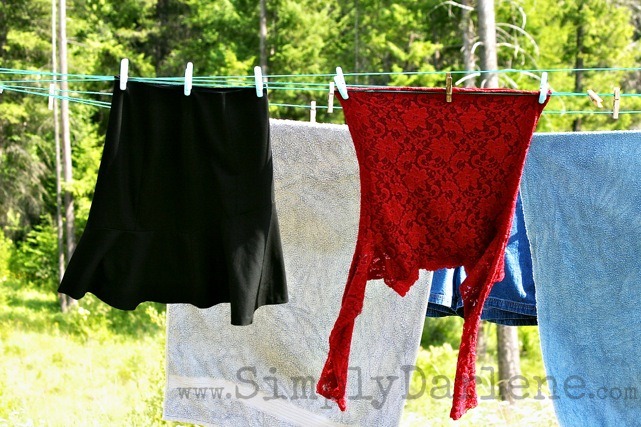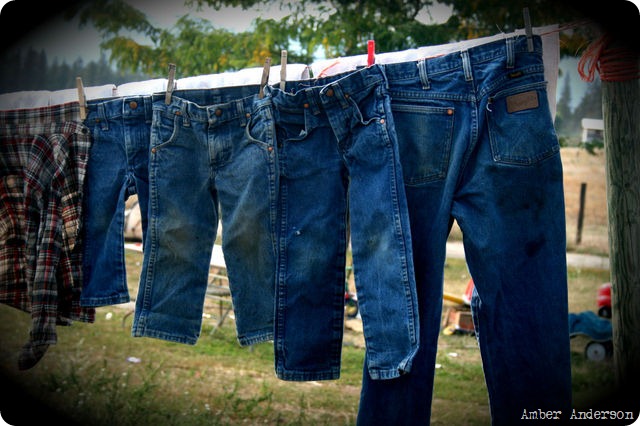 "I didn't see a thing of Millie all afternoon, but my dirty clothes had been washed and were hanging on the clothesline."
–The Fields of Home, Ralph Moody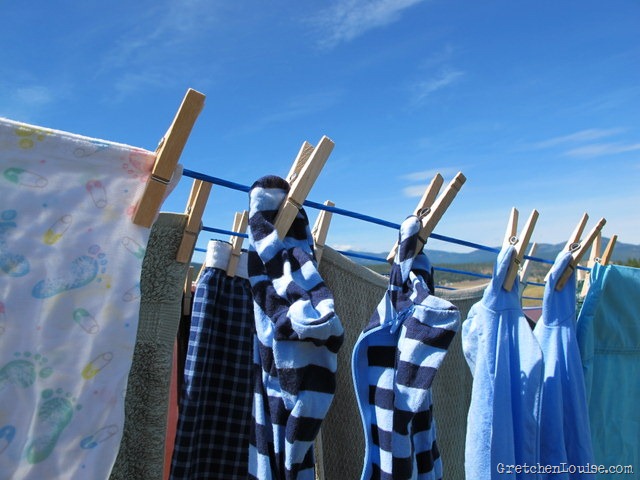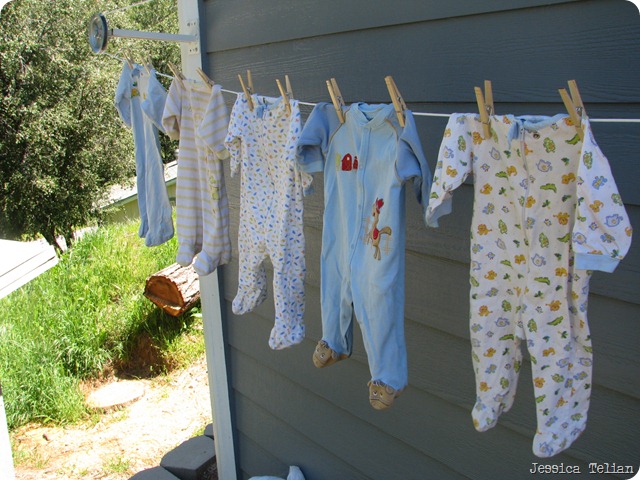 "Fresh clean sheets are one of life's small joys."
–Animal Crossing: Wild World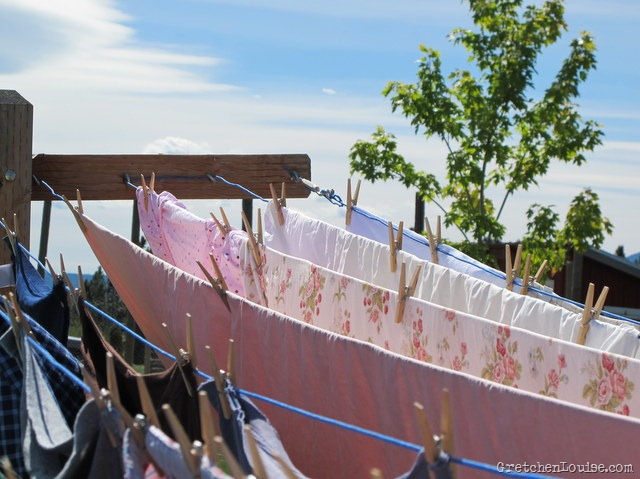 "It's her washing day. Presently she'll be coming to hang her sheets out to dry in the orchard."
–Smoky House, Elizabeth Goudge