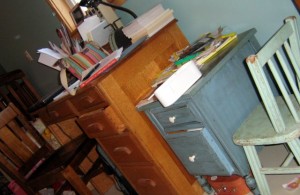 If "a cluttered desk is a sign of genius," then that genius is hereditary in our family. My mother is a very organized lady, so her desk is neat, but it is always full. And my dear grandmother? I'm not sure where on her desk she finds a spot to write all the precious cards and letters she does. But somehow, she can always put her finger on what she's looking for—whether I'm calling for an address or a recipe.
My daughter likes to do everything just like I do. Whenever I sit in the rocking chair, she sits in her little Sunday school chair. Whenever I did paperwork at the kitchen table, she had to sit opposite me and write. So when I got my desk back last Friday, I knew my two-year-old daughter Ruth would be eager to have a desk, too.
There is a little table that once upon a time occupied a Sunday school room in the church in which I grew up. Merritt has it over at the shop to tighten up the loose legs so that another generation of little people can draw pictures on it. But that's low on our priority list right now compared with getting the girls' bedroom taped and painted and finished.
So even though Ruth's bed and Mary's changing table is currently in the location of my future office, and even though the table that is to be Ruth's desk is not yet made sturdy, I found her a temporary "desk." It's really a tiny dresser with two drawers, but just the right height for a child's desk. It's lacking a knee hole, but I knew she wouldn't care.
I placed the little blue dresser right next to my desk, put Ruth's chair in front of it, and her crayons and a piece of paper on top of it. When she woke up from her nap I showed Ruth her very own desk. She sat right down and got busy at it.
Meanwhile, I stuck on top of my own desk all the various baskets and piles which had been the roaming "files" in our house these last months of remodeling. Everything from every baby card Mary had been given to the tax forms I was just finishing. All the things that will be organized into the filing cabinet—once the bedroom is finished and my desk is moved into that corner office along with the filing cabinet (when it can be dug out of the shed, where it is currently surrounded by tools and carpet pad and boxes of books).
Next thing I knew, Ruth had on her desk a stack of books, her whole menagerie of barnyard animals, her toy suitcase, and a doll or two, in addition to the very important magic doodle board (her "laptop").
Someday soon her daddy will get her bedroom finished and her Sunday school table ready to be situated next to my desk and filing cabinet in the new office (and schoolroom!) corner of our home. For now, Ruth's desk is so cluttered she can't tell what it looks like underneath. But she comes by it naturally!