Next day Laura helped to wash all the quilts and blankets. She was glad to lug the loaded basket out to the clothesline in the sweet, chilly March weather.
-Laura Ingalls Wilder in By the Shores of Silver Lake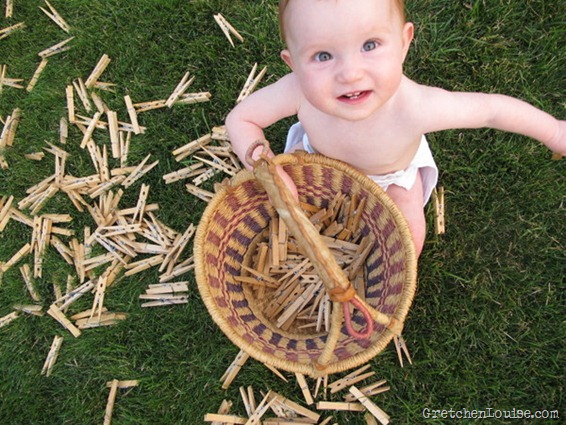 Then the carpets were hung on clotheslines outdoors, and he had to beat them with a long stick. When he was little he had run under the carpets, playing they were tents. But now he was nine years old, he had to beat those carpets without stopping, till no more dust would come out of them.
-Laura Ingalls Wilder in Farmer Boy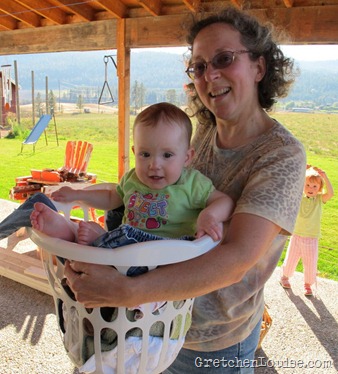 It may be true that "many hands make light work" but little hands in the laundry make for dark socks in the light loads and clothespins scattered everywhere.
It's so much easier just to do it myself. And too often, I get impatient with the clothespins that don't get picked up and the still-wet clothes that get yanked off the line. But I'm learning to slow down and let my little ones help with the laundry where they can. Not just so that they'll know how to do it by themselves when they get bigger. Not just because it gets us all outside in the fresh air and sunshine. But because we're all happier when we're doing it together. Even if one is on my back and the other two are begging for lunch.
Sorting the loads is one thing I still claim as my job. But that doesn't keep them from sorting on their own when I'm not looking.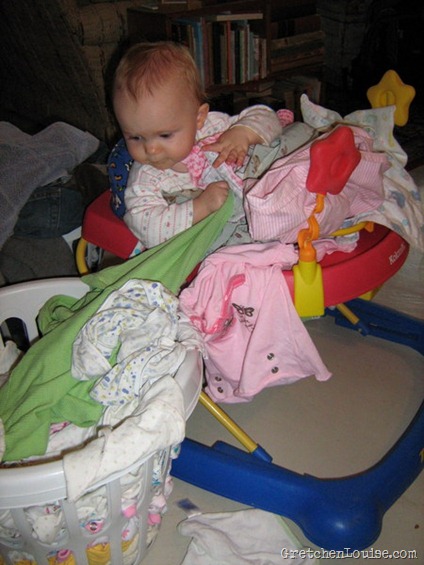 Each one in turn has loved to watch as the laundry rotates in our front load washing machine.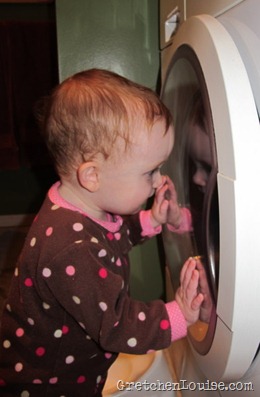 And my youngest, especially, has taken to helping me retrieve all the clothes from the wash (though we usually don't let him stand on the potty chair to do it!).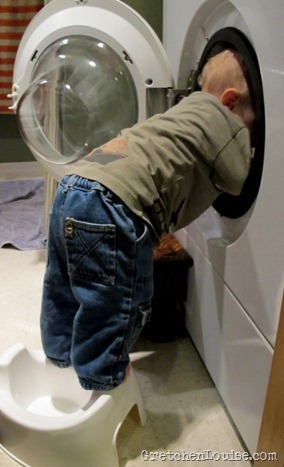 When my husband built our clothesline, we knew we didn't want it so high that our children could never reach it, but at the same time I needed to be able to walk under it! Its height, however, has not kept the girls from standing on toys to reach the pins. Or, of course, pulling the dry clothes off regardless of how the yanking will effect the fabric.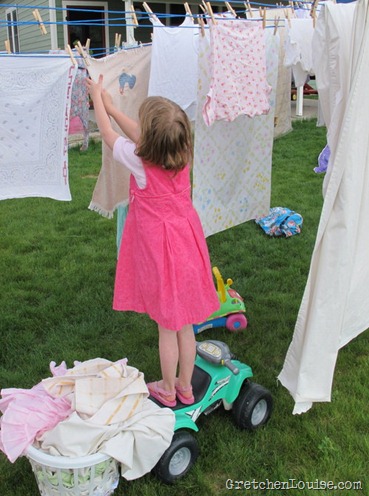 And when all else fails, they make their own clotheslines.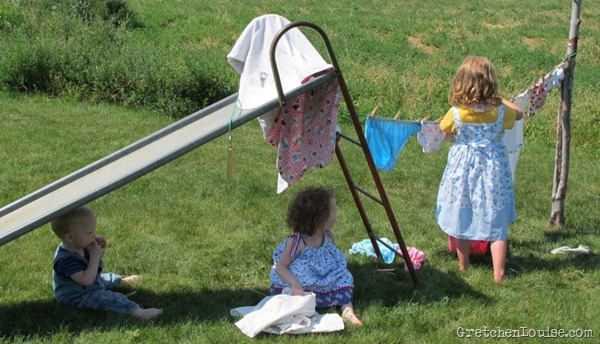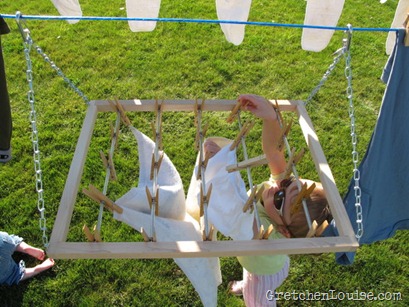 Two summers ago, my aunt Margie brought us an herb/laundry drying rack that a neighbor had made her. With a length of chain, it was the perfect way to bring clothespins down to my children's level. Now the girls' job is to hang out the socks on their own little clothesline. (But judging by how quickly they tire of it, I'm not likely to lose my favorite household task of hanging out the laundry anytime soon!)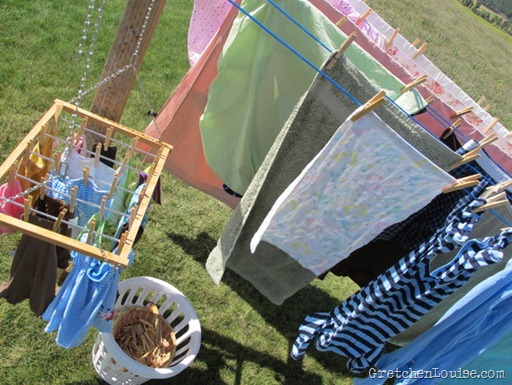 Before I had such big helpers, I did more folding of the laundry into the baskets as I took it off the line. Now my husband knows why his mom folded clothes on top of her bed!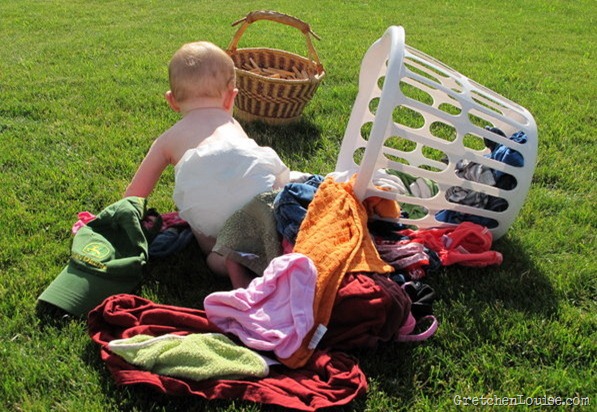 It seems I fold some things at least three times before they make it into the drawer or bin where they belong. But of course, I'm not real particular about how they get put away—just that they do. That's the only way it works when Mommy has such good helpers!
Once we're outside, Millen takes her job of sorting through the laundry very seriously, all of the tee shirts first, then dresses, pants and skirts; all clothing of one type hanging together so we have a neat and orderly looking clothesline. Undies and bloomers go on the middle line, safe from the prying eyes of the neighbor boys. This is very important, especially if you're Millen.

-Diane Shiffer in "Learning to Be a Helper"dianeshiffer.com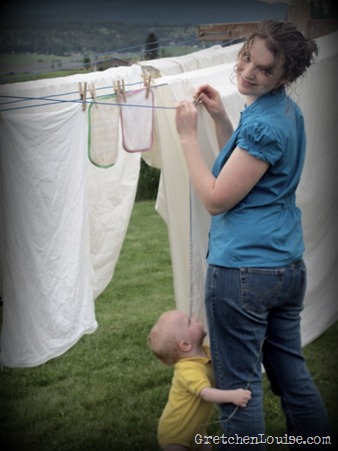 Mrs. K…gradually acquired the art of entertaining her children, even while over her wash tub. You would have been amazed had you seen her, in this employment, with her group of seven children around her as eager for information as they ever were for their breakfast… The conversations on these occasions were various. Now the mother would instruct them about the nature of washing, and why it was necessary. Again, as she was washing a garment, she would speak of the nature of the material from which it was made; in what part of the world it was produced; and how it was raised, prepared &c. Or perhaps she would speak of the soap she was using; its nature; why it was necessary, &c. Again she would relate something she had seen or known or read.

–William Andrus Alcott in The mother in her family: or sayings and doings at Rose Hill cottage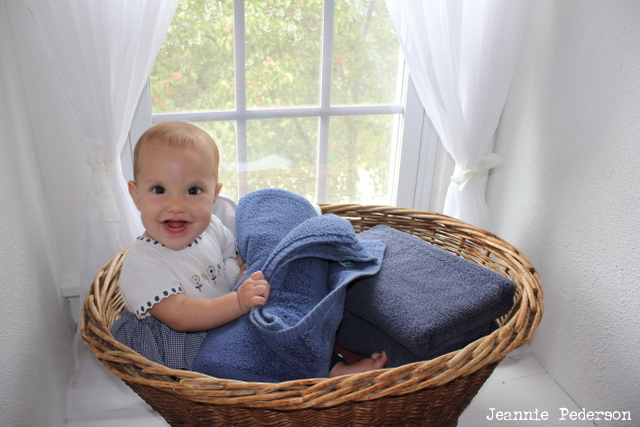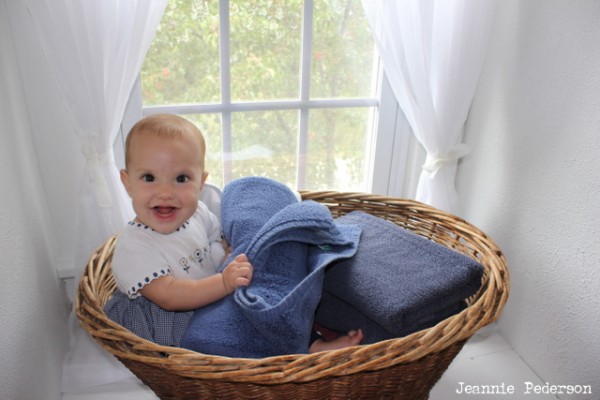 How do you involve your little ones in the laundry routine?