(This post contains affiliate links. Read my full disclosure.)
This month at YLCF we're walking down memory lane and re-posting some articles from the print YLCF Journals. It's been quite the walk down memory lane. And it's been fun, even if it has give me ample opportunity to laugh at my former self when I find a bit of "mud on memory lane" like I did the time I re-read some of my own journals…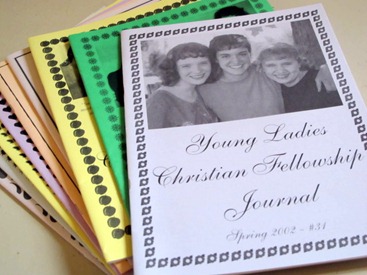 originally written May 24, 2005:
I suppose it's good to read through old journals once in a while, just to remind yourself of how very little you knew at 13, and how very little you know now. But it's still disgusting to get an up-close and personal look at one's former self. I was so "courtshiply correct" (instead of politically correct, you know

) at the age of 13. In my normal, every-day journal entries I was using courtship jargon that could top Josh Harris himself! "It's so nice that he and I can have a friendship that's attention without intention," I wrote of one poor fellow.
The scary thing was, I thought I knew it all at 13 years old. Now I'm nearly 21, and I realize that I don't know a thing. A single thing. Every little "box" I had created for my future, every little ideal I made back then—it's all the furthest from my wishes now. Maybe I'm rebelling against the perfect and idealistic world I used to live in. But at the same time, I'm realizing that God never works in a box—or works the same way twice.
Of course, I can't help but laugh at some of what I wrote. I don't know if it was the books I was reading, or the thought that someday maybe someone would publish my journals, like Elizabeth Prentiss' Stepping Heavenward, but I journaled in this high-falutin' way that sounded more like 50 than 13!
After all these years, some things are still the same. But most are very, very different, thankfully. Please be patient—God's not finished with me yet!