If you wash on Monday, you have all the week to dry…
If you wash on Tuesday, you're still not much awry…
If you wash on Friday, you wash in real need…
If you wash on Saturday, you are slovenly indeed.
-an early 1900's skip-rope rhyme
quoted in The Clothesline
by Irene Rawlings and Andrea VanSteenhouse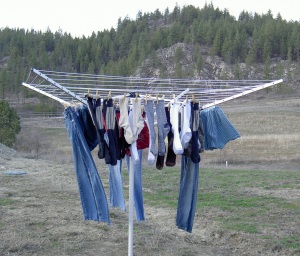 Ever since the first warm rays of spring sun shone down on our little hill, I've been itching to hang my laundry out on the line again. My husband was there to remind me of the impracticability of wading through our yard of mud to hang out clean clothes. But the dilemma of mud was soon eliminated by stepping stones from our driveway to my clothesline. And I waited for it to be sunny more than two minutes at a time.
Last week Merritt finally agreed to put my clothesline back up. I did the laundry that night, in anticipation of hanging my clothes out the next morning. But when I got up, I found snow on the ground—and on my clothesline! I decided to forgo freeze-dried laundry, and used our noisy, linty clothes dryer once again.
This morning I planted starts for the greenhouse, and by the time I got to the laundry, we'd already had a few rain showers. But I hoped that the wind that blew my garbage can down the driveway must surely have blown the clouds away for good. And I carried my laundry basket over the stepping stones to the clothesline.
After making the mistake of hanging up a bath towel, I decided to avoid such items that acted as a sail for my clothesline. I didn't want it to follow the garbage can's route, with my clothes in tow! So I hung out washcloths with three clothespins each, well-anchored socks (which still gave new meaning to the word windsock), and a few pair of jeans. My fingers turned numb in the process, but I hung out (part of) my laundry. And there's nothing like returning to that summertime ritual to make one feel that it's truly spring.
Each time I hang out clothes, I think of Mrs. Taylor, and what she shared at my bridal shower. She told how in their twenty-some years of marriage they'd moved many times, her husband had changed careers, but the one thing that always stayed constant was her clothesline. No matter where they were, she remembered, Mr. Taylor always hung a clothesline for her. And she cherished that peaceful time of hanging out the clothes—the fresh air, the sunshine, the moments with the Lord.
I remember Mom's clothesline, at the little house where we grew up. It was actually the neighbor lady's, but she let Mom reach over the fence to use part of it. At our second house, there was a nice long clothesline out in the back yard. I got a bee sting on my finger when I absentmindedly grabbed a clothespin an innocent bumble bee had been using to take an afternoon nap.
And I remember the thrill it always gave me to hang Merritt's clothes out on the line, when I helped his mom and sisters with the laundry. It took me a while to learn how to hang out laundry as well as the Acheson women. They've hardly ever used a clothes dryer. In fact, for a while Merritt's Mom used an old-fashioned washboard to clean their clothes.
When Merritt and I were in the flurry of pre-wedding shopping, we spent hours in appliance stores looking at refrigerators and washing machines. We considered not even getting a dryer, but now we're glad we ended up with the stacked washer/dryer combo. Because the first time I tried to hang out clothes on drying racks inside our little house, I discovered that I had to keep the house at least 80 degrees all day long in order to get the clothes dry! Not to mention that our little two-room home doesn't have much free space for clothes racks to stand.
But we're done again with the lint and buzzing dryer for the year. My clothes are out on the line, swaying in the wind. (Up here on our little knoll, the strength of the breeze always seems to make up for what the sun lacks in warmth.) Our kitty Wooster stood guard under the clothesline all afternoon, watching with great interest the movement of the jean cuffs so close to his head. (Apparently he apparently felt he had earned an afternoon of more leisurely activity after leaving a mouse in the toe of my tennis shoe this morning.) Maybe I'll go joinWooster, and we'll watch the laundry dry until Merritt gets home for dinner.
But clotheslines now are of the past
For dryers make work less.
Now what goes on inside a home
Is anybody's guess.

I really miss that way of life.
It was a friendly sign
When neighbors knew each other best
By what hung on the line!

from a poem by Marilyn K. Walker