She was born 9 and a half months after I was.
Her dad was my mom's older and only sibling.
We were cousins. But far from two peas in a pod.
She was mistaken for an Indian papoose, I looked like Anne Shirley.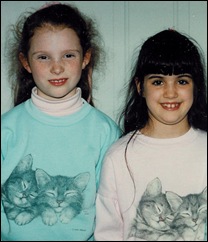 She was quiet, I was talkative.
But we both liked cats.
And as girls will do, we forged a girls' club. We named it The Purry Kittens, to compete with our brother's Tardogs club.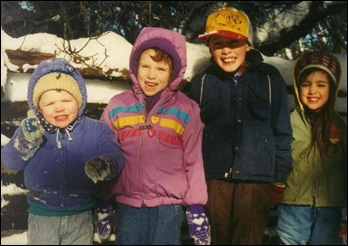 We built forts in the brush with our brothers.
We played together in the red dirt and the irrigation ditches.
We were nurses when the boys played Army.
We were actresses when they wanted to put on plays (and when they didn't, we made them anyway).
The Nativity, "Chocolate Fever", Mary Poppins, The Christmas Carol—we acted out each one, with gusto.
We baked cookies in Grandma's kitchen and froze KoolAid into delicious slushiness, selling it to our brothers at a little stand we called "Cookies Express."
We made more disasters together in the kitchen than we could ever count.
There was the time we made a birthday cake for her mom, doubling the cake mix but deciding we didn't need to double the water.
(We were rescued that time—admitting our change in recipe to my mother as we dumped out the batter from the pan we'd forgotten to grease.)
There was the time I bumped the sensitive mixer lever and the beater nearly dislocated her thumb.
As she was wont to say in later years, "When Gretchie was in the kitchen, I followed her around with a dishrag."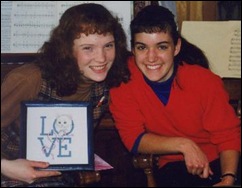 She was the musical one. I was the writer.
She was the cautious one. I was daring.
She was never going to get married. I was a hopeless romantic.
She was the second-born. I was the first-born.
She had jet-black tresses. I was as close as you could get to "Carrots".
We were as different as the shades of our hair.
And sometimes, we got on each other's nerves. A lot.
But somewhere in there, with a lot of wisdom from our mothers and Grandma, and help from the One Who made us cousins, we learned to love each other in spite of our differences.
And eventually, because of them.
We became more than just cousins: we became friends.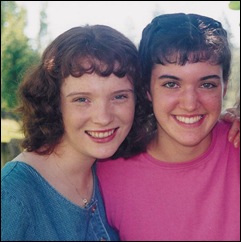 We both loved to cross-stitch and scrapbook.
We spent hours sitting on the floor in "the girls' room" making Christmas presents together.
We were even more hours at the table in the sun room, working on our photo albums together.
We planned the neighboring ranches we'd have someday.
I dreamed of marrying a pastor and living amongst rolling hills.
She planned to raise cows and horses and cats and help babysit my dozen redheaded children.
She named her cows while I named my future children.
Even her nickname was "Moo".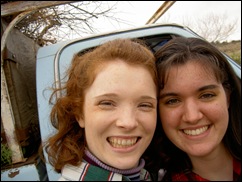 I never stopped talking about this curly-headed boy with brown eyes and a great sense of humor.
She was determined in her plan to never, ever get married.
We weren't always patient with the others' philosophy of boys, but we learned to laugh at it.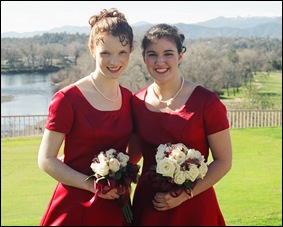 Especially when we were bridesmaids together in our mutual friend's wedding.
She met my curly-headed boy and teased him so incessantly I knew she approved, even if she claimed he hadn't quite won enough brownie points yet.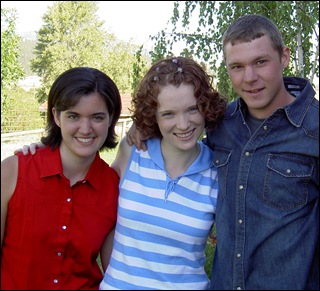 I bought a wedding card that was just perfect for someday when I knew she'd fall for someone.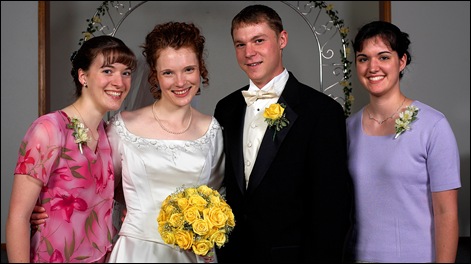 She played the piano at my wedding, like I'd always made her promise she would.
She didn't even fuss at the mushy, Country love songs I wanted.
When I was first expecting, I called to remind her of how we were going to have neighboring ranches and she was going to help babysit my children.
Each time we talked, I pried—but never could find much evidence of any boy in her life other than those that were oh-so-annoying.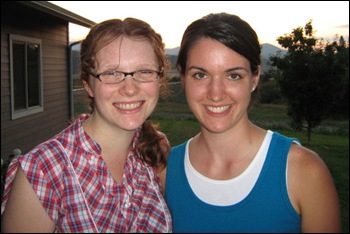 Until one day in February when I got a phone call.
From someone that sounded like my cousin, but didn't sound like my cousin.
She was courting. "The most amazing man ever."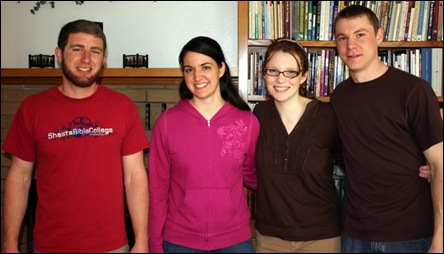 And then came another phone call.
She had a ring on her finger. "The most beautiful ring ever."
Last Saturday, I gave my cousin that wedding card.
Then I watched my gorgeous cousin walk up the aisle on her father's arm.
And I cried.
I sang "Great Is Thy Faithfulness" along with the rest of the congregation—the same congregational song she'd played at my wedding four and a half years earlier.
And I cried again.
I saw their beaming faces as they walked down the aisle to the strains of the pipe organ wedding processional from "The Sound of Music".
And I cried yet more tears of joy.
Now we're both brides, my cousin and me.
Our lives are just a bit different than we'd originally planned.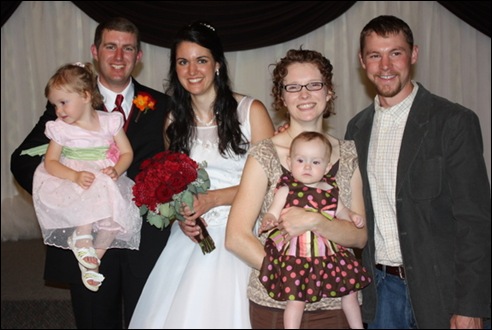 I'm married to a farmer and living in those rolling hills.
She's married to a pastor and going to be living in the big city for a while.
And I don't think the grandparents would mind a race to see which of us has a dozen children first.
But we're nearer neighbors—and better friends—than we've ever been.