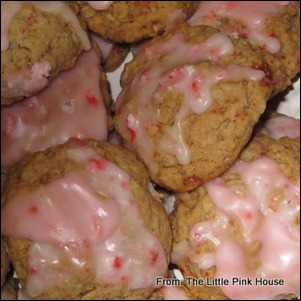 My first Christmas with my husband's family, I discovered that not everyone has the same definition for "candy cane cookies." When my husband requested them, I made my family's favorite recipe: a hearty, oatmeal cookie filled with candy cane chunks and glazed with powdered sugar and crushed candy cane. We'd gotten the recipe from another homeschool mom when I was a little girl, and my family has enjoyed them every year since.
But they were quite unlike the ones my husband's mom and sister made each year: literal candy cane red and white twists of dough with almond flavoring. The traditional candy cane cookies of my inlaws are very pretty—but I'm not a fan of almond flavoring and am doing good to get drop cookies made, let alone something fancier! So I make my favorite recipe every year and they make theirs, and we all enjoy them together at Christmastime (if they last that long).
What's your favorite Christmas cookie?
Oatmeal Candy Cane Cookies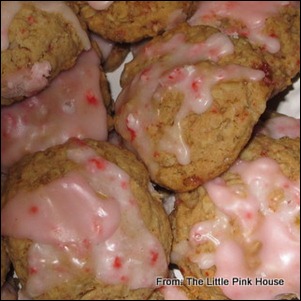 Ingredients
Cookies
1 c. butter
1 c. brown sugar
1 egg
2 t. vanilla
2 c. flour
1 t. soda
1/2 t. salt
2 c. oats
1/2 c. crushed candy canes
Glaze
1 1/2 c. powdered sugar
2-3 T. milk
3 T. finely crushed candy canes
Instructions
Cream butter, sugar, egg, and vanilla, then add dry ingredients. Drop into 1-inch balls on cookie sheet. Bake 10-12 minutes at 350. Cool and glaze.