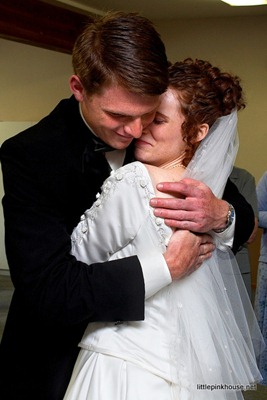 Weddings make me cry.
So do goodbyes.
But goodbyes at weddings?
They really make me cry.
I made it through my own wedding day with a big smile and dry eyes.
Except for that moment my childhood and forever friend, my guestbook attendant, came up to hug me right before the ceremony started.
And when my little sister came out into the fellowship hall and I saw her red eyes, the first evidence I'd seen of the tears she'd shed our entire ceremony.
But when it came time for the goodbyes and my big strong brother broke down as he hugged me?
Then I really lost it.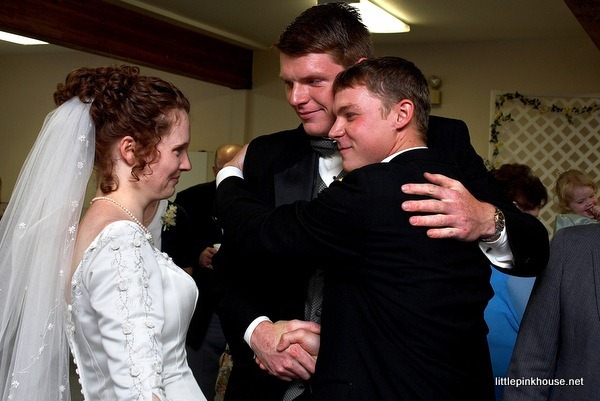 The antics of four little flower girls kept me from getting too emotional at my sister-in-law's wedding last Saturday.
But when the just-one-more hugs and too-long goodbyes came around?
That's when the tears spilled over a bit.
Just a bit, because Marlys and I have always been able to make each other laugh even while we're crying.
Usually by saying something like, "Don't make me cry!"
But we cried all the same as we hugged goodbye.
And then our oldest niece, the picture of her Auntie Mouse, was crying as she hugged her again and again, regardless of the fact that Auntie Mouse would actually be living closer to her as miles go.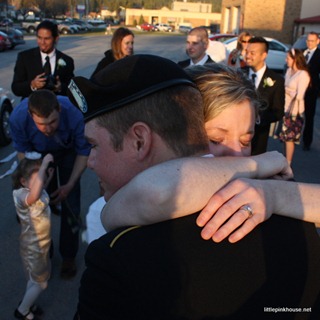 And I cried again as I watched the bride hug her soldier brother and not want to let go.
I kept one eye on dancing flower girls waving roses and blowing bubbles, the other on my husband hugging his own little baby sister, and the emotions welled once more.
And we laughed and we cried and we waved goodbye.