I'm faced with the opportunity so many times a day. And too often, I ignore it. The moment slips through my fingers due to my own impatience.
It's not a book deal or a speaking engagement. No, it's bigger than that.
But I brush it aside and think I'll tend to it later. I pretend that the words I'm writing or the dishes I'm washing or the clothes I'm folding are more urgent than this opportunity.
But what good am I as a writer if I don't live the words I write?
How could dishes ever be more important than this?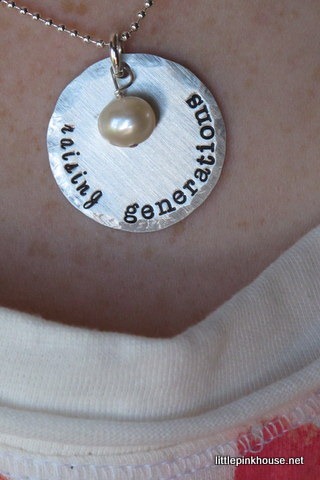 I could focus on all the missed opportunities and feel like even more of a failure. Or I can put on a smile and really listen to the little ones prattling around me. I could slow down long enough to be purposeful in my training.
I could remember that I'm raising generations. And that's a bigger opportunity than any blog post or job proposal.
Oh, and the dishes? I'm still trying to remember that they're an important part of it, too. Because each day I have a hundred little opportunities "to do everything to the glory of the one Who made me…"
Five-Minute Friday: opportunity
"Raising Generations" necklace by The Vintage Pearl courtesy of September McCarthy's recent giveaway!