P.G. Wodehouse: British humorist, literary genius
(This post contains affiliate links. Read my full disclosure.)
He found it on a bookshelf in his parents' basement. The spine was worn, but you could still read the title: Eggs, Beans and Crumpets. It only took a few chapters before he'd found a new favorite author. And soon the book made its way to my mailbox for me to peruse, as well. Though the first few pages left me struggling to absorb both the character's nicknames and the typically British humor, but my confusion quickly turned to laughter over the antics of the members of The Drones Club.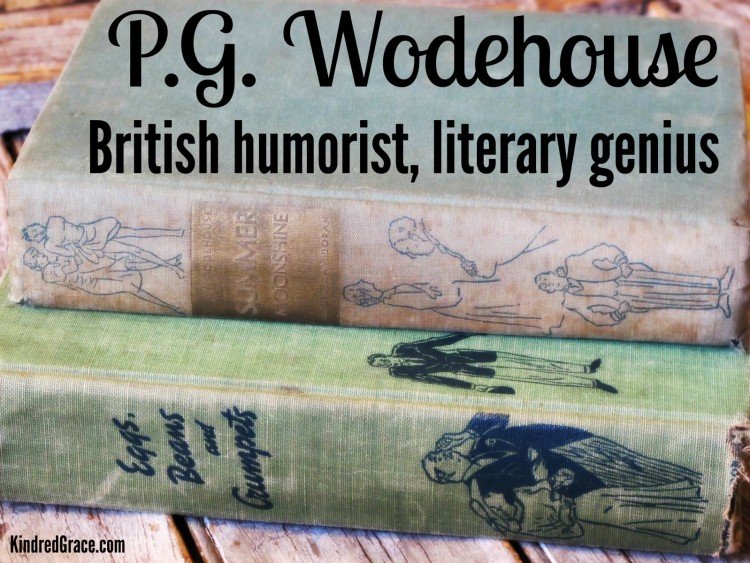 P.G. Wodehouse is inimitable. His British humor defies description: it can only be experienced. The tales are filled with eccentric aunts, quirky characters, and crazy plots. And in between, you'll encounter pure literary genius. He wields his pen with such skill that you are taken aback by the dry wit where you least expect it. He creates characters as alive as they are unusual in personality. And the word pictures are as ironic as they are memorable. While there may not be much of moral virtue within their pages, Wodehouse's tales should be read for the sheer pleasure of having read them.
"In my opinion, P.G. Wodehouse is the wordsmith and writing technician par excellence of all time. I could conduct a complete writing seminar using nothing but his books, and yet as works of fiction, they are pure farce, without any eternally redeeming value."
-Michael Phillips, author and editor, in an interview
Sir Pelham Grenville Wodehouse is probably best known for his creation of the valet Jeeves. (The same Jeeves on whom Ask.com's original Ask Jeeves search engine was based.) Jeeves and Wooster have become well known due to the British TV series named after them, but like any time a book is turned into something for television, they only give the tiniest glimpse of the richness of the books. Wooster is a young bachelor with a propensity for late nights and too much drink, who is constantly getting himself engaged. Jeeves is his brainy valet who eats fish and is ever coming to his employer's aid when Wooster is in yet another fix (most often involving a love triangle).
Rupert Psmith is another of Wodehouse's most classic characters. The P, added to distinguish him from other Smiths, is silent, "as in pshrimp". The theme of four books (all originally serialized in magazines), Psmith is both conniving and clever. From pinching an umbrella to impress a girl to posing as a poet, he is ever in pursuit of that extra fiver. Psmith also finds himself as a visitor at the fabled Blandings Castle. (Read my review of Leave It to Psmith.)
But one of our favorite Wodehouse stories centers around Stanley Featherstonehaugh Ukridge (better known as Ukridge). Loud, brash, and brave, Ukridge makes his mark wherever he goes. The short story "Ukridge's Accident Syndicate" is not to be missed. But Love Among the Chickens is simply hilarious. If you've never set foot on a farm, you'll enjoy the tale simply for Wodehouse's clever humor. But if you've ever attempted to raise chickens, you'll laugh until you cry. I promise. (For more Ukridge, check out the omnibus titled simply, Ukridge.)
"The Modern Library asked its board of advisors to pick the hundred greatest English-language novels of the twentieth century. We define the assignment differently. P.G. Wodehouse wrote 96 novels; what are the other 4?"
-National Review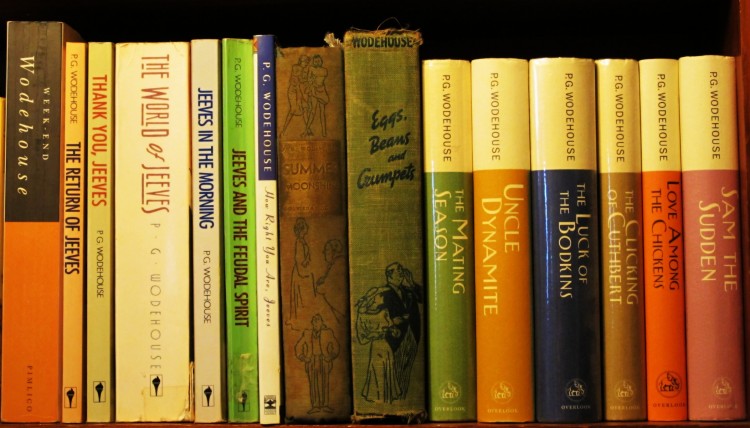 If you've never met a character created by P.G. Wodehouse, then may I recommend you start with The World of Jeeves or Week-End Wodehouse? Both are great collections filled with some of our favorite short stories that will enable you to get acquainted with Wodehouse's best.
If, on the other hand, you've experienced a bit of Wodehouse, whether on television or in print, then may I suggest:
And if you happen to be a fan of golf, you will not want to miss The Clicking of Cuthbert. I've never played a game of golf (unless miniature golf as a child counts), but this collection of golf stories had me rolling with laughter. I am convinced that if you were a connoisseur of golf this book would never leave your bedside table!
Wodehouse may be an acquired taste, but once you've sampled his literary concoctions, you'll be coming back for more, even if only in small doses. You may even find yourself quoting his characters (Jeeves, most likely) as the moment seems apropos. But you'll know you're a true fan when you find yourself (as we did) naming the feline members of your family after Wodehouse characters like Jeeves, Wooster, and Oofy.
(You can find many Wodehouse classics available for free on Amazon Kindle,
or enjoy them in audio form from Loyal Books or Audible.)
Have you read any of P.G. Wodehouse's works? What are your favorite stories and characters?