Neither my husband nor I are dog people. We both grew up in families with dogs, as well as cats in abundance, but it just wasn't our thing. And I may have been slightly relieved when I realized that we were kindred spirits in this, too. It made a lot of future decisions much easier. Like whether we would own a dog.
Cats are handy to have around the farm. They eat mice and gophers and don't cost much to care for. They can go weeks at a time feasting upon the fields instead of Friskies. Our first kitties–Jeeves and Wooster–were given to us early in our marriage and we thoroughly enjoyed them and their antics. We missed Jeeves and his feline personality when he disappeared. And when Oofy finally replaced Wooster, we were sad that he wasn't as social as his predecessors.
But we drew the line at dogs. A dog was fine for Dad and Mom to have on the farm, handy for keeping deer out of the garden and turkeys out of the grain. And dogs were fine for our neighbor to have, to keep her company and lick our toes during dinner. But we got our fill caring for them when she was gone. And a dog was fine for my brother to have, to help my brother learn some responsibility and entertain our kids when we went to visit. But our own dog was out of the question, for a hundred and one reasons that we'd be glad to enumerate if you ever suggested otherwise.
We neglected to pass the non-animal-lover gene on to our children, however. At least in their imagination. So perhaps we should have thought a bit more before reading them the Little House series in which the dog Jack plays such a big role. With an anti-social cat being the only pet on the premises (unless you count one and a half dozen even more anti-social chickens), our children's imaginations have created their own substitutes. And while I am convinced that the noise level of these imaginary pets is quite near what would be if we had a real live puppy in the house, I count my blessings, because these puppies don't eat a bit of food. And it's a good thing, because each of our three children has their own!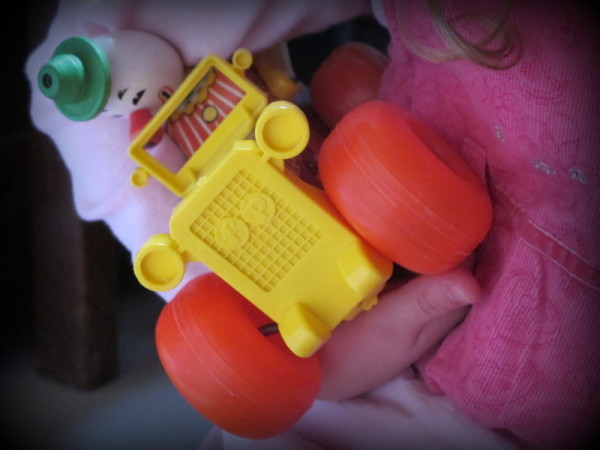 Of course, one puppy looks to the naked eye like a wooden John Deere tractor on a string. But that's just to those who haven't found him tied up tight to a bed leg or a toy box and been told not to disturb the puppy. The other distinctly resembles a vintage pull toy with a clown driving a car. But that is forgotten when the string breaks and the puppy is rendered immobile, and all you hear are my oldest daughter's cries, "My puppy! My puppy!" The third really and truly is a puppy pull toy. And you'd think perhaps it was what gave them the idea except that as I recall, the tractor was a puppy before the puppy came into the picture on little man's first birthday.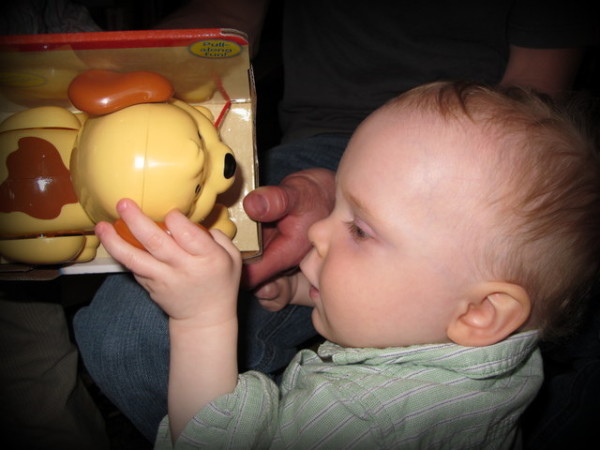 When all three of our children are racing around the kitchen table pulling their puppies behind them, I'm tempted to invest in a kennel to contain the noise once in a while. Inevitability, they are exercising their puppies when the phone rings, and I have to yell above the din, "Make your puppies be quiet or take them to your room!"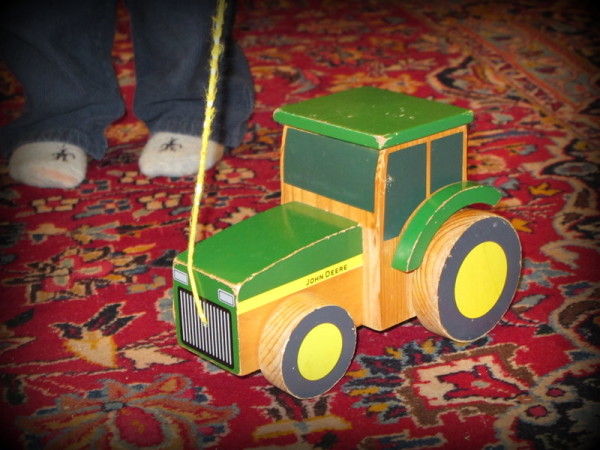 But even though their strings do frequently get caught up in their wheels–er, legs–at least they don't make messes on the floor or eat puppy chow at the same rate our kids eat oatmeal. And thankfully, my imagination is vivid enough to believe that our children enjoy their three little pull toys almost as much as they would a real live puppy. Almost.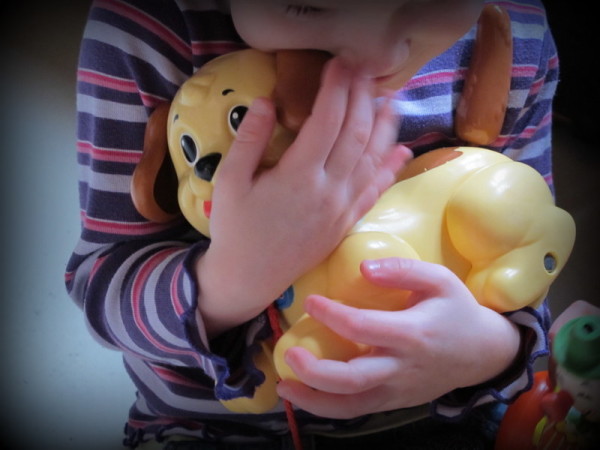 And when they feel the need for livelier puppies than those little pull toys supply, they start playing each other's puppies. With one child crawling around on all fours, barking to beat the band, and another child yelling, "Puppy! Come here!" –well, I wouldn't want to rob them of their imaginary delights by supplying a real live puppy, would I?