Puttin' a spring in my wardrobe
(This post contains affiliate links. Read my full disclosure.)
"I must say, Anne, I don't think you needed the dress; but since Matthew has got it for you, see that you take good care of it. There's a hair ribbon Mrs. Lynde left for you. It's brown, to match the dress."
-Marilla in Anne of Green Gables, pg. 198

She was bare-headed, and her splendid hair, more than ever like Browning's "gorgeous snake," was bound about her head with a crimson ribbon.
–Anne's House of Dreams, pg. 79
I shall have a new ribbon for my hair, and Marmee will lend me her little pearl pin, and my new slippers are lovely, and my gloves will do…
–Meg, in Little Women

Just…tie your ribbon so the ends come on your forehead a bit, and it will look like the last fashion. I've seen many girls do it so.
–Amy, in Little Women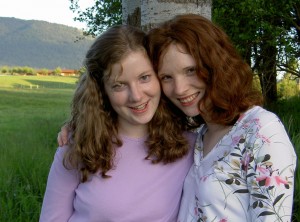 There's nobody like my sister-in-law to help me update my wardrobe. A trip to our local thrift stores with her is always a treat. We usually know what the other will like, and often grab things off the racks for each other. Besides, if something doesn't fit her, it just might fit me—and vice versa!
She was wearing a cute polka-dot ribbon in her hair when she hopped in the car to join the girls and me in town last week. I told her how cute it was. She told me that ribbon is only about fifty cents a yard at Wal-mart, "and a yard is just what you need to go around your head." I told her that I always think ribbons look so cute, but I never like them on me. Besides, they give me headaches and I can't get them to stay.
Oh, but Marlys knows just how to do it. "Use bobby pins," she told me—one on each side of your head, and a couple at the nape of your neck. That way, you can tie the ribbon loosely enough it won't give you a headache. And you don't have to worry about the ribbon slipping off.
Wal-mart was on our list of stops, and suddenly ribbon was on my shopping list! I found at least half a dozen ribbons—everywhere from 33 cents to 84 cents a yard. Marlys and I finally had to quit looking because there were so many adorable 1-inch and 2-inch wide ribbons.
Nothing I tried on at GoodWill fit. But when I dropped Marlys off at her house, she gave me two bags of clothes she'd forgotten to take to GoodWill. I kept every item except for the shoes (adorable but the wrong size), the coat, and the running shorts. Talk about giving new life to my wardrobe—and for even better than GoodWill prices! (Thank you, sister-in-law!)
The next day I was sporting a white long sleeve knit shirt from Marlys, a green ribbon with white polka dots in my hair. I may not have had long ropes of hair, or puffed sleeves, but I still felt like one of the old-fashioned girls you read about in stories who bought new hair ribbons with their hard-earned pennies.
There was a spring in my wardrobe, a spring in my step, and the color of spring in my hair
They'd bought Grace a wide red hair ribbon a yard long.
–Man of the Family by Ralph Moody, page 212
"That Annie's a right pert little cook. What color hair ribbons does she wear?"
"Well, she had on a blue one today," I said.
"Black-headed, ain't she?"
"Coal black," I said.
"Red, bright red!" Uncle Levi said, as he turned a pail over and sat down on it. "Red's awful pretty on black hair. I'll fetch you a piece to give her."
– The Fields of Home by Ralph Moody, page 280
"Kisses and red hair ribbons kind of goes together."
-Uncle Levi in The Fields of Home by Ralph Moody, page 280