Our oldest daughter was born the day before Thanksgiving, November 21, 2007.
In honor of her fifth birthday today, I'm sharing her birth story,
transcribed from her baby album.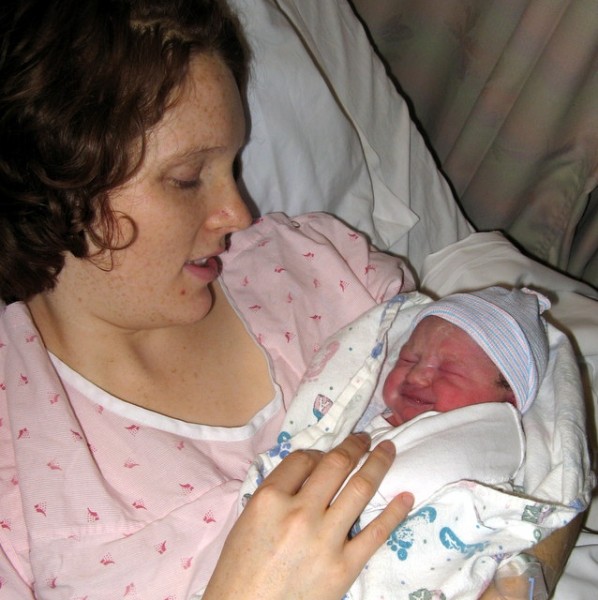 Dear Ru,
When Mommy went to the Dr. on November 21, 2007, I sure wasn't expecting to be holding you by the end of the day. Everything had been fine at my 3 1/2 week checkup on 11/14. Mommy was 1 1/2 cm dilated, 50% effaced, and you were at a –2 position.
By Sunday night I wasn't feeling quite myself, so I called your Grandma Sara and told her not to panic, but she might want to start thinking about packing. Daddy took me to my regular appointment Monday, 11/19. I had lost weight, but my blood pressure had skyrocketed to around 140 over 99. I had very over-active reflexes, and other symptoms of toxemia. We went to the hospital and they did some blood tests (which were all normal) and a "non-stress test" to check your heart rate (which was fine). They sent me home, but Dr. J. put me on bed rest. Your daddy was amazing, bringing me meals in bed, doing the dishes, and making sure I wasn't up more than five minuets per hour. Your grandma didn't waste any time packing her bags then! Grandpa was already here helping build Aunt Katie's house, and Grandma was afraid he would get to meet you first! She and Aunt Jessica and Uncle Caleb arrived late Tuesday night.
Your grandma picked me up for my 8 a.m. Dr. appointment Wednesday morning. Your daddy didn't come. I felt fine, and was hoping the doctor would tell me I could be up and around on Thanksgiving. Instead, I had to call your daddy and tell him the doctor thought you should be born that day. He said okay. Your grandma took me to the hospital, just a few blocks from the doctor's office. Then she went back to our house to get Mommy's things and your diaper bag. I really didn't think I would need them that day! Meanwhile, your daddy was trying to finish up laundry and dishes, and get ready to come see you born! He left Aunt Jessica in charge, making the chocolate chip cookies he had started that morning.
Mommy got all settled in at the hospital a little after 9am. I was 2 cm dilated when they started the oxytocin to "induce" your arrival. I answered lots of questions for the records, and I was hungry! They let me eat cheese and crackers, and when your daddy arrived we had lunch with your grandma, courtesy of the hospital. I had been planning to make chicken and wild rice soup, and that's what they served us! Soon after, my contractions started in earnest.
Your heart rate started going up at each contraction, so they called the Dr. She put a monitor into your head to keep closer track of you—and that broke the nice bag of water you had been swimming in for 37 1/2 weeks!
I knew your daddy was a man of many talents, but he outdid himself as a labor coach. During one particularly hard hour of contractions, I was ready for some pain medication, but he said to just keep taking it one contraction at a time. Nurse Paula checked me at the end of that hour, and said, "You're almost there!" I had dilated from 4 to 8 cm. in just one hour! After that, it was easy. They called in the doctor and I knew you'd be here soon. Sometime after 6pm, I got up for the restroom, and that brought it to 10cm. They said I could start pushing, and about 15 minutes later, you were born!
I'll never forget the moment the doctor said you were a little girl! You were gray and slimy—but you were beautiful! We had a healthy daughter…praise the Lord! They laid you on my tummy, and I couldn't stop looking at you. I felt such love for this tiny little person—you!
Nurse Sandy got you all cleaned up and weighed you. You were so much tinier than I expected, at 6 pounds, 10 ounces, and 20 inches long.
Dr. J. has been a great doctor from the beginning! She's down to earth and has a calm bedside manner. When she decided to induce you, she said no pressure, but their Thanksgiving meal was at 4—and you were obliging!
Your Grandma Sara had been waiting just outside the birthing room all afternoon. She walked away for a minute and came back to hear, "A little girl with red hair," and thought she had missed it, but the doctor and nurse were just making predictions. She did hear when you arrived, and your first little cries. Your Grandma got to come in and meet you while they were still stitching Mommy up! Nanna Liz had just finished work at the family business when Grandma Sara called her to say Mommy was starting to push, then Nanna was quickly on her way with Uncle Mason, Aunt Jessica, and Uncle Caleb. They all got to come in and meet you as soon as Mommy was back together. Nanna and Aunt Jessica were both really surprised and excited that you were a girl. Meanwhile, Papa Dee and Grandpa Mark were on their way back from Town with Uncle Todd—Nanna's stove had broken and was finally repaired just in time for Thanksgiving! Grandpa kept calling to see if you'd been born, so we finally told him over the phone. He and Papa were so excited to meet you. Grandpa was sure you had red hair! Then Daddy and Mommy had lots of phone calls to make to let everyone else know you had arrived.
I think your daddy and I both knew you were a Ruth Ann the moment we saw you. But we kept everyone in suspense so long, we wanted to go over our list of names again, just to be sure. When we were finally alone with you that night, we decided our lil' punkin was definitely a Ruth Ann. I'd had the name picked out since before we knew you were on your way, and your Daddy thought it was very cute—just like you!
Love,
your mommy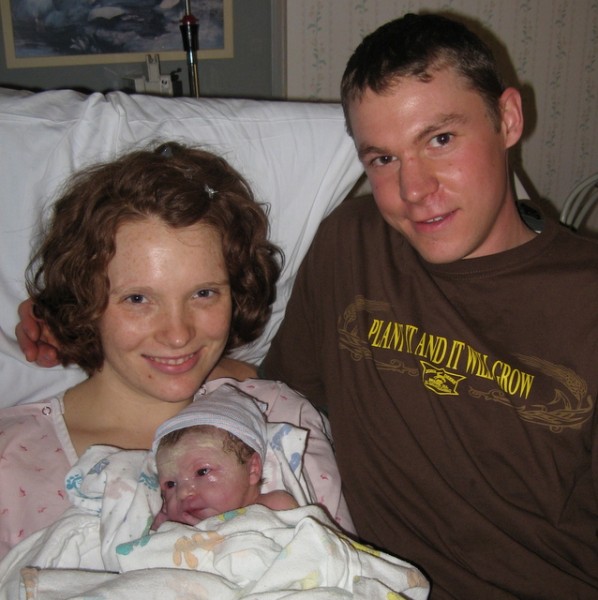 More posts about Ruth's birth: