How to Make Your Blog Posts Share Themselves (almost)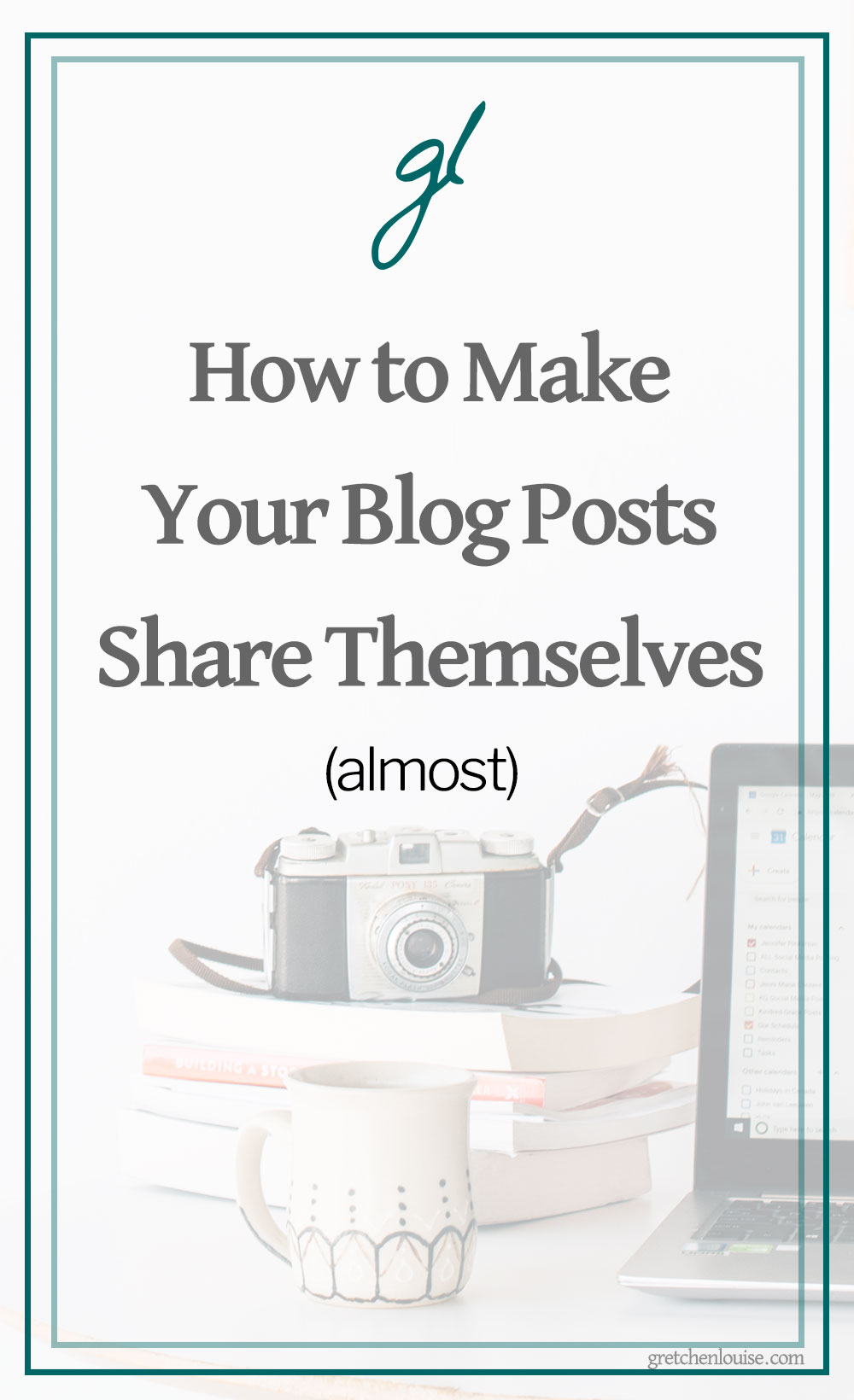 You don't have to be a social media ninja to be a successful blogger.
In fact, your blog posts can go viral without you ever having to share them on Facebook or Twitter.
All you have to do is make your posts shareable.
(And have quality, compelling content worth sharing, of course.)
Here are ten ways to make your blog posts so easy to share that they almost share themselves.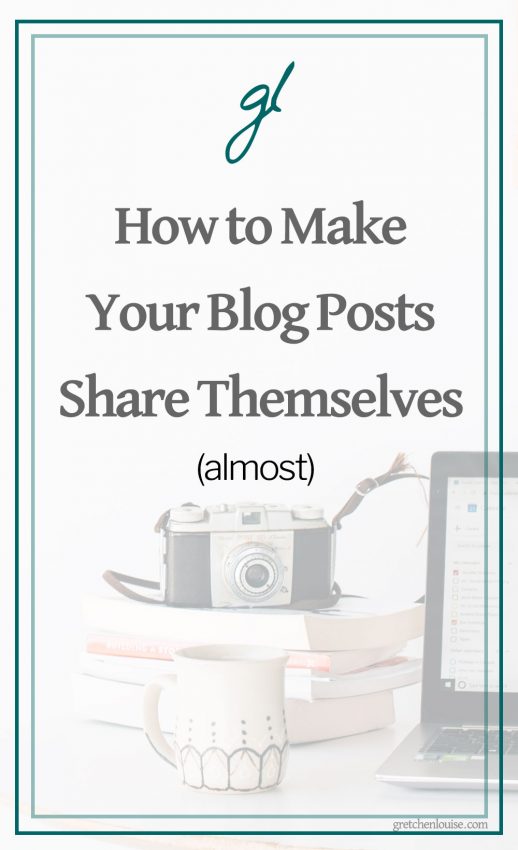 (This page contains affiliate links. Read my full disclosure.)
1. Easy to Use Sharing Buttons
Keep your share buttons front and center no matter where your readers are on your post. Use a plugin like Social Rocket to "float" your share buttons above, below, or beside your post.
Make sure you've filled out the social settings for your social sharing plugin so that your Twitter or Pinterest username is automatically included in the share–if someone has to search for you on social media to tag you, they probably won't.
2. Limited Sharing Networks
Don't give your readers too many sharing options to choose from. If you use LinkedIn, give them the LinkedIn share button. But if your blog doesn't have a thing to do with business, there's no need to offer a LinkedIn share button. Pick the social media networks that you want your blog to be shared on and display those share buttons most prominently. Use a plugin like Social Rocket Pro to add a "More" button that will hide less popular share buttons until "More" is clicked. But don't worry that you have to offer every single option on the web in your sharing buttons: if someone uses a more obscure social media network, they'll probably have the bookmarklet or app for it.
3. Custom Social Images
Images without text and overlays will get pinned, but it's worth the time to add some text (as well as your logo and/or domain name) to your image. Going the extra mile with your images will save you from having to promote your posts: they'll be shared for you. Use a plugin like Social Rocket to set a custom Pinterest image that's different from your post's featured image or custom social media image (which will be shown on Facebook, Twitter, etc.).
If you don't use an image on every post, be sure there's a pinnable image available in your sidebar or footer. There's nothing worse than going to pin a post and finding that there's no image in the post–or anywhere on the site–making it nearly impossible to pin the link!
4. Pin It Buttons on Hover
Avid pinners will pin your posts out of habit, but the average visitor needs to be reminded to pin posts. Make a Pin It button pop up whenever they move their mouse over one of your images. Pinterest's widget builder has code that makes it super easy to add an on hover Pin It button to all your site's images with just one line of code. You can also use a plugin like Pinterest Pin It Button On Image Hover And Post or jQuery Pin It Button for Images.
5. Appealing Image Descriptions
By default, your image Alt Text will be what automatically pops up in the Pin description; make sure it's something that will make everyone want to click and read your post. (The book How to Blog for Profit has some great pointers on this topic! Click here for my review.)
Use a plugin like Social Rocket to create a custom Pinterest Description for each image you add to your post.
6. Tweetable, Shareable Quotes
Your post may be filled with pithy quotes, but if you make your one-liners easy to click and share, you are more likely to be quoted. Use a plugin like Social Rocket to create beautiful "Click to Tweet" pull quotes.
7. Highlight & Share
Use a plugin like Highlight and Share so that when someone highlights text within your blog post, sharing buttons pop up that make it easy for a quote to be shared–while giving your site and social media username credit!
8. Attention-Grabbing Title
Your post title is the first thing that someone sees; make sure it gives them a reason to click and keep reading. Use CoSchedule's Headline Analyzer to help you write better headlines or check out Headline Hacks for viral title templates.
9. Intriguing Social Media Description
You optimize your post's Meta Description snippet for SEO purposes, but the description that shows on social media should be a bit more click friendly than search engine friendly. Use a plugin like Social Rocket to craft a custom description that will be shown along with the post title and image when it is shared on social media. The more intriguing it sounds, the more likely they are to click!
10. Compelling Content
It doesn't matter how many pinnable graphics are in a post, or how many share options are provided: quality, compelling content wins every time. Especially if it's spelled correctly. (Denise J. Hughes' book On Becoming A Writer: What Every Blogger Needs to Know is a must-read, as is Rachelle Rea Cobb's Write Well: A Guide to Grammar.)
What's your favorite way to share the blog posts you read? (And what share plugin do you use?)
Photography Credit: Jenni Marie Photography