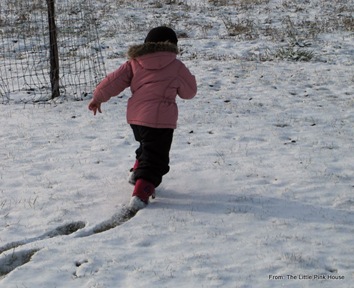 It started snowing on Sunday morning—Ru woke up to a bit of frosting on the world in celebration of her third birthday. "It's frosting snow!" she told me. I'm not sure if that's because I spent months telling her it was only frost, not snow, on the ground outside (because oh how she's been looking forward to this first snow with such eagerness!). Or if she saw the similarity between how the snow covered the ground and the frosting covers a cake. Regardless, snow on her birthday was a great thing indeed.
Most of the snow melted Sunday, but it came again, along with bitter cold temperatures guaranteeing it's here to stay. For which we are so very thankful.
Because snow means a bit of insulation for our plants against the sub-zero temperatures—the newly-planted alfalfa field, especially, was in need of protection before it got too cold.
Snow means no more mud—just melted snow, which is so much easier to clean up.
Snow means snowmen—"I want to build a green snowman," Ru says (and I tell her to ask her daddy for help with that—perhaps it will need grass for hair?).
Snow means playing outside for five minutes until the mittens are tossed aside and she touches the snow only to discover its iciness, coming inside crying about how the snow hurt her hands.
Snow means the silly (and very chicken) chickens stay in their snug and cozy red house, not even coming out to eat the discarded chunks of tomato from Monday's tomato soup (and tomato is their favorite vegetable delicacy!).
Snow means a warm fire going constantly, which we stoke in the night and sidle up next to in the morning.
Snow means silvery bright moonlit nights.
Snow means there's not much outside work to be done, and we can slow down, enjoying mornings and evenings together with our favorite person at home: the girls' daddy.
And snow means the recollection of my first experience with this snowy winter wonderland, once upon another Thanksgiving—the very first I spent here with Merritt and his family.
There was more snow then—and more family here—but the blessings we count together get more numerous every year.