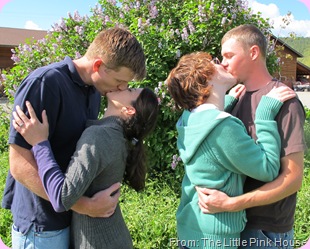 We'd had company two weekends in a row.  Things were crazy.  We weren't even alone at the dinner table at night.
I didn't understand why I was suddenly feeling way more connected to my husband.
"What has gotten into my hubby lately?" I asked with a wink, in response to his indescribable smile as we drove home from my in-law's.
We'd had a visit from my newlywed brother and his wife the weekend before.  It made me overflow with thankfulness to see my brother and his wife so very much in love with each other.  But watching them steal kisses right and left made me realize that we weren't quite the newlyweds we once were. Of course, we also had two children and a few more tasks at hand than when we were married four years ago.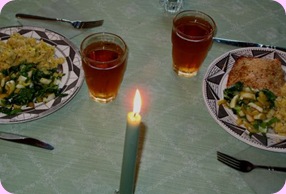 Our fourth anniversary came and went.  A special dinner at home this year, because it was easier—salmon, bok choy, and fried brown rice.  A late night thanks to little girls who were, in the 2 1/2-year-old's words, "having a rough time."
And then the rest of my family came to visit for the holiday weekend.
Maybe it was because they were helping with the dishes, folding the laundry, holding and bathing the girls.  Maybe it was because we were around all the people who watched us when we were courting.  But suddenly, we had time for some good old-fashioned sparking again.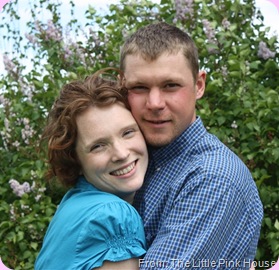 I could sit on my husband's lap when we watched a movie, because someone else had our girls on their laps.  There was no one grabbing my legs when I wrapped my arms around him and stole some kisses in the middle of my mother-in-law's kitchen.
We wouldn't trade our two little girls for anything.  But they do change many aspects of our marriage relationship.
Yet if anything, their presence makes it more important that we always take the time to keep that spark burning brightly.
Some friends of ours are due with their first little girl this week.  I'm sure they will find, as we have, that it's harder to find the time for long, slow kisses when there's a little person clamoring for attention.
But now I know what to recommend when the love-light seems to be burning a little low: head over to the grandparents', hand off the baby, and plop down in your husband's lap to watch a movie.  Or better yet, leave the baby and go on a walk all by yourselves.
Because every marriage is better for a bit of time spent sparking.
And I'm realizing more with each passing year that I have to make time for those kinds of (delightful!) priorities.
The feelings of romance will ebb and flow.  But a bit of frequent sparking will help to keep that love light burning through the years of 'til death do us part.