(This post contains affiliate links. Read my full disclosure.)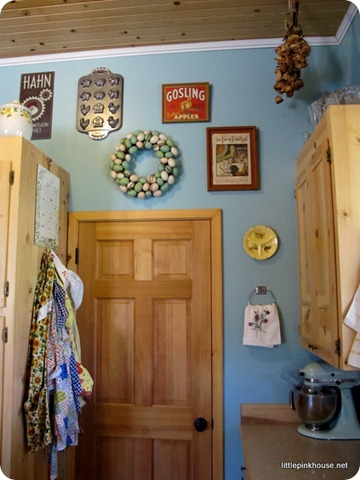 They hang there in my kitchen. Often hidden by the bathroom door. Overflowing off a double hook screwed to the pantry cupboard.
My aprons. All seven of them—and counting.
They hang under the double-sided spice chart telling me which herb to choose for poultry or for beef. Adding to the vintage look of that corner of our kitchen, with the antique sectioned child's plate (a gift from my mother-in-law), the embroidered towel (my aunt gave us an entire set she embroidered for our wedding), the egg wreath (a gift from my mom), the framed copy of The Farm Journal (which I found for my hubby—it has ducklings crowded around the feet of a man who is working on a car), the "Gosling" apples label (an antique find), and the farm animal cookie pan (a gift from my grandma).
The first apron to hang on that hook was the striped one. I chose it from a local linens store with a gift certificate my sister-in-law gave me for my first birthday as a bride. It's durable and hides the stains—I wear it for everything!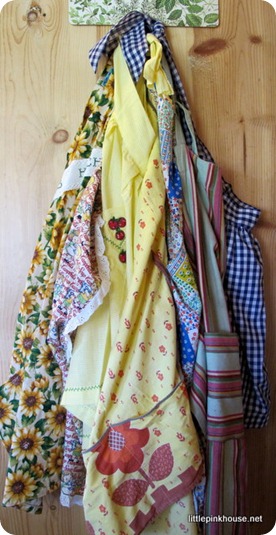 Eventually, I dug through the rest of my things and added more of my aprons to it. And whichever one you happen to find me wearing when you stop by, there's a story behind it, as well.
The sunflower apron embroidered with my name is a gift from my grandma. The Campbell's Kids apron covers me well for those tasks especially prone to splattering; a gift from Hattie, a lady at our church who babysat my dad when he was little.
The yellow half apron with strawberries on the pocket was a gift from a dear friend. The yellow one with the orange flowers belong to my great grandmother Doris.
The blue gingham half apron was made by my aunt Margie for my great grandma Alma.
And the most recent addition is the multi-color patchwork-looking apron, a 99-cent GoodWill find I couldn't pass up and have quite fallen in love with.
I'm afraid that if I find many more, I might have to use it as an excuse to try making the bent spoon hooks I saw some ideas for on Pinterest. Especially when the girls start wanting to hang their little aprons up with mine!
For now, I'll keep hanging my aprons back up when they fall off the hooks, smiling as I think not only of all the stories behind them, but the stories they could tell of my kitchen successes and failures, as well!
"If we couldn't remember what happened all day any other way…we could always count on Mas aprons to bring us up to date!"
–In Grandma's Attic by Arleta Richardson, page 33
{click on each photo to view it larger and read more of the story…}