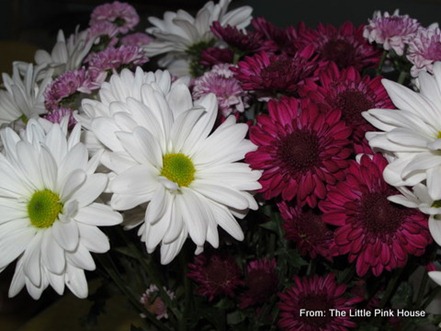 I went to my first ever meeting for homeschool moms last night.
There were 14 of us. 3 other "young" moms like me. The rest seemed a lot closer to my mom's age, and yet many of them had children not much older—and some, in fact, younger—than mine.
Motherhood and homeschooling and our faith in Jesus brought us together. The topic of discussion was health—and our practices in that regard were as varied as the women in that room.
I learned some things (like the fact that a pinch of cayenne in a glass of water can stop a heart attack or hemorrhaging). But it wasn't the health tips or the nutrition lesson plans that made the evening for me. It was the simple fact of being in the presence of other women who knew and understood my spot in life.
They'd had three children three and under. (In fact, some of them had raised eight children and survived to tell about it—looking as radiantly beautiful as they did last night.) They'd felt inadequate—just that morning. They were crying tears for their hurting friends. They were trying to remember to savor every moment with their children.
They might look older than I think I do, we might all have had different styles of clothes, but we were all homeschooling moms who loved our kids and wanted to raise them to love Jesus.
It was a breath of fresh air—not just to get out of the house after being cooped due to cold and flu bugs and the weather for so long—but to be with other moms like me. It wasn't so much the older women teaching the younger women—though that happened in conversation—it was just the women being together. The brief respite from the homes and children we loved renewed us for returning to our greatest passion with passion.
I came home to a quiet house, a welcoming husband, and the cheerful flowers he'd brought me the day before. I chattered away about all I'd learned and who I'd met. He listened and made me tea and tried not to laugh at my animation.
Our early-bird woke up grumpy and kept the whole house up with her. I sipped my coffee and ate my pancakes and tried to enjoy the craziness of the moments, tried to remember how soon they would be grown (already, someone can cut her own pancakes).
I listened to a friend and I didn't have the right words and I laughed and talked about babies when I probably should have said something more serious. But maybe, sometimes it's better to help someone laugh than make us both cry. So I trust Him to make it enough.
And I have things to do and meals to prepare and laundry to fold and notes to write, but I remember, "life is not an emergency." So I curl up on the couch and listen to my husband read the Bible and get kisses from my 3-year-old ("I have little kisses, you have big kisses, Mommy").
I mix up a batch of orange bread and I soak up the sunshine sparkling off the snow outside and I savor the little moments and thank the Lord for the big doses of encouragement He sends my way—sometimes, in the form of a bunch of tired but happy homeschool moms, sometimes in a bouquet of flowers.