thank God for little flower girls…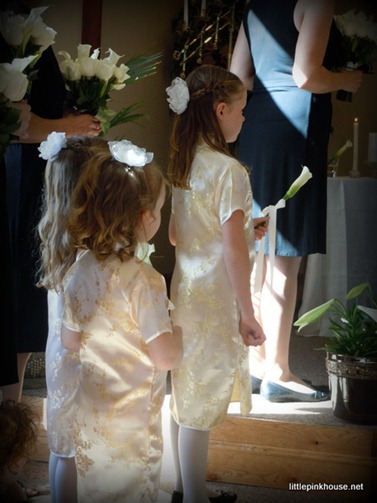 The sunlight streamed through the window on the first Saturday afternoon in April.
My daughters and nieces were at my feet, the golden threads of their "Chinese princess dresses" glistening in the sun. Their antics were the only thing that kept me from needing to use the Kleenex I'd wrapped around my bouquet.
To my left stood my three sisters-in-love on my husband's side. I knew better than to look at Melanie; it was a given that she was already red-eyed as she witnessed the wedding of the little sister who'd been her own flower girl almost fourteen years earlier.
I couldn't look at Megan without remembering her wedding day ten years ago this July, when I'd spent the whole ceremony gazing into the eyes of my handsome brown-eyed groomsman, her brother who is now my husband.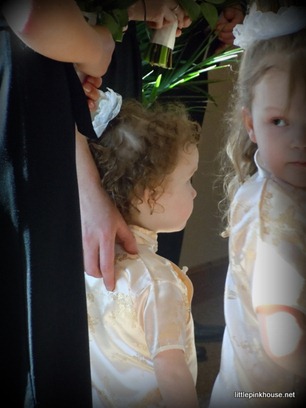 My reverie was broken as my oldest started twirling and spinning to the rousing guitar accompaniment for the congregational worship song "Amazing Grace (My Chains Are Gone)". I grabbed her hand, pulling her back to me, and whispered that she had to stand still like a princess unless she wanted to go sit down.
Whenever I dared to glance at the radiantly beautiful bride, I saw her at 12 years old, her hands looped through the arms of her brother and me, playing "chaperone." I remembered all those nights we lay awake, listening to Country music, dreaming of our futures, and talking about our favorite subject—her brother.
But before I could get too emotional in the remembering, Megan's younger daughter Gracie handed me her beribboned lily, whispering, "Can you hold my flower, Auntie Gretchen? It's getting hot."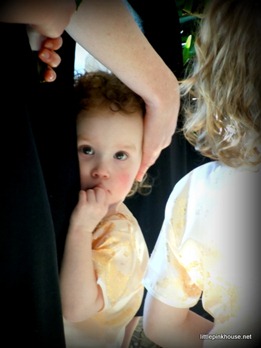 Then came the love song. With words I was afraid to focus on. We turned to face the pair who was singing the duet of "On This Day". And now my husband's face was directly in my line of vision. But I couldn't let my gaze linger long there. He was biting his lip and his eyes were revealing the depths of the emotions within his heart as he sat and looked at his wife and big sisters standing up at his baby sister's wedding.
Our own youngest daughter couldn't sit still any longer. The high slit my cousin Jennifer had carefully sewn shut now ripped open at the stitches. One daughter opened and closed the Velcro on her shoes as the other stepped on her fingers—fingers that were being pushed close to those shiny black shoes in a very tempting way. And I was rescued again from my tears by the necessity of sending my youngest to her daddy's lap.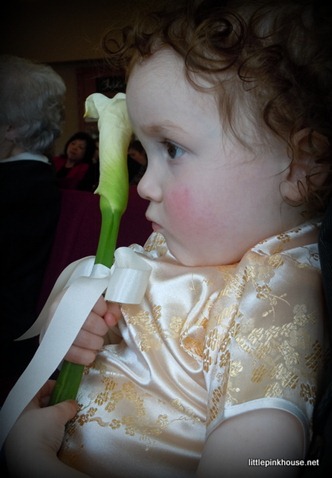 When my gaze wandered to the back of the room, I saw my youngest brother-in-law standing tall in his military dress blues. And I wondered if his wedding would be the next event to bring us all back together. Praying it wouldn't be something sadder that would make it necessary to gather, I thought of the grandparents who couldn't travel to the wedding (and my daddy and another brother-in-law in the back videoing the ceremony for them). Then I saw my husband's tiny, stylish grandmother (carrying the most exquisite purse you've ever seen) whom he'd escorted up the aisle at the beginning of the ceremony (in a wedding, and without a tie on, much to Pastor's consternation!)—who had finally been able to meet her little great grandson, our Daniel, who was born on her eighty-third birthday.
My eyes wandered to the nursery window, where behind the lace curtain I could see my own sister gently swaying to and fro, holding my sleeping baby boy. She had wept her way through my wedding, just beyond my line of sight — and if she was crying this time, I once again couldn't tell. For this wedding of my sister-in-law, my sister Jessica had gathered the wedding gifts, and our own cousin Abbie lit the candles—each a testament to how my family had become joined to my husband's throughout so many years and different friendships.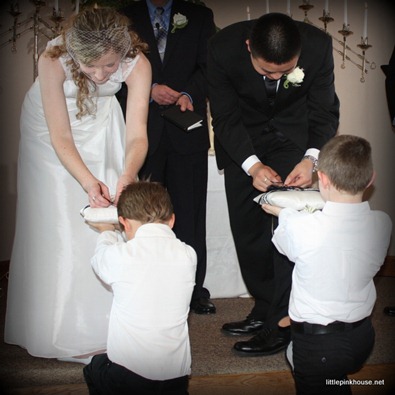 Back in the front of the room, our nephews knelt in sync, heads bowed low as they presented the ring pillows to the bride and groom. Our oldest niece Hannah leaned forward to see the exchange of the rings, and I laughed at her new sense of decorum, remembering the way our oldest nephew had to drag her three-year-old self down the aisle at our wedding, rolling his eyes at her screams. (So far her only tears this weekend had been when she found out she didn't get to walk down with a boy!)
I avoided looking at my in-laws, sitting there in the row right in front of me. They were losing not only their youngest daughter, but their right hand cook and housekeeper, too. They might be old pros at marrying off a daughter, but that didn't mean it got less emotional each time.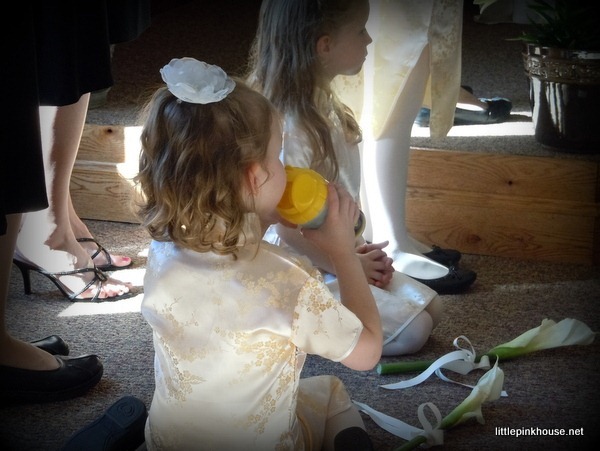 At least, I avoided looking at my in-laws until my 4-year-old crawled from my feet over to theirs, retrieving a John Deere water cup she'd apparently left beneath Papa's chair. Scooting back again, she sat sipping a bit too loudly on the straw. But I couldn't blame her—the sunshine was warm, and I was just so thankful to have her here at all. She'd only gotten home from the emergency room two and a half hours earlier, after a scare from an allergic reaction to medication that was supposed to treat an allergic reaction. At least the rash stayed off her face for the most part. Most importantly, she'd been able to be there in time for pictures and then to traipse up the aisle with her sister and cousins, four little flower girls giggling with excitement to finally be in the wedding of their beloved "Auntie Mouse".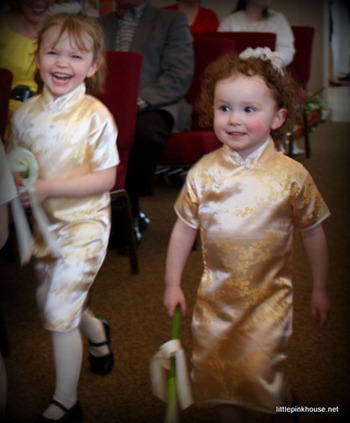 As Megan forced the bouquet back into the hands of the brand new "Mrs.", I laughed in recollection of how I, too, had forgotten to retrieve my own bridal bouquet before our recessional.
We followed Marlys and David down the aisle, a bundle of emotions and memories. Right before Mary Kate—whom Grandma had taken to the nursery to join her brother and Aunt Jess—raced back up the aisle, realizing too late she'd missed getting in on the grand exit.
Thank God for little flower girls…