"Where were you when the world stopped turning that September day?"
-Alan Jackson's "Where Were You"
I was almost eighteen and filled with excitement—we were on the road, driving to see that brown-eyed boy I liked oh-so-much.
My little sister was six years old—and in her innocence she thought those people she saw on TV were jumping to safety, instead of to their death.
"Have you forgotten how it felt that day?"
-Darryl Worley's "Have You Forgotten?"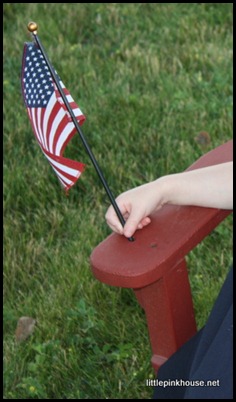 I have not forgotten.  But my children weren't even there to remember.
I realized the person on the radio was right—to my children, the stories of 9-11 will be like the stories of Pearl Harbor were to me, to my parents.
They wave their little flags, "the flag of our country" as they call it, in celebration and excitement.
Little do they know the tears that have been shed, the lives that have been lost, to keep it waving.
"I'm thankful for those thankful for the things I've done,
I can rest in peace, I'm one of the chosen ones,
I made it to Arlington."
-Trace Adkins' "Arlington"
I tried to explain it that day, as we stood to watch the motorcade bring home the body of one of our fallen soldiers.
"We're honoring someone who fought to protect our country," I tell them.
And the "why?"'s—they kept coming, as I gave up my feeble attempts to explain it to them.
I was lost in the tears streaming down my mother-in-law's face, knowing she was thinking of how her own youngest son would soon report for military duty.
"I will always do my duty no matter what the price
I've counted up the cost, I know the sacrifice
Oh and I don't want to die for you, but if dyin's asked of me
I'll bear that cross with honor, cause freedom don't come free.
I'm an American Soldier, an American."
-Toby Keith's "American Soldier"
I know how easily I can move from patriotism to prejudice.
I know how quick I am to merge being a Christian with being an American.
So as I pause on this September day to remember, to honor, to thank…I pray for wisdom, too.  Wisdom to teach my children pride in country, love of freedom, and trust in God—while teaching them to pray for our enemies who are so hard to love, understand the wounded souls it's so easy to judge, and long for the peace only He can bring.
I'm proud to be an American, where at least I know I'm free.
And I won't forget the men who died, who gave that right to me.
And I'd gladly stand up next to you and defend her still today.
'Cause there ain't no doubt I love this land—God bless the U.S.A.
-Lee Greenwood's "God Bless the U.S.A."